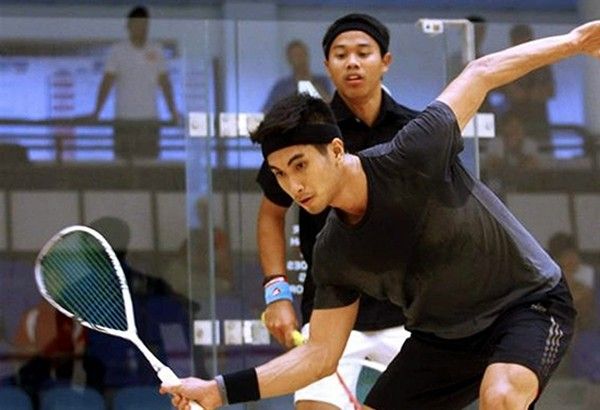 Valentino Bon Jovi Bong.
THESTAR.COM.MY
Squash a mother lode in SEA Games
MANILA, Philippines - While sports like boxing and weightlifting will take a hit in reduced events at the Southeast Asian (SEA) Games in Kuala Lumpur on Aug. 19-31, squash gets an upgrade with nine gold medals at stake and the Philippines is hoping to strike it rich under a half-Malaysian, half-Filipino new national coach.
Philippine Squash Academy (PSA) president Bob Bachmann said yesterday world No. 134 Valentino Bon Jovi Bong has agreed to coach the Philippine team in the coming SEA Games where gold medals will be on the line in men's and women's singles, men's and women's teams, mixed doubles, men's and women's doubles and men's and women's jumbo doubles. At the 2015 SEA Games in Singapore, there were only five events in squash as the Philippines claimed bronze medals in men's team with Robert Garcia, Ricky Espinola and David Pelino, men's jumbo doubles with Espinola and Pelino and women's singles with Myca Aribado.
Bong, 27, was on the Malaysian men's team that took the gold medal at the 2015 SEA Games. He's a Level 2 Asian certified coach with over seven years of mentoring experience. Bong is the head coach at the Pei Min Miri Squash Centre which has eight courts in Sarawak. The Malaysian national junior champion in 2006, Bong won the gold medal in men's singles by beating Singapore's Samuel Kang, 12-10, 3-11, 11-6, 11-5 at the SEA Cup in Myanmar last year.
Bong's mother is a Filipina from Cavite City. Bachmann said Bong plans to become a dual citizen and play for the Philippines starting the 2018 Asian Games. Under the rules of the World Squash Federation, a player may switch national teams provided he or she has a legitimate passport and there is a gap of three years to establish residency. According to Bachmann, Bong also intends to play for the Philippines when the country hosts the 2019 SEA Games.
If his coaching contract is approved by the PSC, Bong will team up with Jun Paganpan to take care of the elite pool while other PSA coaches Edgar Balleber and Jaime Ortua will handle the youth or developmental corps.
Four pros will banner the Philippine squad at the SEA Games in Kuala Lumpur. Garcia, 30, Pelino, 23, MacMac Begornia, 24 and Aribado, 23 are the Filipino squashers who compete in the professional circuit. Others in contention to join the team are New Zealand-based Rafa Yam, Richard Espinola and Dondon Espinola in the men's division and Aysah Dalida, Joan Aribado, US-based Isabelle Gotuaco and Lovely Katsumata in the women's division.
At the last SEA Games, the Philippines was represented by only four players, three men and a woman in five events – men's and women's singles, men's and women's team and men's jumbo doubles. Balleber said it's likely that in Kuala Lumpur, the national team will be made up of six men and four women to cover the nine events.
Bong and Garcia, the Philippines' No. 1 player, have squared off in several matches. Garcia beat Bong in the final of the first PSA Open and the bronze medal match at the Menpora Kijono Cup in Jakarta last year. Bong, however, roared back after getting treatment for an injured knee to defeat Garcia at the second and third PSA Open. While he was Malaysia's No. 2 player at the last SEA Games, Bong has now set his sights on suiting up for his mother's homeland.
Bachmann said it was Singapore squash legend Zainal Abidin who recommended Bong as national coach because of his form, discipline and shot-making ability. The plan is to break him in as a coach then he'll join the team on the court as a playing coach.
Aside from Rafa Yam, Bachmann said two other New Zealand-based Filipinos Gabe Yam and Matt Lucente are in the queue for spots on future national teams. Gabe Yam, 14, and Lucente, 16, are in the New Zealand juniors reserve pool. Since they don't play with the New Zealand national team as regulars, both are eligible to see action for the Philippines without undergoing a three-year residency.
Gotuaco, 21, plays varsity squash for Haverford College in Pennsylvania where she is a third year Philosophy and Economics major. Dalida, 24, is a University of Makati Psychology graduate who was a top 16 qualifier at the 2010 Asian Games in Guangzhou and a gold medalist in women's jumbo doubles at the SEA Cup in Myanmar last year.
It's no secret that Malaysia is a power in Asian squash with 33-year-old Nicole David ranked world No. 1 for nine years and still highly competitive as world No. 3. Malaysia did not participate in the men's jumbo doubles at the 2015 SEA Games and may also sit out the event this year to give way to other countries.