When Down dogs meet the water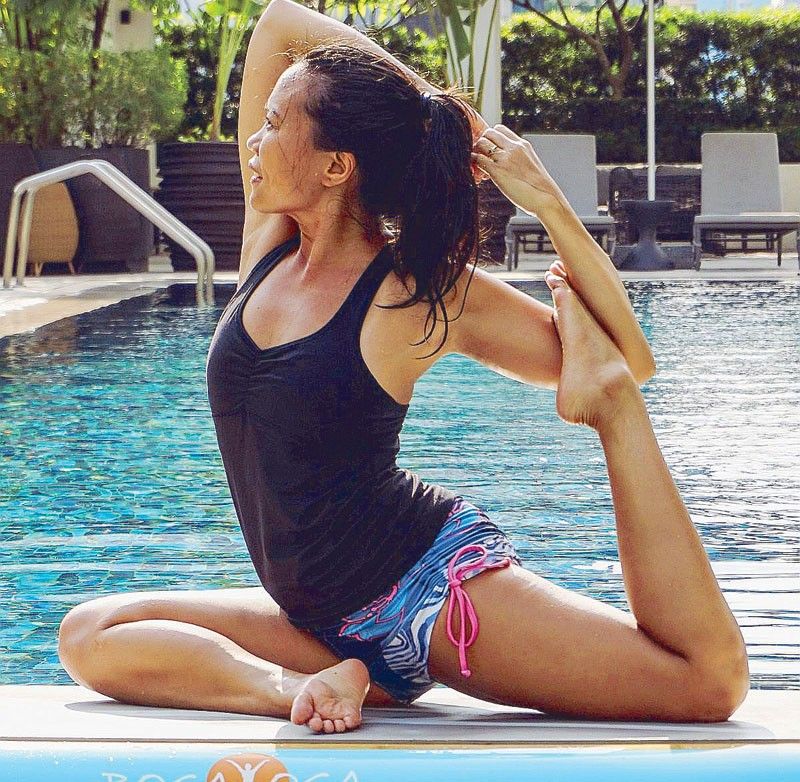 MANILA, Philippines — I am standing on a paddle board – light blue and white – doing a warrior pose and trying my best not to fall. It's not easy. The board, after all, is floating on gently moving water. Welcome to another class of Aquanimous Yoga, a stand-up paddle (SUP) yoga that is now in Metro Manila possibly for the first time.
In the past, SUP yoga practitioners had to travel all the way to distant shores in the provinces to be able to stand on a paddle board. It's because it's only done on bodies of water such as a lake or by the beach. But because of Aquanimous Yoga, urban dwellers can now enjoy the practice right in the concrete jungle, in the heart of the Makati central business district inside the confines of the luxurious Makati Shangri-La Hotel.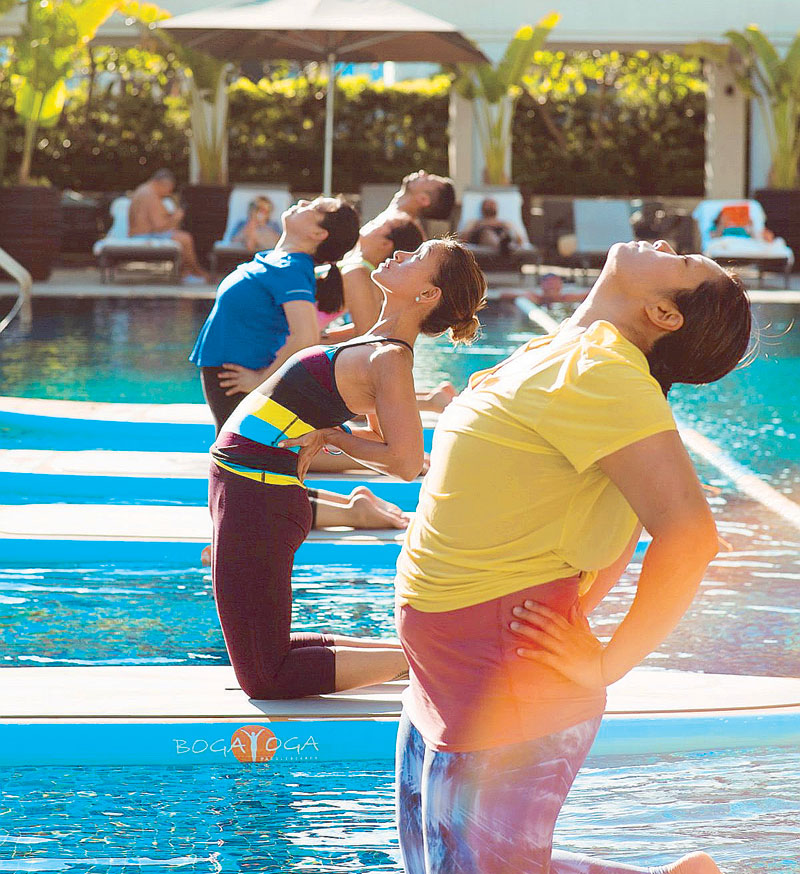 Aquanimous Yoga is done on a paddleboard floating in a pool
On the fourth floor of the hotel in a corner of its sprawling swimming pool is where the magic happens for one and half hours everyday of every week. The result is a more invigorating experience because it's exactly what you need in the stressful and fast-paced city life: that perfect oasis. Lalah de Dios, the woman behind the movement, is very patient in teaching the right practice of yoga to her students. She makes sure that every breath, every step and every pose is done with 100 percent heart, mind and soul. It does not have to be perfect but what's important is that it comes from the heart and with utmost awareness of self.
Many practitioners of SUP yoga attest that it is a match made in heaven.The usual yoga on a mat is already comforting in itself. But SUP yoga is much more dynamic. One feels better connected to the elements. The sight, sounds and rhythm of the water provides complete tranquility. "In Aquanimous Yoga, we have an extensive program of re-education through which you will learn, step by step, to live in the light of your true nature. Our practices are universal and applicable in all situations. They are first and foremost a mental or inner discipline that requires commitment to nothing less than self-transformation and self-transcendence," De Dios says. Thus, the physical postures – called the asanas – have a spiritual purpose and must be practiced with full awareness and equanimity, she adds.
Mental Clouds
In all, Aquanimous Yoga helps practitioners develop a natural state of balance and the journey toward this is a reward in itself – imagine reaching a utopia of sorts after finding one's balance on a paddle board that is placed on water.
"Every single technique that we'll give you is a tool to remove these obstructing mental clouds, which, if practiced correctly, will bring you back to your natural state of balance so that you may come to enjoy the sunshine within," De Dios says.
It really is about bringing the 5000-year-old tradition of yoga into a higher plane – discovering one's true, spiritual nature while surrounded by the elements which in this case would be water.?Aside from Aquanimous Yoga, De Dios offers another class, Aqua Firma, which is also yoga on paddle board but the board is just on the floor and not on the water. Designed to stabilize the joints and to strengthen the legs, arms and core – specifically the back and side body, Aqua Firma combines the movements of yoga and pilates on a balance board.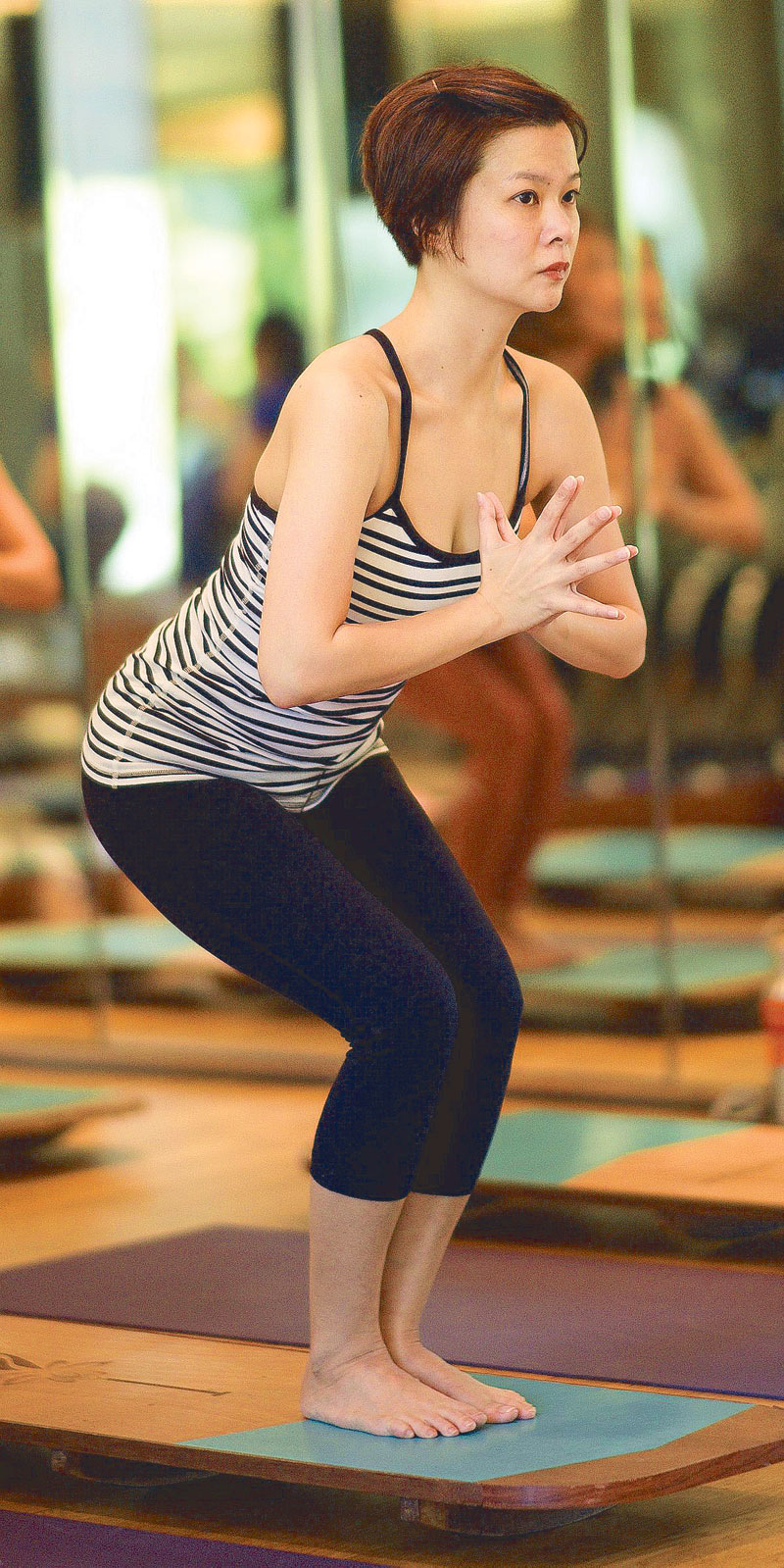 Aqua Firma brings the paddle board indoors, on solid ground
It builds total body strength and stability. One should be prepared to sweat from the deep muscle burn, get an endorphin high and a centered mind after class. Both classes for sure will help practitioners develop the balance we all need in life.
As De Dios says: "Everything we do in life takes balance, from sitting in a chair to walking in the park to complex movements like mountain biking or surfing. We often take these things for granted, yet functional balance is fundamental to our well-being, strength, cardiovascular fitness and flexibility."
Aquanimous Yoga and Aqua Firma, she adds, are a new way to train the body to not only improve one's athletic ability but also improve all aspects of physical wellness. "Our program is designed to maximize the benefits of yoga in a fun and challenging way that are geared to everyone, from those starting from a sedentary lifestyle to elite athletes; from the young ones to the young once," she says.
The classes will also improve coordination and reflex responses. "This will help your body react to sudden changes in direction, improve agility and reduce the risk of accidental falls. Coordination should be an automatic reflexive response," De Dios says.
More importantly, doing Aquanimous Yoga and Aqua Firma will ignite one's central nervous system (CNS) which will train one's body to move with maximal velocity and force. Body awareness is another benefit of both classes. It's the sense of how one's own limbs are oriented and moving in space."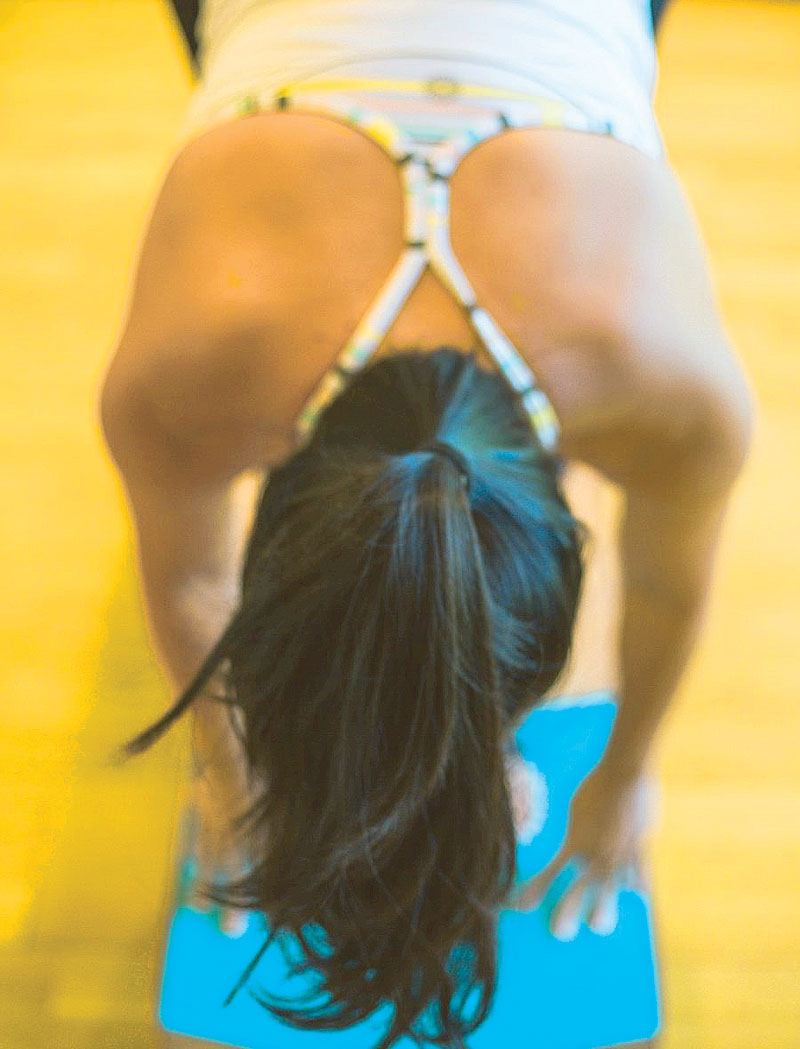 Aquanimous Yoga and Aqua Firma promote increased body awareness, which makes movement more seamless, with less likelihood of injury," De Dios also says.
Long-term health
The most important benefit of course is long-term health for the body, mind and soul. Adding Aquanimous Yoga and Aqua Firma into one's routine helps maintain and improve balance, which is needed to prevent falls and fractures. "Good balance is extremely important as we grow older; it's a skill that everyone will benefit from, young or old. One of the best parts of our practices is that it is never too late to start – all ages will see benefits from adding Aquanimous Yoga and Aqua Firma into their routine," De Dios says.
More importantly, the classes are fun, even though at times very challenging.
De Dios offers the two types of classes everyday of the week at the Makati Shangri-La. I particularly like the 6 p.m. Aquanimous Yoga class every Tuesday and Thursday because it not only fits my schedule perfectly but because the sight of the moon smiling at me while I struggle to master my poses is heavenly. It makes a night of practice perfect because when you look up, you see her all shiny and glowing and smiling down on the world below, telling the whole class to keep going.
It is incredibly motivating when you notice improvements in the rest of your fitness regime as a result of adding balance training, De Dios says.
As a practitioner of Aquanimous Yoga, I can attest that at the end of a session, your body might feel tired but the mind and soul are reinvigorated. You're sweaty but not exhausted and while you feel some muscles aching, the endorphins are actually taking over – you're happy and warm all over and ready to take on the world.