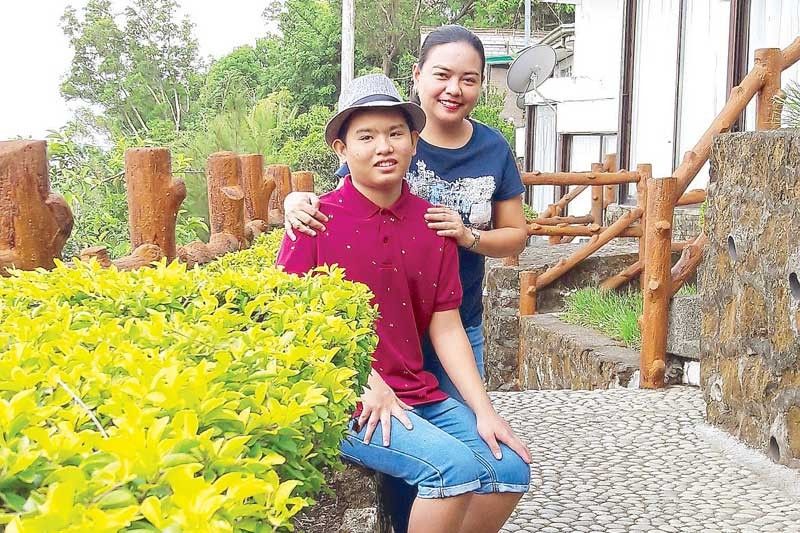 "Finding out about Jaime's condition was very painful," Vi shares. "I remember crying uncontrollably the moment I stepped out of the doctor's clinic. I looked at my child and felt sorry for him."
Eugene Bacasmas
"No storm can uproot us."
MANILA, Philippines — "My mantra as a working mother with a special child is to live one day at a time," says Valerie "Vi" Bacasmas, mother to Jaime. Jaime was diagnosed with Autism Spectrum Disorder (ASD) at the age of two and a half and living one day at a time is precisely what Vi has been doing for the past 11 years.
"Finding out about Jaime's condition was very painful," Vi shares. "I remember crying uncontrollably the moment I stepped out of the doctor's clinic. I looked at my child and felt sorry for him."
Vi initially had many misgivings upon learning of Jaime's ASD. "For a time, I blamed myself because I am his mother and I felt it was my responsibility to bring him out into this world as normal and healthy as possible. My faith was also put to test because I also blamed God for allowing this to happen to our child. I felt sad for my husband because as a father, he had so many dreams for Jaime. Those dreams were replaced with skills he had to learn to be able to help Jaime."
As a family, Vi and her husband Eugene (STARweek's art director) had to remain strong for Jaime. "Taking care of a child with autism can be very overwhelming. I always go through a roller coaster ride of emotions. Jaime's condition demands my time and attention so a lot of sacrifices will have to be made," says Vi. "Most of our decisions as a family will have to consider first Jaime's condition. I had to say no to some opportunities for personal and professional growth because my priority is my children."
Vi adds that she's learned to endure and ignore judgmental stares and comments whenever Jaime would have meltdowns in public. She has had to watch Jaime extremely closely since he has no sense of danger.
"He has broken so many things at home and I have learned to detach myself from material things," says Vi. "I have realized that things are temporary. They may be beautiful but they easily get broken and thrown. My relationship is more important than those broken things at home."
Having a solid support system is essential for any special mom and Vi says she is fortunate to have a very supportive and understanding family who is always ready to step in when she needs help.
They each have their own roles when it comes to taking care of Jaime. "My father is like my son's best friend. He is very patient. He lets Jaime be himself in his own world. My mother is my confidante. She listens to all my fears and worries. When I feel weak, she prays for me. My sister is my right hand. She looks after Jaime when we are at work. I know my son is safe with her. My husband is my partner in everything I do. He is not only a father to Jaime; he is also his hairstylist, bodyguard, driver, cook and friend."
What makes Vi even more special is that she is not only a loving mother to two children – Jaime and his younger sister Isabel – but she also touches the lives of many more young children as a teacher at a private school.
"As much as possible, I do not bring work home. I arrive at work on time and also leave work on time to be able to attend to the needs of my children," says Vi on balancing her responsibilities at work and at home. "Since we have no house help, I just focus on what's important – food on the table, clean clothes and time with my children. If there is a need to work at home, I ask my husband to look after Jaime."
As Jaime continues to grow, Vi shares her wishes for him: "I hope that one day, God will send a miracle and make my son talk. I hope Jaime's self-help skills will continue to improve so he could be more independent. I pray for a more understanding community who will accept Jaime for who he is. I pray that his sister, Isabel, will love him unconditionally until they get old and take on the responsibility of taking care of him in the future."
Every time her role as a special mom becomes too overwhelming, Vi says it is her children that keep her going.
"I always think of my children every time I feel tired physically, mentally and emotionally. They give me inner strength. Jaime's life and future depends on the kind of mother I choose to be so I try my best to be a good one for him," she says.
Vi shares her source of strength: "God is watching. He knows all our fears, worries and sacrifices. He will not abandon us."
She adds, "We special mothers are like big sturdy trees. No storm can uproot us. We have a big purpose in life. Our special child depends on us so we have to be strong for them. The storms can be overwhelming but they are only temporary. With prayer, proper mindset and willpower, we can do anything and everything for our children."