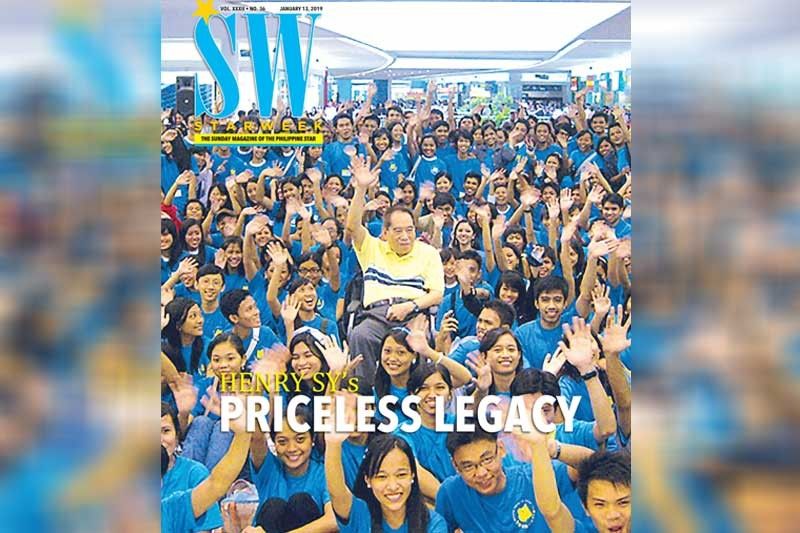 Henry Sy's: Priceless Legacy
Investing in the future
MANILA, Philippines — Beyond being handed a crisp diploma or tossing one's graduation cap with fervor, for many SM scholars, the completion of a college education is everything.
"Everything" means being able to share a plane ticket with your father on his first trip to Manila or being able to celebrate your debut with the money you've saved as part of your hard-earned allowance. Sometimes "everything" is being able to treat your family to their first meal at a popular fast food chain.
Similar to SM founder Henry Sy's own journey, SM scholars have lived and survived the University of Hard Knocks before the doors of SM Foundation opened to them.
Twelve-year-old Sy only had ten centavos when he traveled from China to Manila. "I came to the Philippines to follow my father who came here earlier, looking for a better life. I helped my father in our sari-sari store. I also asked him if I could go back to school so I could learn English and improve myself," said Sy in a speech.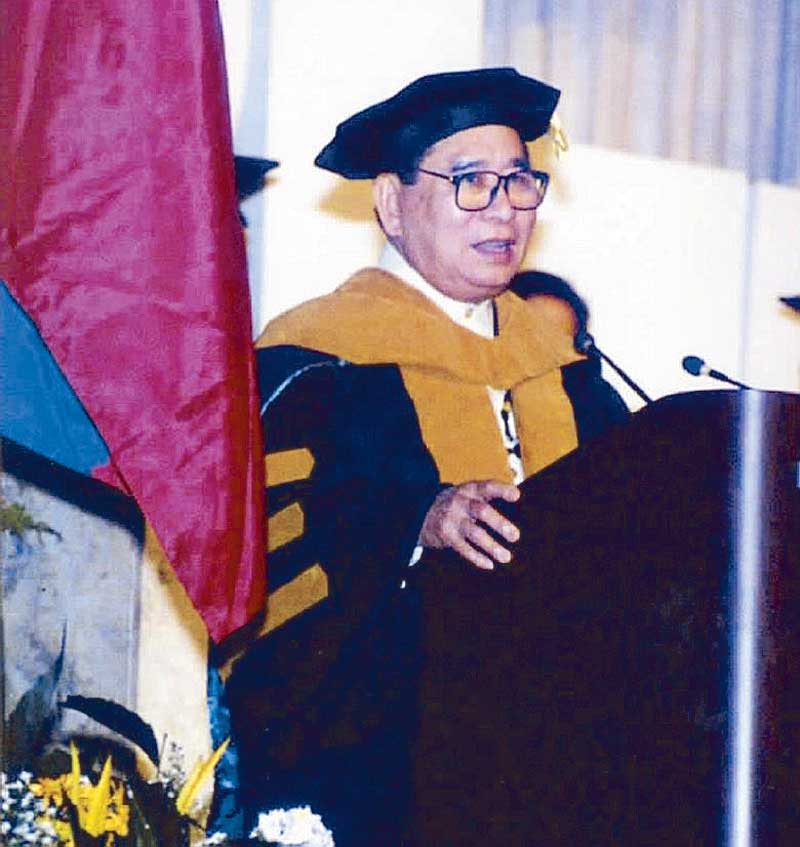 Henry Sy speaks at the De La Salle University commencement exercises where he was conferred an honorary doctoral degree in Business Management in 1999.
At a young age, he already realized the value of getting a good education. "I went to Quiapo Anglo School and started in Grade One again. In Grade Four, I asked my teacher if I got high grades, could she give me a promotion. She smiled and said, 'Only if you get a grade of over 90 percent.' I studied hard. In one year and one summer, I finished Grades Four and Five. The following year, I went to Grade Six. In five years, I completed grade school. Even when I was a young boy, I had a plan for my life."
Today, SM is the country's largest conglomerate with businesses in retail, property, banking and more.
Founded by Sy in 1993, the SM Foundation's college scholarship program started with 100 scholars on its first year. To date, it has supported almost 4,000 scholars, covering full tuition and monthly allowances. Scholars can work at the SM Stores to earn extra income.
Upon finishing their degrees, scholars participate in an exclusive job fair by the SM group. They are always welcome to join the company but are not obliged to do so.
Sy has always believed that "education is the great equalizer." For Tatang, as he is fondly called by colleagues and employees, one of the most impactful ways to make a difference in a community is through helping a student attain a college degree – its multiplier effect goes on as that graduate eventually becomes capable of helping his family, the company he will work for and the society as a whole.
Manobo Scholar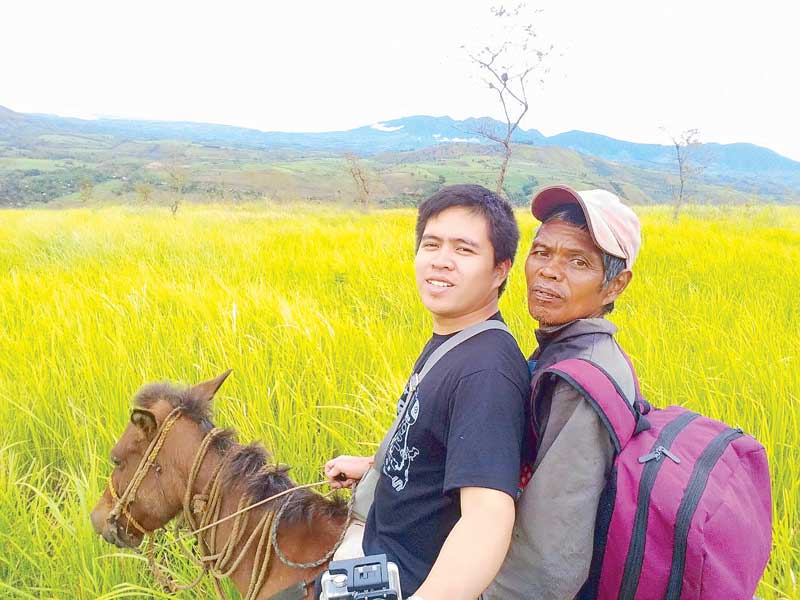 Now an IT supervisor, Jeffrey Manhulad was able to buy land and horses for his father.
One of the many scholars he has helped is Jeffrey Manhulad, a Manobo. Hailing from Bukidnon, Jeffrey was abandoned by his mother at age four. His father took care of him while his two elder sisters were sent to live with their relatives.
After first grade, he stopped going to school to work with his father – they hauled sacks of corn on horseback, transporting the produce from different farms to the barrio. "I got P25 per trip, less 50 percent for the commission of the horse's owner. I would buy soup for snack and sardines for our dinner," he recalls.
His father knew the importance of education so Jeff went back to school upon his prodding. The young boy worked in the farm to earn P50 a day so he could buy school supplies and slippers for school. "I never knew about summer vacations because I always had to work so I can have pencils, shoes and slippers, not even shoes," he shares.
Jeff persevered despite all the challenges, especially when his father left to remarry when he was in Grade Four. He stayed with his teachers as a working student doing household chores like doing the dishes and fetching water. Nonetheless, Jeff graduated from elementary and high school as the valedictorian and soon an opportunity to be a scholar presented itself when he was awarded as one of the Ten Outstanding Public School Students, which eventually partnered with SM Foundation.
He moved to Cagayan de Oro to take up Information Technology. "I studied in a private university with tuition fee as high as three to four times that of a public school. Even my well-to-do classmates sometimes found it hard to pay the monthly payment to get an exam permit, but not me because I had SM Foundation at my back. All I had to do was submit my grades on time and follow up my endorsement and I was good to go for the whole semester."
All his hard work paid off – Jeff finished cum laude and is the first college graduate in their family. He has since found a second home and a budding career at SM Prime Holdings, where he has been working as an IT supervisor for the last three years. With a steady income, Jeff bought his father a small piece of land to farm and horses, helping the latter bid farewell to a life of hard labor.
Extended family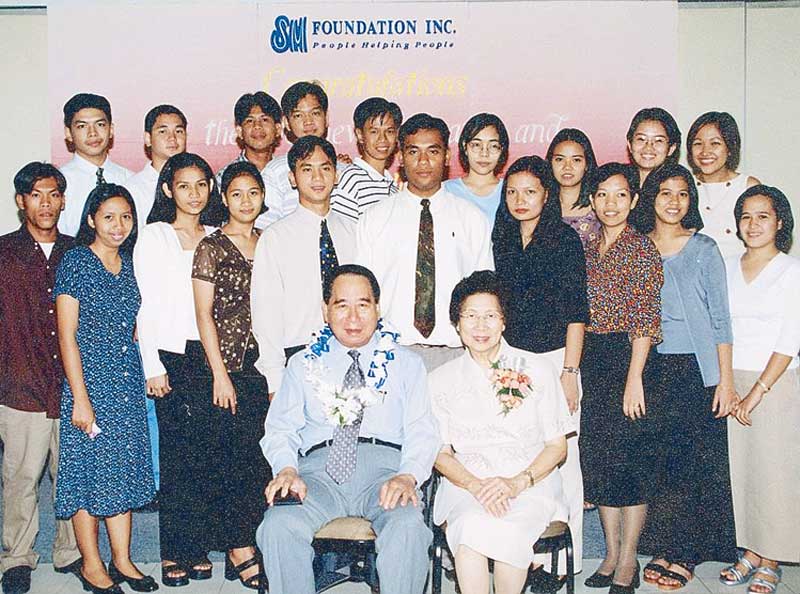 Henry and Felicidad Sy with some graduates of the first batch of SM Foundation College scholars.
Rossana Tercias Adao's father died when she was nine years old. Her single mother raised her and her brother through farming and working as an orphanage housekeeper. At a young age, Rossana knew that to be able to finish her studies and get a good job, she had to excel in her studies to get a scholarship.
As an SM scholar, she was prepared to study hard but what amazed her was that being part of the foundation's scholarship program also gave her another family. "SM gave me more than just education, it also gave me a family which guided me towards holistic growth and development. They provided an avenue for us to develop our spiritual, physical, social and interpersonal skills," she shares.
"I recall being excited every summer because I'll get to work at SM department store, and this would allow me to earn extra for the next semester. I learned to survive then one day at a time, and each day served as an inspiration and reminder that I was fortunate to be able to go to college," she adds.
After graduating with honors from East Asia Institute of Technology (now FEU Institute of Technology) with a degree in Computer Engineering in 1998, she was invited by her alma mater to be a member of their faculty. She was then appointed as the network administrator and was promoted to be the director of the Computer Services and Management Information System Department and the program director of Information Technology Education Programs thereafter. Currently, she is the senior director for the College of Computer Studies of FEU Institute of Technology.
Better opportunities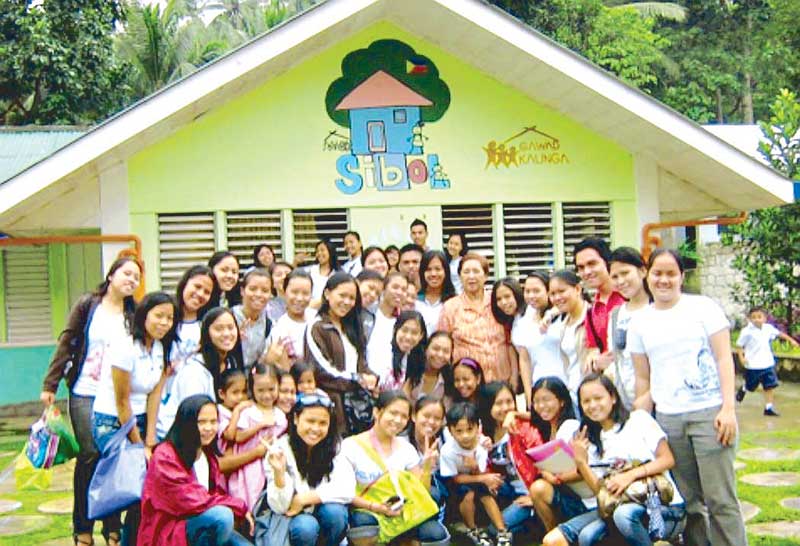 Michelle Olvido now inspires the younger generation as a teacher.
Jenefer Isidro Nizami was the eldest child of a paper mill factory worker and a housewife in Malabon. There was a time when her father's income was not able to cover their daily expenses so he bought mami from a soup stand, finished it and asked for a refill so he could bring it home for his family. Her most fervent prayer was to finish school and be an engineer.
The SM scholarship was "more than she asked for" – not only was her tuition fully covered but she had enough money to buy books and a scientific calculator, pay for her daily commute and cover her food expenses. She was even able to share some of her allowance with her family. She especially looked forward to working at the SM Store during Christmas and summer breaks for extra income.
She could not have imagined how her parents were able to host a big party on her 18th birthday. Little did she know that her mother was saving a portion of the monthly allowance she received since her first day in college. "My mother used to tell me that my dream party was also given by SM Foundation," she recalls.
After graduating with a Bachelor of Science in Electronic and Communications Engineering from Pamantasan ng Lungsod ng Maynila in 2000, she worked as an instructor in a prestigious university in Bangladesh. She is now back in the country, working at Cognizant Technology Solutions and managing condominium units for her Airbnb rental business.
Source of hope
Ferdinand Delapuz grew up in Gagalangin, Tondo, the youngest of four children of an electrician who works as a waiter on the side and a homemaker. His father had to retire early due to frail health and his eldest brother had to take over as their breadwinner.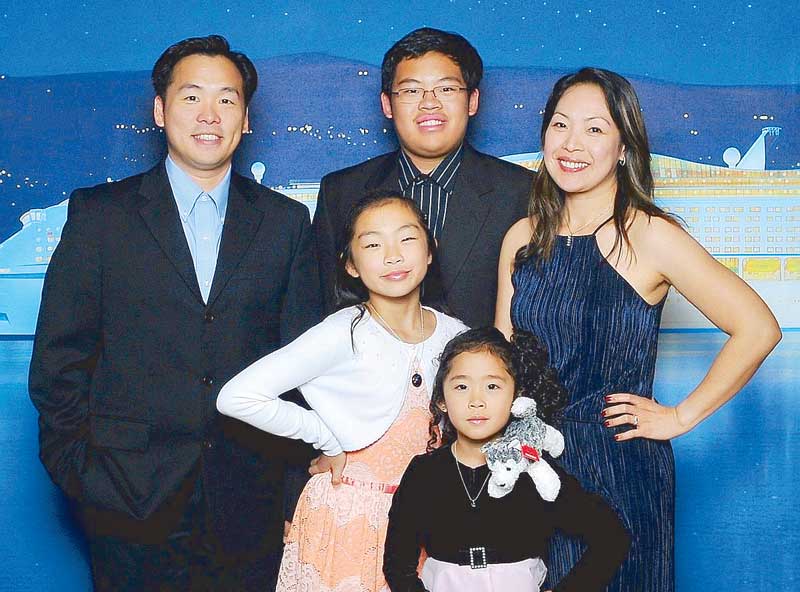 Fannie Chua is now based in North Carolina with her family.
Not wanting to be a financial burden, he applied to the SM scholarship program when he saw its poster on the bulletin board at Torres High School. He qualified and was grateful for the privilege to earn a Bachelor of Science in Computer Engineering at FEU-East Asia. After graduation, he worked at a Japanese company, where he has been for almost 20 years.
In 2015, Delapuz was able to purchase his own house in Cabuyao, Laguna, a milestone and a dream come true for someone who grew up in a rented apartment in a crowded neighborhood.
"There is something that only an SM scholar like me would be able to understand. The scholarship is not just about saving money and free education, what's more essential was that SM Foundation gave us hope," he explains.
Fortifying purpose
Leonila Cabangbang used to sell vegetables on sidewalks with her grandmother to help her family. Her father was a laborer while her mother was a housewife.
After high school, she worked as a cashier at a billiard hall. She saw the SM college scholarship poster and pushed herself to do her best during the exam and interview, as she knew that the grant would be the instrument that will help her family.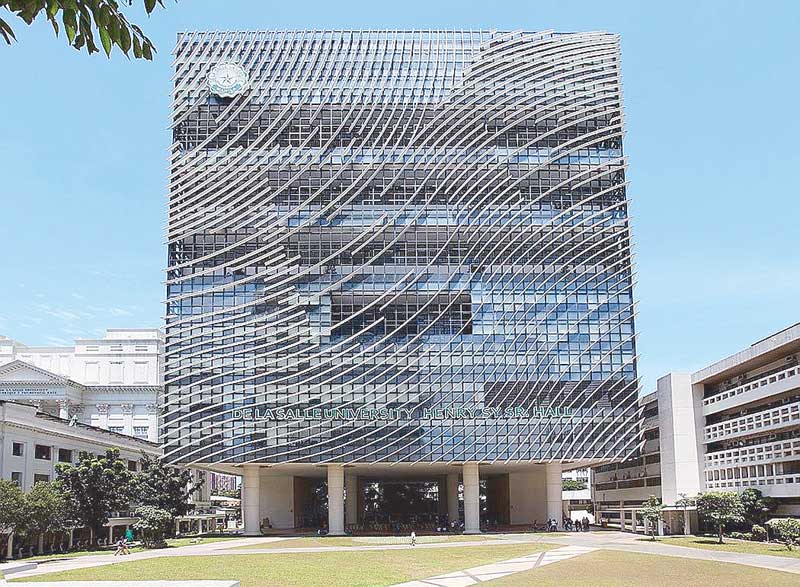 The Henry Sy Sr. Hall in De La Salle University.
She took up Bachelor of Elementary Education (BEED) with English Concentration at Philippine Normal University. She used her allowance for school projects and saved the rest so she could buy a second hand television for her family. "I felt honored that I was able to put smiles on their faces," she shares.
After graduating cum laude in 2004, she fulfilled her promise to her siblings – she brought them to SM City North Edsa to play at the arcade and eat in Jollibee and McDonald's. "I had never experienced these in my childhood," she shares. Leonila has taught at a private Catholic school, an international school and an elementary school in Navotas City. Four years ago, she was awarded a Navotas Teacher Scholarship for her Master of Arts in Education with specialization in Educational Management.
Dreaming for others
At a very young age, Michelle Olvido's family had already instilled in her the value of education as a defense against poverty. She applied for the SM Foundation college scholarship because she knew her unemployed father and her mother, who was earning a minimum wage as a clerk, would not be able to sustain the education of both her and her brother.
After graduating magna cum laude with a Leadership Award from Cebu Normal University, she began working as a teacher in 2009. She ranked third in the Licensure Examination for Teachers. Last year, she finished her doctorate in Education, Major in Research Evaluation and received the award for Best Dissertation. She is currently a professor at her alma mater.
Michelle urges other scholars to keep on dreaming big and holding on to their dreams when the going gets tough. She encourages them to dream for others, too – "these dreams get us out of bed in the morning even if we don't feel like it."
Paying it forward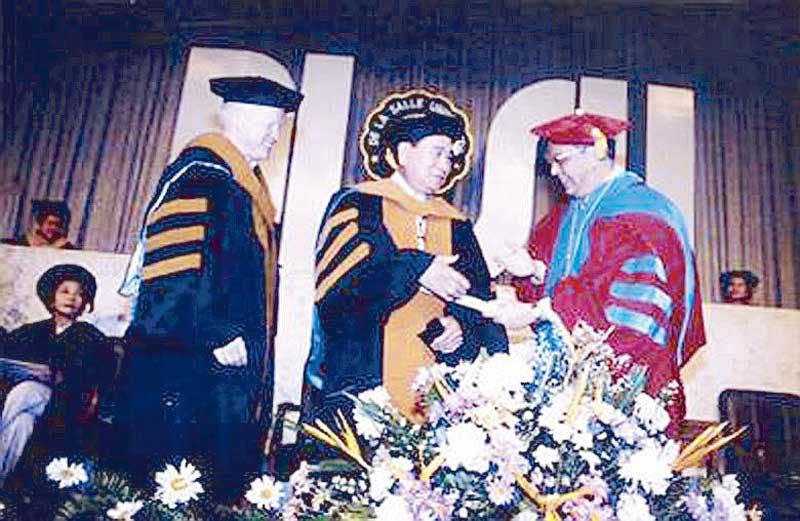 Sy receives his honorary doctoral degree from then DLSU president Bro. Rolando Dizon FSC as Jose Cuisia Jr. looks on.
Estifania Refuerzo-Chua graduated as an SM scholar with a Bachelor of Science in Information Science & Technology from Far Eastern University in 1997. The youngest in a brood of 10, Fannie was the first in their family to finish high school and college. With the goal of helping her parents and siblings, she studied diligently and graduated cum laude. Her first job was at Andersen Consulting (now Accenture) before moving to MetLife Insurance in New York, where she has been for the last 17 years. Currently the IT director, she and her family are based in North Carolina.
Fannie says she wouldn't have achieved what she has without the opportunity given to her by SM Foundation. Every day, she is thankful for all the blessings and continues to pay it forward by providing for the needs of her family, supporting her parents, assisting her siblings in their businesses and helping her nieces and nephews finish school.
Aside from the individual SM scholars, Sy has widened his range of support even more by donating school buildings to several institutions across the metro, giving even more students greater access to education.
Sy's school building donations to the country's big universities include De La Salle University in its Taft Avenue campus, University of the Philippines at its Bonifacio Global City campus, Miriam College in Quezon City, Assumption College in San Lorenzo, Makati and Sacred Heart School in Cebu.
Sy is co-founder of the Asia Pacific College in Makati that provides scholarships to marginalized but brilliant students. The school specializes in IT education in partnership with IBM Philippines.
Sy also acquired National University in Manila with the same vision of empowering the youth through education by strengthening its academic and operational backbone.
"We must also do something to help others in society. I am pleased that through SM Foundation, we are able to do many socio-civic projects and support college scholars in need who come from public schools," says Sy.
In a speech, he advises young scholars, "I encourage you to have your own dream and work to make it a reality. You are young, with the future before you. Remember the young boy who arrived in Manila many years ago, a stranger with nothing to his name. He stands before you now… fulfilled in his quest for education. If I can do it, you can do it too."
For 60 years, SM has been serving millions of Filipinos. Henry Sy wants to particularly empower the youth and support them on their journey to success and out of poverty.
"If I can do it, the young people of today can do it, too," he insists.