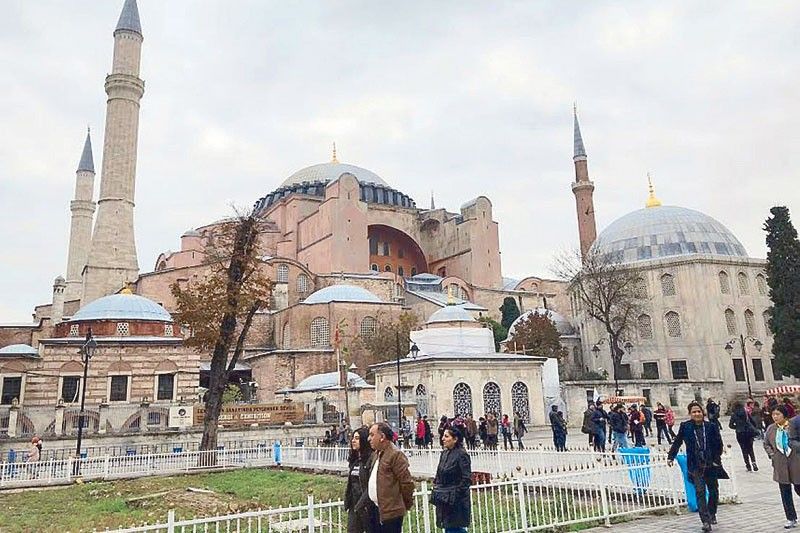 The Hagia Sophia is one of Istanbul's most amazing sites
Chit U. Juan
(The Philippine Star) - January 6, 2019 - 12:00am
MANILA, Philippines — Once. Twice. Third time now but maybe even a fourth visit to Istanbul will still be one to remember. Even if I have been to Aya Sophia or Hagia Sophia, each visit still amazes, surprises. And that is also true for another must see – the Blue Mosque.
Both destinations are close to the Egyptian bazaar or Spice Market, my favorite destination for anything Turkish – Turkish delight, Turkish coffee and all kinds of nuts and spices. Not to mention cheese, sausages and the ultimate dessert of different kinds of Arabic sweets called baklava.?On my third time in this Asian/European city I could not help but still be in awe when I see the Bosphorus, the body of water with raging currents from the Black Sea in the north towards the sea of Marmara in the south. The vistas are amazing and you cannot help but take one photo after another. You may chance upon a full moon or a beautiful sunrise. ?The food is amazing. We were lucky to be billeted in a hotel by the Bosphorus and starting with a buffet spread at breakfast, one must forget the calorie-counting and just eat all the natural bounty served at the buffet. Even the local bread called simit is baked fresh every morning onsite. And the butters and labne or cheese spreads are incomparable.? Over at our conference in another hotel each meal was prepared with vegetables in season, quinoa and local fare like lamb, beef and fresh or smoked salmon served with the juiciest of lemons and other accompaniments. Each dish – even classified as "hotel food" – tastes as fresh and natural as the next bistro on Istiklal street or any place serving local fare called Lokantasi. It is the Turkish turo-turo ("point-point") where you point your choices like braised chicken, baked fish or the various koftas and shawarma served hot and fresh. Try the chili paste, too. With the abundance of spices available in Istanbul, their versions of sambal and chili mixes are interesting and worth trying.?We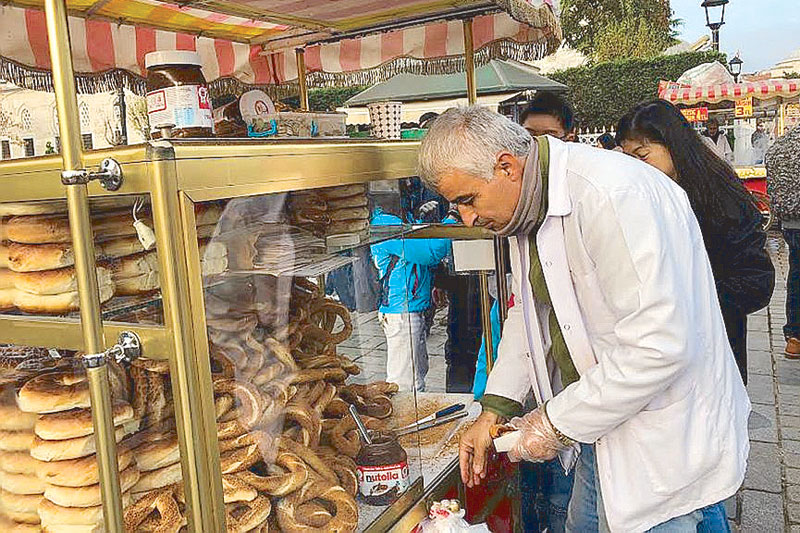 A vendor sells simit, a local pretzel-like breadwent local at the spice market and had our fill of chicken shawarma, baklava and apple tea. And snacks at the market range from the famous Turkish ice cream from Mado and Turkish delights from Hazer Baba.
These are two famous brands of Turkish specialties which were also part of our conference sampling booths.?There is a hop-on/hop-off or "HoHo" bus tour for the first timer so you can check which sights you would like to come back to and spend more time at. Or just walk to the bridge towards the Spice Market and watch as locals drop their fishing lines hoping for a catch. There are many tree-lined streets near Dolmabace and lots of cafés and bistros for the weary traveler to stop in. Dolma bace means "filled up garden" because the former sultans asked each boat passing the Bosphorus Strait to donate a rock to "fill" the garden by the water – thus it became known as Dolmabace.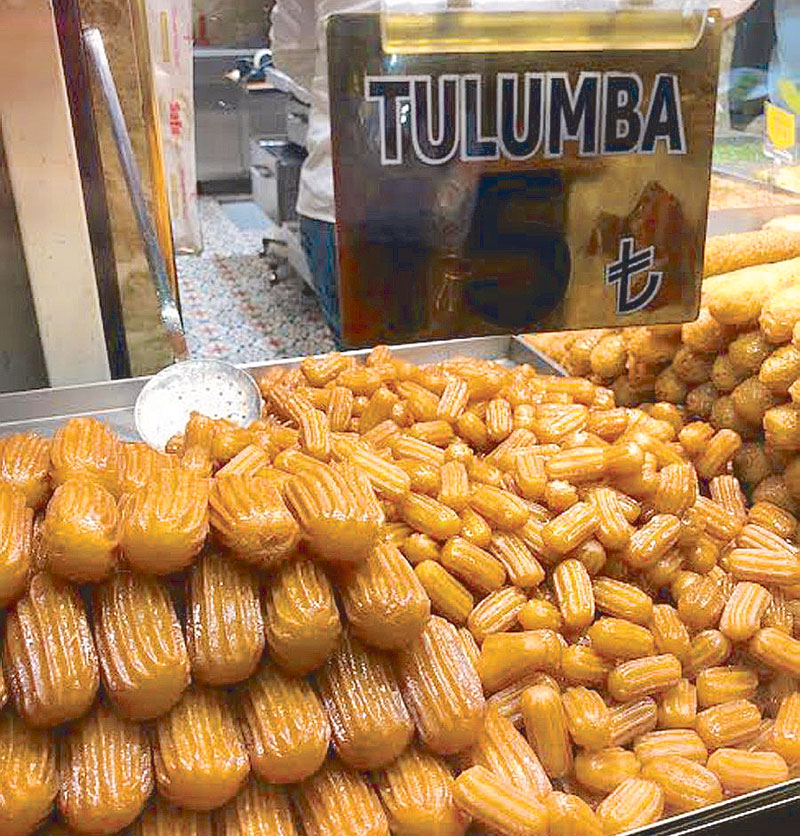 Piles of freshly-made tulumba, a sweet pastry
For the ladies, remember to take along a scarf or shawl so you can enter religious places. And for both men and women, your legs need to be covered, so no shorts please, even if it's warm in the summer months. There also is no photo-taking of devotees or religious people in prayer out of respect since these tourist places are primarily places of worship. The guides will tell you where it is proper and safe to take photographs in mosques (never inside) and palaces.
What to remember when you visit Istanbul:
The traffic has become worse. Especially during rush hours, a trip from the airport could take one hour or more. A trip to the market could be circuitous as your driver tries to find a better way for you or for him.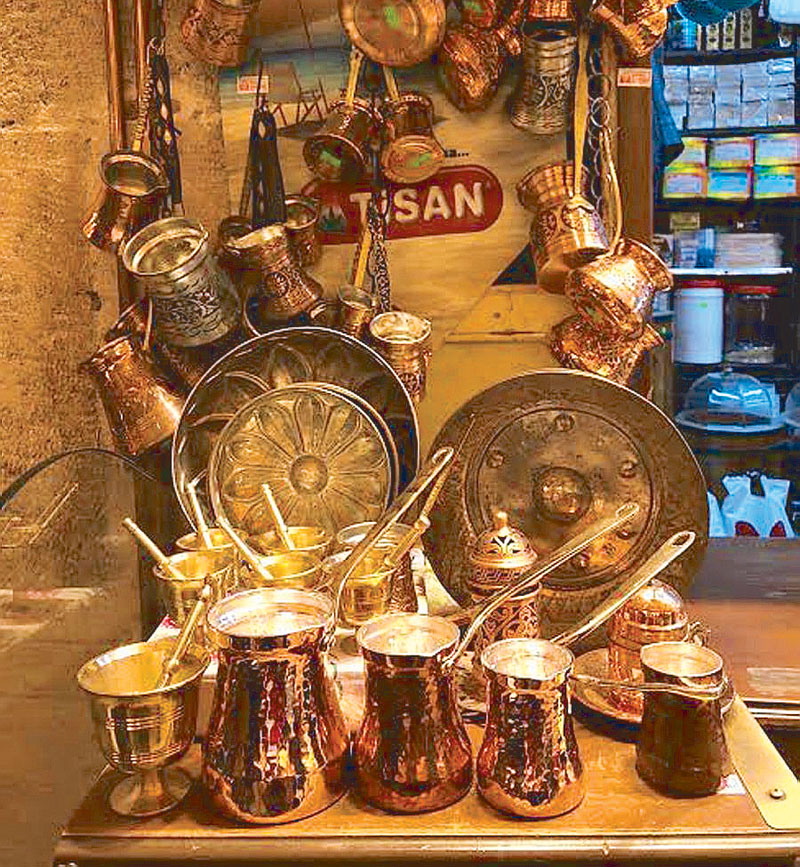 Various sizes of ibirik used to make Turkish coffee
Negotiate with cab drivers. Sometimes they forget to turn the meter on. If they do, suggest your route or prepare to pay for an "unintended" city tour. From Besiktas where our hotel was located to Spice Market can cost Turkish Lira 30 or 80 depending on your driver's needs.
Don't look for pork in your meals. There is good lamb, beef and chicken. The country has 99 percent Muslim population who do not eat bacon, except beef bacon.
Try the Turkish coffee. It can be served in the best hotels as well as on market passage ways. The difference is the grit of the coffee (ground and left to boil three times with sugar) – it's finer in hotels, and rough and gritty in the market.
Try baklava sweets with tea. Choose your baklava (prices range from Turkish Lira 40-80) depending on your choice of nuts like pistachio and almonds. Choose a variety and take it with hot tea which is served in glass "sexy" cups.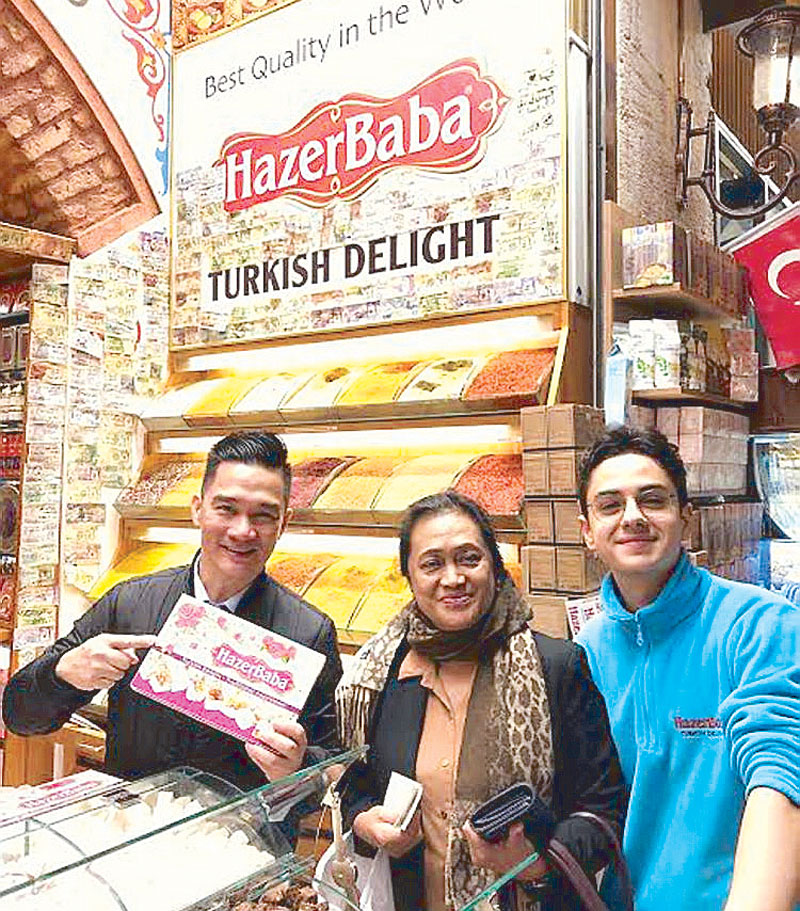 Tourists purchase some Turkish delight by the popular brand, Hazer Baba
Bring some food home. You can have them vaccum-pack your purchase of baklava, Turkish delight and even sausages.
Buy only Turkish souvenirs, not knock-offs which now are aplenty even in the Grand Bazaar. Even if you are not a shopper, go to the market and eat local. Drink local and watch what the locals do. Hey, you can even go fishing. ??