To the moon & back
December 9, 2022 | 12:00am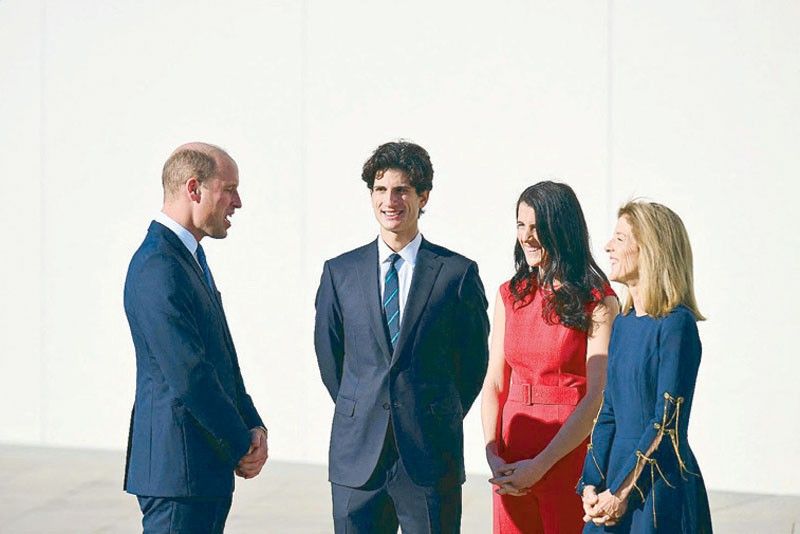 Last week, British and American royalty shared the same frame.
Britain's Prince of Wales and the only living heir of the late US President John F. Kennedy and his wife Jacqueline, the king and queen of the American Camelot and popularly considered "American royalty," met to celebrate JFK's "Moonshot" speech and the "Earthshot" awards inspired by it.
Prince William, founder of the Earthshot awards, was welcomed by US Ambassador to Australia Caroline Kennedy and two of her children, Tatiana and Jack Schlossberg, to the JFK Presidential Library and Museum in Boston, where Caroline showed William excerpts from a video of her father's "Moonshot" speech at the Rice University in Texas 60 years ago.
In JFK's speech, the moon, that luminescent heavenly body that mesmerizes us on a clear night, that heavenly body that has inspired many a ballad, from Moon River to Dancing in the Moonlight, became a symbol of the seemingly impossible, yet attainable.
Even in popular language, "A shot at the moon" ("Suntok sa buwan") is akin to a shot at the impossible. But as the American astronauts led by Neil Armstrong and the men and women of NASA had proven "Impossible is nothing." (With due respect to Adidas.)
To me, that is why both the legend and the reality about JFK endures through time: because of his youth, his vision, his clarity of purpose and yes, his matinee idol good looks (he was only 43 when elected POTUS), he has inspired not just Americans but many others to seek a challenge — and overcome it. He was a modern-day incarnation of Alfred Lord Tennyson's Ulysses: "Come, my friends, 'Tis not too late to seek a newer world."
Accuse me of idolatry if you must, but after discovering JFK in the library of the Assumption Grade school (To Light a Torch) when I was in Grade 4 or 5, many years after he was assassinated, had me hitching my wagon to JFK's "moon" and what it represented. It has helped me reach for my own personal stars.
Excerpts from JFK's speech at the Rice University in Texas in September 1962:
"But why, some say, the moon? Why choose this as our goal? And they may well ask why climb the highest mountain? Why, 35 years ago, fly the Atlantic? Why does Rice play Texas?
"We choose to go to the moon. We choose to go to the moon in this decade and do the other things, not because they are easy, but because they are hard, because that goal will serve to organize and measure the best of our energies and skills, because that challenge is one that we are willing to accept, one we are unwilling to postpone, and one which we intend to win, and the others, too.
"It is for these reasons that I regard the decision last year to shift our efforts in space from low to high gear as among the most important decisions that will be made during my incumbency in the office of the Presidency."
And he concluded his speech by saying: "Many years ago the great British explorer George Mallory, who was to die on Mount Everest, was asked why did he want to climb it. He said, 'Because it is there.'
"Well, space is there, and we're going to climb it, and the moon and the planets are there, and new hopes for knowledge and peace are there. And, therefore, as we set sail we ask God's blessing on the most hazardous and dangerous and greatest adventure on which man has ever embarked."
***
The Earthshot Prize, according to its website, founded by Prince William and The Royal Foundation in 2020, was inspired by President Kennedy's "Moonshot." The Prize is designed to "incentivize global urgent optimism and action to help repair the planet within this decade."
It said, "In 1962, the 'Moonshot' was a challenge set by President John F. Kennedy to reach the seemingly impossible goal of landing a man on the moon within 10 years."
Inspired by this "stunning" achievement, Prince William established The Earthshot Prize to uncover and scale the innovative solutions that will repair planet Earth within the next 10 years.
How high the moon, indeed? Can planet Earth still be saved from the ravages of man and nature and can Prince William's efforts make a dent in 10 years?
Well, let me tell you this. Twelve human beings walked the surface of the moon since JFK articulated his ambitious dream. According to online sources, "Neil Armstrong and Edwin "Buzz" Aldrin were the first of 12 human beings to walk on the moon. Four of America's moonwalkers are still alive: Aldrin (Apollo 11), David Scott (Apollo 15), Charles Duke (Apollo 16), and Harrison Schmitt (Apollo 17)."
From the moon, we go back to Earth. And planet Earth. Man has walked the moon. It can "walk the moon" on Earth as well.
Do the impossible and save the earth in our lifetime.
***
The Earthshot winners, are people who never gave up on Mother Earth.
According to the BBC News, they are:
• Mukuru Clean Stoves, Kenya: Kenya's Mukuru Clean Stoves is a female-founded business with mostly female staff. They produce stoves that are fired by processed biomass made from charcoal, wood and sugarcane instead of solid fuels, which can lead to air pollution and accidents that claim four million lives each year, the Earthshot Prize said.
• Kheyti, India: In India, Kaushik Kappagantulu's Greenhouse-in-a-Box helps small-hold farmers protect their crops from extreme weather and pests, in a country that has been severely impacted by climate change.
• Notpla, United Kingdom: A waste-free solution from the UK was also among the winners, where Pierre Paslier and Rodrigo Garcia Gonzalez have been able to create natural, bio-degradable plastic made out of seaweed. The company made more than one million takeaway food boxes for the food delivery platform Just Eat this year. More on the UK winner here.
• Australia: The Indigenous Women of the Great Barrier Reef in Australia were chosen for a program that has trained over 60 women in both traditional and digital ocean conservation methods.
• Oman: In Oman, Talal Hasan's project 44.01 promises to turn carbon dioxide into peridotite, a rock that is found in abundance both in Oman and globally, including the US, Europe and Asia. It offers a low-cost and safe alternative to traditional methods of storing carbon, which include burying it underground in disused oil wells.
Yes, it is not yet too late to seek a better world.