A natural high in Montenegro
November 11, 2022 | 12:00am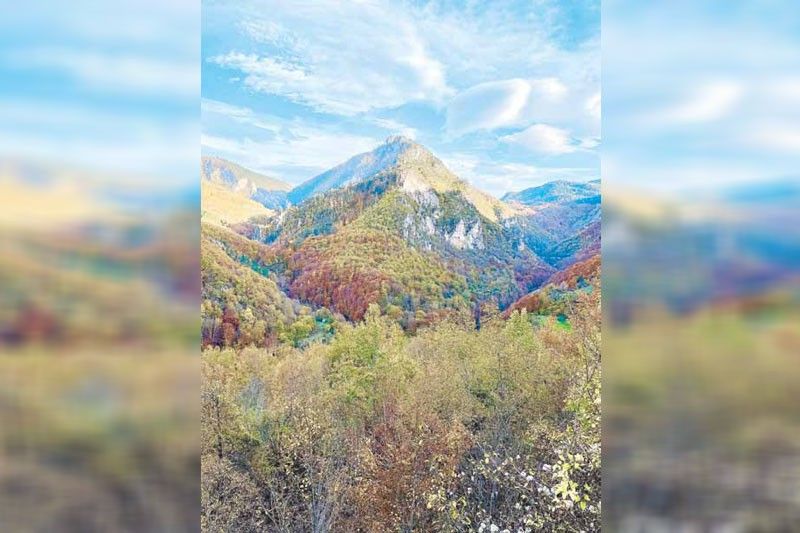 It really is a country of peaks.
"We took all the beauty from Europe and put it in Montenegro," proud Montenegrins like to say to visitors in awe of Montenegro's scenery.
Perhaps it isn't just national pride but an objective assessment of a country that looks like a series of watercolors from a landscape artist. A Monet, perhaps.
The youngest state in Europe, Montenegro (literally "Black Mountain," because dense evergreen forests blanketed its mountains), is a country of only 600,000 people, all of whom have a roof over their heads, according to our guide, Dino Pepic. "There are no homeless people in Montenegro."
What Montenegro may have more than its fair share of are real-life postcards in 3D strewn all over its 13, 812 square kilometers (the Philippines is about 22 times bigger).
"Montenegro is one of the most beautiful countries in Europe. Its majestic landscapes, lush natural greenery, side by side the Adriatic Sea — the calmest sea in the world and which leads towards Montenegro Bay — are a sight to behold. If I were to describe how I felt when I first saw Montenegro, I would have to say that it would be similar to how one would perhaps describe the Garden of Eden?truly a piece of heaven on earth," says Honorary Consul of Montenegro to the Philippines Vanessa S. Pastor Ledesma. "Though I have been to Montenegro at least five different times over the past four years, recalling these favorite places and experiences makes me want to go back to this piece of heaven on earth again, very, very soon."
Vanessa, like the Montenegrins, is just being objective.
I saw Montenegro for myself and was conquered.
On our way from Dubrovnik in Croatia to Montengro's Perast, an old town along the Bay of Kotor, we passed several scenic lakes and hills, and a man-made islet on which stood a solitary chapel named Our Lady of the Rocks. The chapel was built upon a rock after two Venetian sailors from Perast reportedly found a picture of the Virgin Mary on it in 1452. To this day, many brides leave their wedding bouquets inside the chapel for special intentions.
Perast, with a population of less than 300 (yes, 300!), is an aristocratic seaside town that was once under Venetian rule. For centuries, 20 palaces were built in Baroque style, 17 Catholic and two Orthodox churches. Try the many sumptuous seafood dishes in the restaurants that line the water, some of the best I've had.
We then proceeded to Kotor, a walled city like Dubrovnik but more quaint and charming. And yes, with less tourists, thus the prices in the restaurants and souvenir shops are friendlier. The entrance to Kotor is already jaw-dropping — it's the focal point of the city. Built against a backdrop of limestone cliffs and mountains, the main entrance boasts a moat over crystal-clear waters where fish abound. Though Kotor is ringed by 4.5 kilometers centuries-old walls, it looks more like a Mediterranean village than a bastion.
According to Dino, there are more cats than people in Kotor, hence the feline creature is one of the city's symbols. Aside from cat figurines, carved statues of Father Christmas seemingly jump off the shelves for their craftmanship and color.
***
"I love Kotor for its majestic mountains and lakes. And yet, there is something humble and simple about it that makes it more endearing," says Andie Recto, one of my high school classmates and friends who travelled half the world for a Balkans reunion. "The people are so kind and helpful, too."
On an al fresco dinner in one of Kotor's many squares, Andie unknowingly left her phone in a restaurant called Dekaderon. Later on, Andie was surprised to receive a call from the friendly and solicitous front desk manager Fedja asking if she misplaced her phone. When she checked and found that indeed it was missing, Fedja told her, "Someone found it!" Apparently, Peter from the restaurant called up Hippocampus to tell him a guest of the hotel (during our dinner, Peter, casually asked where some of us were staying) had left her phone and Fedja rushed to him to get it. When Andie went to the lobby, her phone was already waiting for her.
"Montenegrins are very warm and inviting people, not to mention truly beautiful, just like Filipinos," adds Vanessa. "They are very hospitable, and are always offering their warm smiles to everyone they meet."
Kotor, a UNESCO World Heritage Site, is one of Vanessa's favorite places in her country of many favorites.
"In Kotor's Old Town, you will find palaces, narrow cobblestoned streets, beautiful stairways and decorated gates. The fruits and figs sold in the market just outside the Old Town walls also give me the feeling that I am in the era of the Roman Empire," she says.
I had my best hamburger in Europe in a café near the Hippocampus Hotel, which also served the best breakfast of cheeses complemented by a paste that tasted to me like pimiento and tomato butter with a hint of spice.
"The food in Montenegro is excellent," agrees Vanessa. "Since the country's agriculture is inclusive, all of their products are locally produced, not for mass production, but just for the country's consumption, making their produce fresh, completely organic, and special. Truly, their meats are the best quality I have ever had, as well as their cheeses and vegetables. I have never tasted tomatoes and olives as fresh as I had tasted them in Montenegro." *
(To be concluded)