Another Wee-ner in the family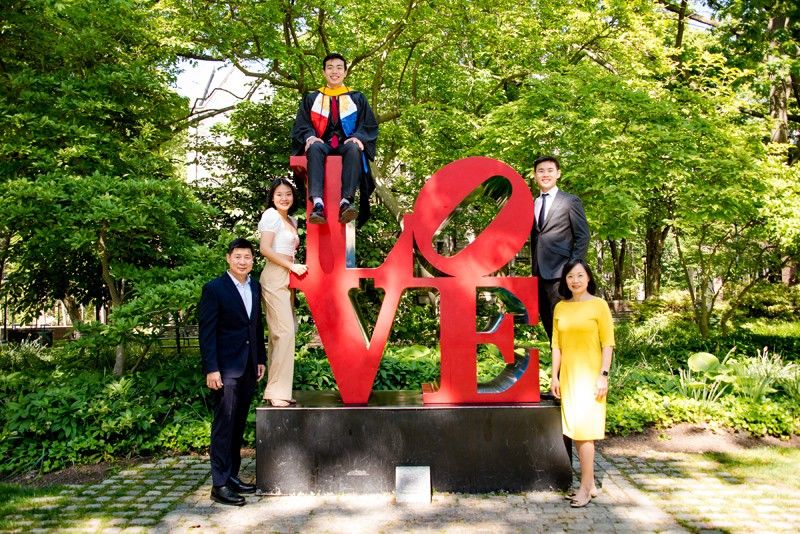 The Wee family is not lacking in luminaries. And now, here comes a member of the third generation, Jacob Johann, 21, who has snagged double summa cum laude honors, for double degrees Bachelor of Science in Economics from the Wharton School of Business and Bachelor of Arts in Psychology from the College of Arts and Sciences at the University of Pennsylvania.
Whew. And I thought that many of those already born rich are not that motivated to study very, very hard.
Seems I was wrong.
Jacob, grandson of Philippine Ambassador to Indonesia Lee Hiong Wee and Pearl Buck International awardee Rosalind L. Wee, the couple that spearhead the country's most lucrative seaweed industry, believes material wealth doesn't exempt one from hard work.
"I don't think people with material blessings should take their luck for granted. People with material blessings should be motivated to become educated and use that money for a greater purpose. If you are lazy and lounge around, not only are you being ungrateful, but that money will surely disappear," he told me.
In fact, Jacob looks up to people "who used their gifts to make contributions to society like Bill Gates, Michelle Obama, or (astronomer) Carl Sagan."
The eldest of three children of John and Elaine Wee and the eldest Wee grandchild, Jacob humbly attributes his academic achievement to "my parents, uncles, aunts, especially, Lolo and Lola, who taught me the importance of hard work. They work very hard in their respective careers and all their examples are a guide for me to follow."
His maternal grandfather George Go Pen Siong is a civic leader, someone who offers his time in the service of the community as president emeritus of the Association of Volunteer Fire Chiefs and Fire Fighters of the Philippines. His maternal grandmother is Rosalina Go.
"I'm inspired by my grandparents and parents. From my grandparents, I learned the importance of hard work. It's an inspiration to me how many sacrifices and challenges they have overcome from their childhood," says Jacob. His grandmother Rosalind, despite being legally blind, still plays a mean game of golf.
His clan is very proud of him, saying in a statement, "It is quite an amazing feat to graduate with highest honors in the school where Elon Musk, Manny Pangilinan, Mar Roxas, William Buffet, Chris Po, Cesar Virata, among others, are alumni."
Jacob says he wasn't pressured by his parents to excel. Instead, his mother prioritized his well-being above everything else.
"My father leads by example and always puts other people's needs over his. My mother is also very supportive — she worries about me and my siblings a lot and constantly tells me to focus on my well-being rather than my grades," says Jacob.
Like his father, Jacob graduated with honors at Xavier School, Greenhills, San Juan, where his Lola Rosalind was also once a teacher. But he wasn't entirely bookish. He was a champion debater.
"In high school, I was very interested in debating. I was part of the Philippine national team and competed locally and internationally in debate tournaments. I won the Philippine Schools Debate Championship during my senior year. This year, I'm part of the adjudication core for the Magiting Cup, which will be held from Aug. 28 to 30."
On why he chose a double degree in Economics and Psychology, he explains: "Most people study Economics and Psychology because they're interested in Behavioral Economics. I studied Economics to get a better understanding of business, and I studied Psychology because I think part of business (and life) is understanding how other people and even how we think. Our biases, personalities, and ultimately, psychology affect how the entire world is run — from every day relationships to the government."
Mentoring others
Jacob isn't selfish with his God-given gifts.
"One of the things I enjoyed and still enjoy doing is mentoring high school students who have similar dreams of studying college abroad. Last year, I was the co-president of CAMP Philippines. We helped high school students in the Philippines write essays, get connected with colleges, and understand the admissions process abroad. This organization is still active and still provides free services to high school students in the Philippines looking to study abroad," says Jacob.
He also learned that sharing gains and paying it forward reap many dividends.
"One thing I learned was that it was often easier to retain something if you taught it to someone else. So my friends and I would often teach each other concepts from an exam. The teacher gets to reinforce that memory, and the learned learns something new."
He gives this tip to those who want to excel in class: Get enough sleep.
"One thing I didn't do was lose sleep. I learned through experience that sleep is important for focus, memory, and mood — things you don't want to mess with before an exam," he recalls.
Another secret to this young man's success is his desire to give back.
"My North Star is the people in my community. I owe many things to the Philippines and my family, so I want to give back to the Philippines and to my family. I am very lucky to have been given the opportunities that I have been given, so I want to give those same opportunities to others."
So where does this double summa cum laude go from here?
"My next step is to work in Miami, Florida. There, I will be joining a rotational program to work for Restaurant Brands International. I also plan to help and consult with my grandparents, my dad, and my uncles who are part of the W Group for a REIT, which is basically an IPO for real estate companies."
Till then, Jacob remains a wise student of life. "Wee" is big.
(You may e-mail me at joanneraeramirez @yahoo.com. Follow me on Instagram @joanneraeramirez.)