All in this together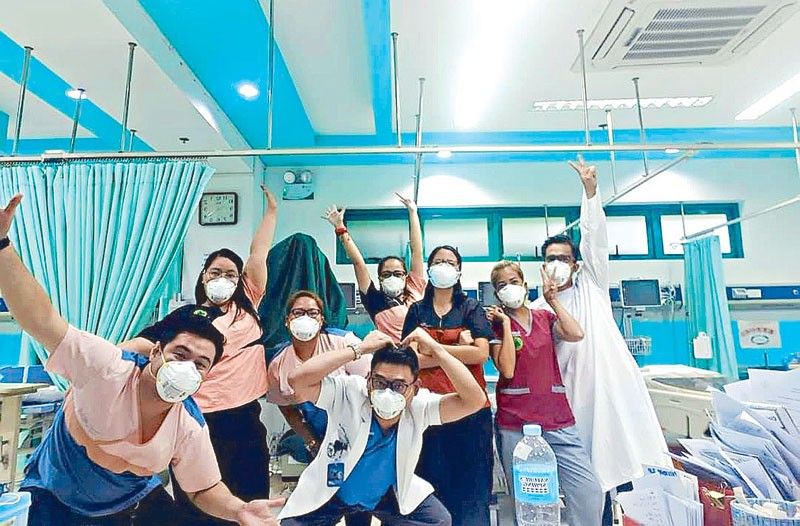 I have constantly written and spoken about this VUCA (short for volatile, uncertain, complex, and ambiguous) world we live in, but none could make it any more VUCA than this global COVID-19 pandemic we have now.
Every crisis is always an opportunity for unity and service, for government and the private sector, in partnership, to work together for the national and common good.
And the MVP Group of Companies, under the helm of our chairman, Manuel V. Pangilinan or MVP, is one such conglomerate that has responded to this call for public-private partnership (PPP) in this time of need.
As MVP had said in his Easter Sunday message, "Indeed what defines us in these times is the positive attitude we are taking: accepting the harsh realities that COVID brings, carrying on with our duties despite the disruption, braving the risks by being out there in the field. If we stay committed and united and resolute, I am confident we will pull through this crisis, and become a better version of ourselves, and a better business. No doubt, COVID will change all of us and the way we live and work, but we must neither be daunted nor reduced by it."
Through its Tulong Kapatid corporate social responsibility consortium, the MVP Group has taken an active role in this fight against COVID-19.
In the first week of the enhanced community quarantine, ethyl alcohol was distributed to frontliners, hospitals, and local government units by Roxas Holdings Inc., PLDT-Smart Foundation, Makati Medical Center Foundation, and Metro Pacific Investments Foundation using the logistical capabilities of MetroPac Movers Inc.
Grocery packs were also given to families of frontline health workers and families of soldiers manning checkpoints by PLDT-Smart Foundation and SMART Communications Inc.
Protective face masks were given to frontline health workers at the Rizal Medical Center in Pasig City and the Philippine Heart Center in Quezon City by One Meralco Foundation, and also to the frontliners at the National Children's Hospital by TV5 Alagang Kapatid Foundation Inc. and Philex Mining Corp.
Buses were deployed to the Philippine Army by PLDT-Smart Foundation and the Philippine Disaster Resilience Foundation (PDRF) to transport frontliners. Relief goods were distributed to around 220 barangays along the North Luzon Expressway (NLEX), the Subic-Clark-Tarlac Expressway (SCTEX), and the Cavite Expressway (Cavitex) by Metro Pacific Tollways Corp.
Maynilad provided free water for 16 disinfecting stations all over Metro Manila; free bottled water for hospitals, checkpoints, and LGUs in its concession areas; and free water for the new mass quarantine facilities at the Ninoy Aquino Stadium at the Rizal Memorial Sports Complex, Philippine International Convention Center, and World Trade Center.
SMART Communications Inc. provided carrier-grade, fiber-powered Wi-Fi connections to the three aforementioned new treatment facilities as well as to De La Salle Greenhills in Mandaluyong City and Far Eastern University in Alabang, which house frontliners from nearby hospitals.
It has likewise rolled out free high-speed Wi-Fi internet connectivity to the New Clark City in Tarlac and the Philippine Army gymnasium in Taguig, both facilities to accommodate persons under investigation and persons under monitoring.
Parent company PLDT Inc. — aside from providing for and ensuring connectivity in the whole country, especially at this time when there is heavy reliance on the internet for people staying in their homes — provided free internet connectivity and free landline calls in critical areas in Batangas, Quezon Province, Zamboanga and Davao. It also donated cars for use of frontliners to the Office of the President, as well as cars, trucks, and vans to the Armed Forces of the Philippines.
The Ninoy Aquino Stadium at the Rizal Memorial Sports Complex, converted into a mass quarantine facility, has been a center for resource mobilization by the Group. PLDT-SMART provided free connectivity; Meralco provided free power; Maynilad, free water; and Metro Pacific Tollways donated an initial 350 hospital beds. Metro Pacific Investments Corp. will provide ventilators, PPEs, face masks, ECG machines, defibrillators, mobile X-rays and a host of other components to set up a mobile laboratory.
PLDT, SMART, Meralco, and Cignal TV all provided for 30-day payment extensions on bills that became due during the community quarantine period. Maynilad suspended disconnection of overdue accounts.
Metro Pacific Tollways Corp. provided free toll fees for government and medical frontliners, as well as for free towing services on NLEX and SCTEX.
Parent company Metro Pacific Investments Corp. mobilized P190-million worth of resources to help frontliners and vulnerable communities. The Our Lady of Lourdes Hospital in Manila was designated by the Metro Pacific Hospitals Group as its main COVID-19 facility among its portfolio of 16 hospitals all over the country.
PLDT Enterprise, together with the Philippine General Hospital, recently opened a 24/7 COVID-19 Hotline for questions and donations.
PDRF, the major private sector coordinator for disaster risk reduction and management in the country, with over 85 member companies, has launched Project Kaagapay for healthcare heroes and Project Ugnayan for poor households. More on this in my next column.
PDRF is co-chaired by MVP, Jaime Augusto Zobel de Ayala, and Luis Antonio Cardinal Tagle.
The work and the response continue, no doubt, because the battle is far from over.
As President Duterte said in his Easter message, "The triumph of the Risen Christ presents us all with hopeful assurance that, even as we face adversities, there is always hope of better and new beginnings."
We hope. We heal as one.