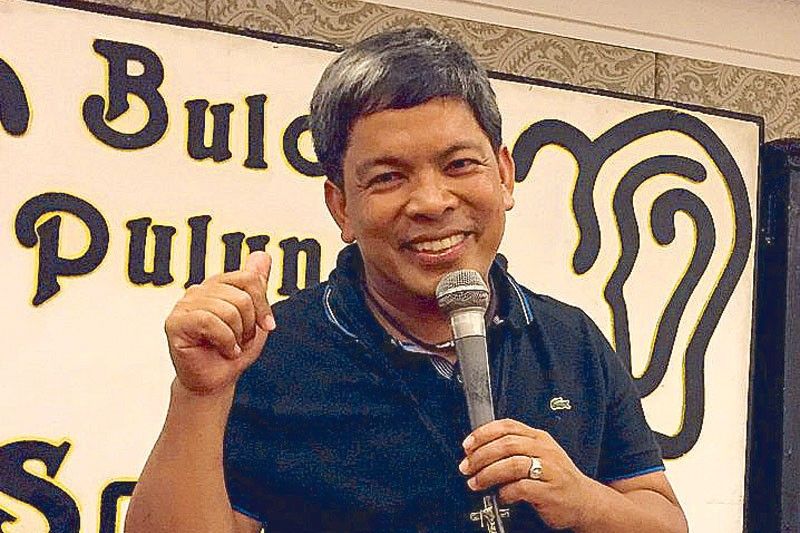 Fr. Fernando Suarez at the Bulong Pulungan forum at Sofitel Philippine Plaza in 2016.
Joanne Rae Ramirez
Healing priest Father Fernando Suarez, who had touched a multitude based on the outpouring of grief on social media after he passed on last Tuesday from a massive heart attack, died happy, says his close friend Deedee Siytangco. "Father Do" was surrounded by the things and people he loved at the Alabang Country Club — his tennis buddies and his supporters; doing what he was passionate about — tennis and raising funds for indigent priests.
Deedee, whom he introduced to his tennis buddies as his "angel," recalls Father Suarez was in high spirits. After playing and winning two sets of singles energetically, Father Suarez seemed tired but was determined to finish the third set. Then he collapsed. Deedee was having lunch adjacent to the covered court and heard screams. When she reached the covered court, she saw Father had already collapsed. No ambulance arrived immediately, she said, so Father was taken by private car to the Asian Hospital and Medical Center. When Deedee got to the ER of the hospital, a bishop was already giving Father Do the sacraments. His body was wrapped in a blanket, ready to be taken away.
"I think God was saying, 'you have already fulfilled your mission on earth'," says Deedee sadly.
Less than a month ago, the Vatican handed down a "not guilty" verdict on Father Suarez, exonerating him from charges of committing sexual abuse of minors. The months leading up to the "not guilty" verdict were "excruciating" for Father Suarez, laments Deedee.
It would have been Father Suarez's 53rd birthday today.
***
The first time I met Father 11 years ago at the Bulong Pulungan press forum at the Sofitel Philippine Plaza, he wasn't at all what I expected. He was not an imposing figure with a thunderous and commanding voice. Instead, he was approachable and down-to-earth. And he kept on repeating: "I am not the healer, Jesus is the healer, I am only God's instrument."
I had the privilege of being seated two seats away from the young-looking and amiable priest. I was curious about this human being who reportedly has supernatural powers, having "touched" with his healing hands some two million people in 2008.
The year before that, Father Suarez was requested to say Mass before a sick Mike Arroyo at the St. Luke's Medical Center just before the First Gentleman underwent a delicate open-heart operation. As everyone knows, the operation was a success.
Father Suarez's healing touch had made him, as far back as 2009, a celebrity of sorts. But what made me believe in his gift was his detachment from it. He said the ultimate purpose of healing is conversion — to bring the healed person closer to God.
I asked Father Suarez, named by his parents after the "king" of Philippine movies Fernando Poe Jr., "How does one explain all the testimonials of healing attributed to you?"
"I am a mystery even to myself," he answered.
***
More than 30 years ago in Batangas, Fernando Suarez was on his way out of the church when he noticed a beggar lying forlornly on the sidewalk. He approached the beggar, touched his leg and said, "Do you want me to pray with you?" Then they prayed.
According to Father Suarez, the beggar then stood up and walked.
The young Fernando was terrified by the phenomenon that unfolded before his teenaged eyes and ran away.
Fernando said that for the next 20 years after the beggar stood up and walked, he tried to deny his gift for healing. "I wanted to enjoy my life!"
But he couldn't deny his calling for the priesthood. At the ripe old age of 35, after being rejected by seminaries in the Philippines, he was ordained a priest in the order the Companions of the Cross in Canada, where he had migrated.
It was his superior there who, having noticed the many cases of healing attributed to Father Suarez, told him: "Fernando, this gift is not for you. It is for the people."
According to Father Suarez, "All Masses are healing." One need not seek a healing priest.
With each healing miracle that takes place, "God's promise is being fulfilled in front of your eyes," added Father Suarez.
He saw beauty in suffering. "Suffering makes you acknowledge God."
Even back then, he was already besieged by requests for healing, even while he was asleep on flights. But he said he tried to grant as many requests as possible, inspired by the effort Mother Teresa exerted to reach out to those in need.
Father Suarez had been censured by some bishops, and supported by others.
Being doubted by others, ridiculed even, "is part of the package," said Father Suarez.
"I have been humiliated, humbled and been unwanted," he admitted.
Finally, I asked Father Suarez if he is able to heal himself when he has ailments.
"No, I take Tylenol," he smiled.
***
I know of many people who were healed by the prayers and touch of Father Suarez, but let me relate two — that of restaurateur and chef Glenda Barretto, and the brother of a fellow editor. Glenda, who had suffered a stroke, was able to move again certain parts of her body after Father Suarez prayed over her during a chance meeting. She felt the grace of recovery instantaneously — she tore off a piece of paper from the cash register and wrote her name on it. Before that, she couldn't write the letter "G" even if her life depended on it.
My colleague's brother lined up for hours to see Father, and when he got to the front of the line, he was very thirsty. Father gave him bottled water, which quenched his thirst and cured him of his throat cancer.
My own father Frank Mayor was suffering from late-stage cancer of the pancreas when Father Suarez visited him in his home in Anaheim, California on the Feast of the Immaculate Conception in 2009. I had tried to move heaven and earth to have Father Suarez visit him, and with the help of Beth Tagle and Deedee, got the contact number of Father's American hosts. They told me Father was going to be in L.A., about an hour from Anaheim, and could we pick him up and drive him back? Of course, we said, even if he lived in Texas, we would! My mother Sonia desperately wanted Father Suarez to pray over Dad. Lo and behold, it turned out Father Suarez's schedule that day was in an area only 10 minutes away from my parents' home! It was a miracle — a reassurance from Above that God was listening to our prayers. It was a kind gesture for my mom, who received the gift of peace of mind. Father says the ultimate purpose of healing is conversion — to bring the healed person closer to God.
I asked Father, when I met him again four years ago, what was the common denominator among all those who were healed after he prayed over them.
"Submission to the will of God, not just on the part of the patient but also on the part of his caregiver, or the person who brought him to the healing session," he answered.
A "humble and contrite heart" is the most fertile ground for a miracle.
My dad passed away seven months after Father prayed over him, but somehow I never thought that Father Suarez was a fake. How does one refute all the other stories of healing, just because my dad succumbed to illness? To me, it simply showed that there is a God, and that ultimately, He is in control of all the timing in the world. It was my dad's time, unfortunately for us.
And last week, it was Father Suarez's time. As he said, he was not the miracle worker, he was not thunderbolt and lightning from the skies.
He was simply an instrument of the Almighty. And by the suddenness of his death, I think Father Suarez — who had many testimonials of healing writ in stone — was testimony himself to the fact that ultimately, life, death and healing are God's will.
Not ours.