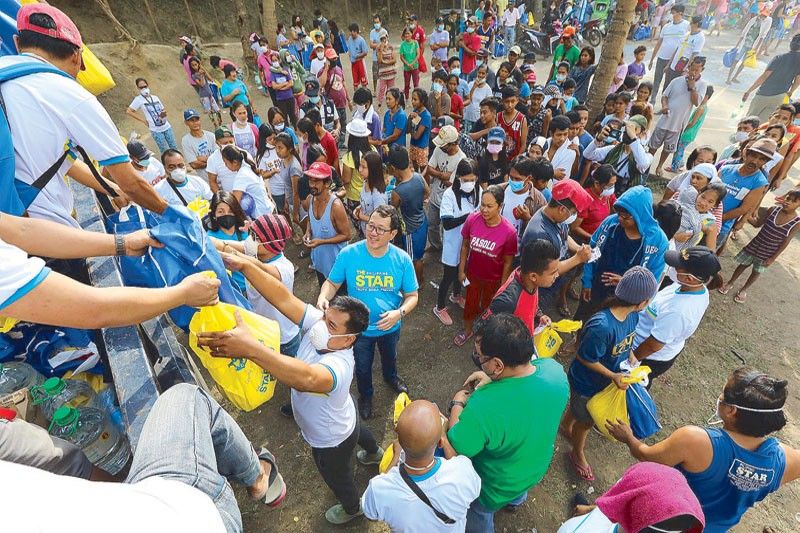 The Philippine STAR president and CEO Miguel Belmonte leads Operation Damayan's relief operations in San Luis, Batangas Tuesday.
WALTER BOLLOZOS
There was an eruption of more than just lava and ash these past two weeks.
There was an eruption of people power — a spontaneous knitting of groups and people to oust apathy and bring in change. People from all walks of life amassed in private homes, school gyms, office lobbies and town halls to take command — of relief and rescue operations. They conducted SMS, Viber, private Messenger text brigades to spread the word. The people took command probably because they have learned lessons from Yolanda, probably because Taal was close by, close enough for them to feel vestiges of its wrath. But being close by could have led people to cower in fear in their homes, hoarding goods (except for facial masks, no such thing happened large scale) and food. But instead of just hiding in their homes, people in largely unscathed areas stormed out of their comfort zones — organizing relief drives among neighbors, classmates, school mates, office mates, members of their parish, packing these goods then transporting them to affected areas.
It was people power at its finest and most peaceful.
The exodus of Jan. 12, Sunday, was reversed — early this week, the highway to Taal was choked with vehicles, not escaping from disaster but running to it, armed with relief goods, medicines, even toilet bowls (donated by Wilcon)!
Animals were attended to by private groups with just as much affection and generosity. STAR columnist and "eventologist" Tim Yap gave up his birthday party last week to personally lead a relief drive in Taal. The horses were on his rescue list.
If anything, the Philippines is not a poor country. It is rich in generosity. Filipinos just have so much to give, of their time, their talent and their treasure. There just has to be a trigger, a cause greater than themselves, an assurance that their sacrifices will not be for naught. That the last, the least and the lost will not fall through the cracks, literally and figuratively.
***
STAR president and CEO Miguel Belmonte said he did not expect the readers' overwhelming response to the fund drive launched by the newspaper's Operation Damayan, which hit P6.53 million as of Wednesday.
Broadcast journalist Korina Sanchez went to Talisay, heard a kitten purr while shooting against the backdrop of the volcano and decided to bring the kitten (perched on her shoulder) home in her van. According to a post on Instagram, she also went to Lemery, where with the permission of the barangay captain, she tried to bring home the hungry pets who would not leave their masters' homes. She brought the pets to a farm in Nasugbu, away from the danger zone. She also called for help from veterinarians who were willing to check on the animals and several responded, some, according to her, even venturing into the danger zones to save the animals.
"One dog or cat's life saved is a lot."
***
Among my Facebook circle of friends, businessman Michael "Mike" Rodriguez, who has homes in the Taal area, was one of the first to organize a relief drive. He was surprised at the response. "The best thing is that these kind souls all came forward without being asked. All I said on FB is that I will be doing aid runs this weekend in the affected areas." Then he encountered a problem he was glad to have: the donations were too much for his truck. "At this rate," he said last week, "I'll need a 10-wheeler truck!"
Michael recounts, "One of the most poignant scenes I remember from last weekend was that of an old lady from the bukid and her grandson, lining up to donate two baskets of eggs at an evacuation center in Nasugbu. I could tell the eggs were from their own chickens — native hens, because they were in uneven shades of brown and variable sizes. They were happy to give, in spite of having so little."
***
My Assumption classmate Maite Mendieta also spearheaded a mission of her own. Maite sounded a call to members of our high school batch for hygiene kits. Some donated their airline kits. Others donated money so that Maite could buy the basic toilet necessities like toothpaste, toothbrushes, soap, etc. With the help of another classmate Chloe Cruz Uy and her helpers, Maite was able to put together 657 full kits with masks and distributed several of them to the Assumption College volunteers for the evacuees in Malvar.
A batch mate Annie Lim Kawpeng launched a fund drive for 23,000 evacuees in Calaca, Batangas and focused it for the purchase of 3,700 bars of soap and 2,000 bath towels. The team Annie is helping includes students from a different school, Colegio de San Agustin in Dasmariñas Village in Makati, who banded to form a relief group called "Operation Patola." They started mobilizing during Ondoy and have been in the scene of various calamities since then, including Taal now.
Even the priest in my own parish in BF Homes, Parañaque said the parish truck is filled every day with donations for Taal evacuees. According to Batangas Gov. Hermilando Mandanas, 200,000 people from the affected areas are living in evacuation centers and 800,000 more in relatives' homes. Hundreds have reportedly picked up some infection, which isn't unusual in crowded places.
I have lived through many typhoons and a few earthquakes, but it was in this latest calamity, the Taal Volcano eruption, that I have seen the peak of people power for humanitarian reasons. Three have died in the relief efforts, risking their lives to help others and losing them in the dead of night.
Venturing into evacuation centers while the volcano remains restive, willing to risk your life so that others (including animals) may live, requires no less bravery than facing up to a tank.
That's people power.