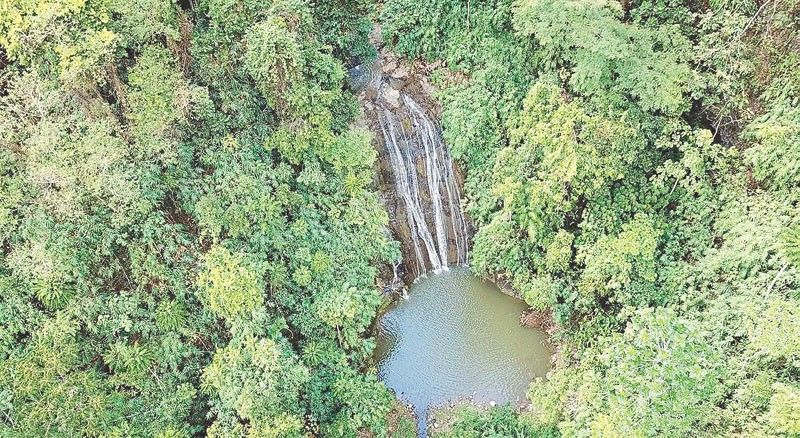 Bongabong, one of the biggest municipalities in Oriental Mindoro, has several tourist attractions like Tangisan Falls.
I spent one of my earliest Christmases in the town of Bongabong, Oriental Mindoro a place then reached only after eight hours from Manila by bus to Batangas pier, then a ferry boat ride, then another bus ride. My grandparents, the late Igmedio Reyes Sr. and the late Jovita Ylagan Arellano met there, and my mother Sonia Reyes Mayor and her six siblings were born there. To this day, their Spanish-American colonial home (its facade has always been cream, not brown and made of shiplap) stands proudly by a river that flows into a deep blue sea. From the second-floor bedrooms, one has a view of the sea and a coconut-tree covered island we called Kabilang Ibayo. On lazy, breezy mornings, I would recline on a rocking chair, facing one of the big windows with a view of the sea, and get lost in my own make-believe world or read one of the books from the packed bookshelves till my grandfather's clock (literally) would strike the lunch hour.
Of course, I have no memory of my Christmas as a toddler in Bongabong but have vivid memories of splendid summers in the sun when we would just walk to the beach, swim in the river, ride the tricycle to the farm, climb hills we called mountains then settle under a tree with my grandfather (Tatay) taking off the amorseko spindles from our pants. We played a lot, read a lot and my sister Mae and I would write stories and draw cartoons on our grandmother's (Nanay's) stock of pad paper.
When we were children, our grandparents gave us the extraordinary gift of living the uncluttered, uncomplicated life, with simple joys like freshly cooked bibingka for breakfast and halo-halo or champorado for merienda; and bedtime stories under the glow of the Aladdin lamps when electricity was erratic in the once sleepy town. We had no gadgets and television screens only lit up when the electricity came during Angelus. (At which time we would kiss our grandparents' hands out of tradition, but perhaps out of sheer delight that finally, we could turn on the TV set.)
Those were the days. I have not been to Bongabong in decades, but it owns a chunk of the best memories of my childhood. Last Saturday, Bongabong celebrated its foundation anniversary, no longer the sleepy town it once was.
Home to 80,000 residents (at least 15,000 are Mangyans, the indigenous people of Mindoro Island) and irrigated by four rivers, Bongabong is a fishing and farming town. It is also known for its organic produce because the only certified biggest organic rice farm in the country is reportedly in Bongabong, according to its Mayor Dr. Elegio Malaluan, O.D.
Recognizing the big potential of organic farming in boosting its economic performance, the municipality of Bongabong, headed by its mayor, and Nelson Gabutero, the owner of the Gabutero Organic Farm, have been working hand in hand to actively promote organic farming to all the town's residents.
Malaluan believes that organic farming is the best way for higher crops and rice production, thus his support for Gabutero in his organic farming advocacies. Now serving his second term, the mayor has made it his personal advocacy to make all the farmlands of Bongabong 100-percent organic.
"There is a big misconception about organic farming and we need to educate people about the proper way of organic farming, and with the help of my friend Nelson, we are slowly convincing our farmers the huge benefits of organic farming," Malaluan said.
Difficult as it may seem because many farmers are used to chemical fertilizers, Malaluan believes "organic farming will be the next big thing in agriculture because our lands need to go back to its natural composition so our plants can continue to grow and produce food for us. Imagine Bongabong with a land area of almost 50,000 hectares and all of its farmlands will give us organic yield, we will be healthier and we can effect a big change in the environment."
The Gabutero Organic Farm is at least 15 hectares, which is 100-percent organic. Gabutero, who started organic farming 30 years ago, is sharing his skills, know-how and even his technology to all those who want to learn and embrace organic farming.
"We dream of turning every inch of farmland in Bongabong into an organic farmland that will produce healthier food not just for our town but also to supply organic produce to the whole country," Gabutero said. "This is the only way to heal our land. We need to realize that what our land needs to yield more bountiful and healthier products is to have its own natural composition."
"I know that it will take us some time to realize our vision, but together with the Sangguniang Bayan and people of Bongabong, and of course, with the big help and assistance from Mr. Gabutero, we want to bring organic farming first to the whole island of Mindoro, next to MIMAROPA, then to the whole Philippines. This is the advocacy and goal of our municipality, of our people. We want Bongabong to be the center of organic farming in the country, thus, the healthy food basket of our nation," Malaluan stressed.
The Bongabong of my childhood as the future center of organic farming in the Philippines? Why not? It takes half the time now to reach Bongabong from Manila. It has electricity 24 hours. It has four rivers and expansive farmlands. It has a determined mayor and a farmer with a vision. *