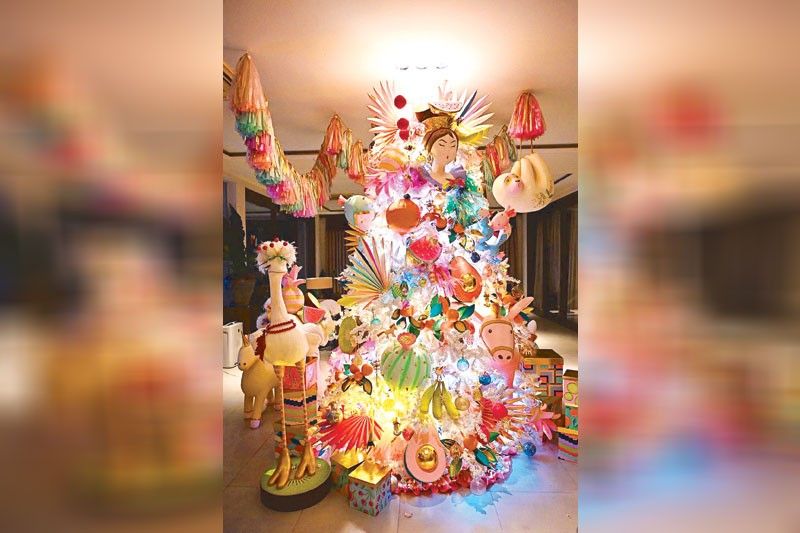 Dr. Vicki Belo calls the Glitterville Studios-designed Mexican-themed Christmas tree in her home 'Feliz Navidad Scarlet.'
One of the most unique Christmas trees I have ever beheld is the one that glows inside the Belo home.
Its creators, who also design the Christmas cover for O Magazine year after year, (this time, they decided to put a red bow on Oprah herself), are crafts and decorating guru Stephen Brown and Bryan Crabtree of Glitterville.
Brown described the tree as a "tropical" Christmas tree in his Instagram, in which he also referred to his clients as Dr. Vicki Belo, Dr. Hayden Kho and the "most famous baby in the world," Scarlet Snow Belo.
Vicki herself calls the tree, the "Feliz Navidad Scarlet" tree.
Indeed, it is a tropical tree, with a Mexican fiesta vibe — festooned with giant abanicos, giant fruits and lots of animals. There was also a Mexican-themed Belen.
Thus, Vicki hosted a Mexican-themed Christmas party for friends from the media, and of course, guests were asked to come in costume. Scarlet Snow came as Frida Kahlo! Dinner, catered by Chef Jessie's, included tacos, tamales, roast beef and for dessert, dulce de leche.
How Vicki met Steven and Bryan is as interesting as the tree itself. Vicki's daughter Cristalle Henares-Pitt follows Glitterville on IG. Four years ago, when she saw that one of their posts was datelined Manila, she sent them a message.
It turns out Stephen and Bryan outsource production here in different areas in Pampanga, Rizal and Laguna. They have been traveling to the country for the past eight years but confined themselves to their hotel when not working because of safety concerns. Cristalle met Steven and Bryan, invited them to have lunch with Vicki and lo and behold — the duo saw a new side of the Philippines. That year they did the Belo tree.
Last year, Vicki decided to gift Sen. Manny Pacquiao and his wife Jinkee with a tree from Glitterville, and learned belatedly the Pacquiaos were spending Christmas in Sarangani.
"I said, ah okay, I just told them (Stephen and Bryan) to go to Sarangani. When they got here, they read the US Embassy warning that Sarangani was on red alert. But they decided that they're going to get the tree anyway, but they said, 'Vicki, I can't imagine that eight years we never left the hotel, finally we got to your house and it's like a big step and we went to a dangerous part of the Philippines'!" Vicki told guests.
According to its website, the spark that led to Glitterville was ignited by Stephen's post-holiday blues. "But he learned that through crafting for the next upcoming occasion, he could turn those feelings around and literally make 'Every day a holiday'!"
Bryan, on the other hand, started at Glitterville on New Year's Day 2008 as a photographer for its catalog. "In a regular day he is routinely corresponding with factories about products, photographing any and everything for catalogs and blogs, traveling with Stephen Brown developing products…"
***
The party was also a celebration of Belo's 30th year in the beauty and skin care business.
"And so we're still here, we are very proud 30 years, which mean 40,000 liposuctions in 30 years, it means 40,000 nose jobs, 60,000 blepharoplastys. They say it takes 10,000 hours to become a master, with our 40,000 procedures and every procedure takes three hours, one hour, two hours and I think we just average two hours, for everything then we are 80,000 hours, so eight times the definition of master! So that's what we are very proud of, that people trust us. In fact, this year alone we have done 41,000 procedures here to date so it's 41,000 times people trusted Belo," Vicki said proudly.
Congratulations, Vicki, and Feliz Navidad, Scarlet!