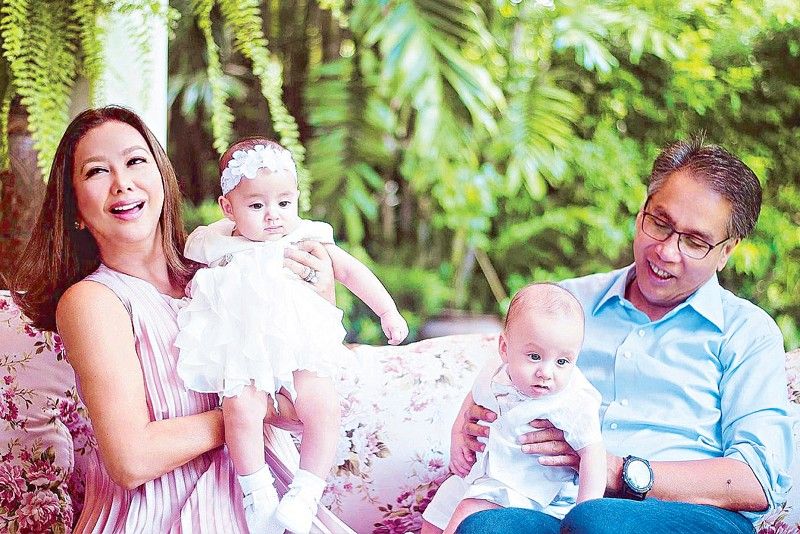 Korina Sanchez with husband, former senator Mar Roxas with their children Pepe and Pilar. Korina says, 'Our main purpose in life is to make the world a better place than when we found it. We need to help. If we can, we should.'
What #BestLife means to me
WORDSWORTH
-
Mons Romulo
(The Philippine Star) - September 3, 2019 - 12:00am
If you read Korina Sanchez Roxas' personal Facebook page, her status reads: "It's been quite a ride. Right now, it's all about trying to live my #BestLife."
And what a ride it has been for this veteran and multi-awarded broadcast journalist from ABS-CBN. After marrying political figure Mar Roxas in 2009 and just recently having not one but two babies by surrogacy (could we expect any less of a wow move from Korina?), you would think she's about to wind down. But in her words, "Change doesn't mean less. For me, it is simply shifting, focusing and balancing. I want to live long and happy. I want a life that is purpose driven. This is me trying to live my #BestLife on my terms."
So, this is Korina's definition of what her advocacy hashtag "best life" means:
1. Health and wellness. It is useless working, literally, to death. When we are so caught up in work and our careers meeting deadlines and outdoing ourselves every time, our health takes the hit. We don't notice it when we're younger. But it compounds and manifests at past 40, younger for many. I'm happy to now get to focus more on my body, listen to it, look at the numbers, address issues and prevent rather than cure. I did keto, am lighter, and am now on intermittent fasting to maintain. I try to swim regularly, do some brisk walking and do weights for strength. If there's anything in life you can control, that's your weight. I address my bloodwork numbers with well-thought-of supplements. I avoid sugar and carbs as much as possible. No use aspiring for a well-lived life if you're sick for no good reason.
2. Relationships. I've aspired to touch lives and make a small difference for good in every one I meet. So, definitely, to family and friends and even to my beloved pets at home, I try to give more time now. I think time is the best gift you can give anyone you love. Listening, talking, shooting the breeze. Being there with and for them. Because time is finite. Once past, you can't have it ever again. This moment given to someone is priceless. Life is short. The #BestLife is one lived to have as less regrets as possible.
3. Preserving your legacy. To each his own contributions. Big or small achievements, I think it is good to try keeping whatever it is you worked for all your life alive and surpassing your own lifetime. Some things you can let go. Some things are worth preserving. A #BestLife is one wherein you are prepared for anything that could happen and your life's work benefits the next generation.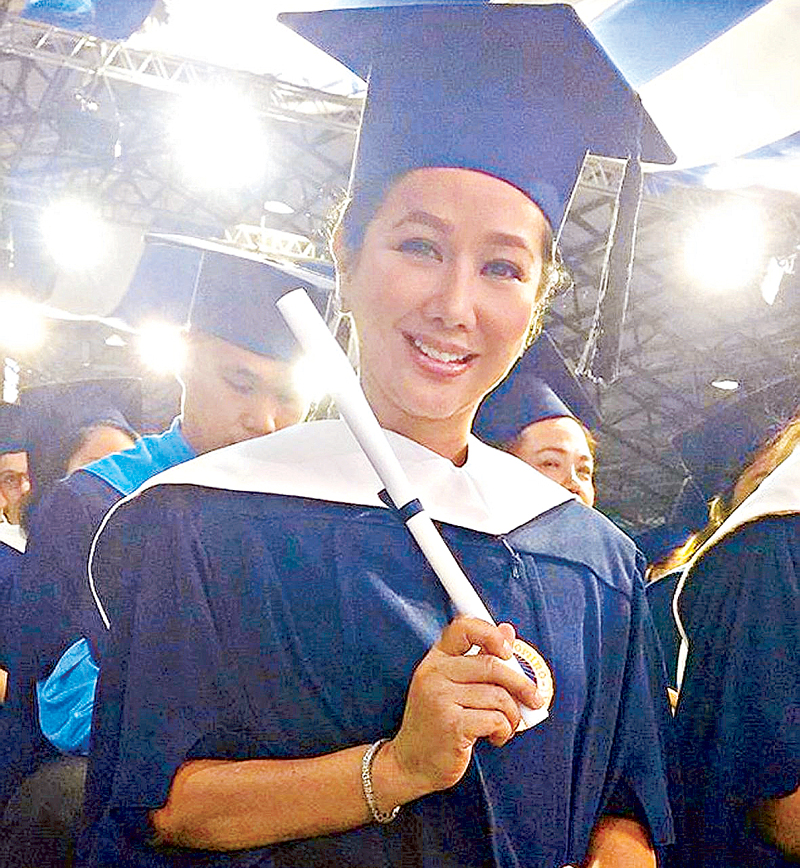 Korina receives her Master's Degree in Journalism from the Ateneo with a grade of A for her thesis on 'The New Face of HIV/AIDS in the Philippines.'
4. Surrounding yourself with what makes you happy. They say misery is optional. I say, "You can choose to be happy." It could be as simple as walking to your garden on a cool but sunny day, fixing fresh flowers in a vase, watching your dogs run on the beach, buying that totally useless throw pillow you love, watching a comedy...could be anything that makes you smile. In my case, I made babies by surrogacy. The best surrounding is one with children's laughter.
5. Breaking your own glass ceilings. I try to get over my silly fears. I was scared of the water so I finally learned how to swim and swim well. Better late than never! I took up deep-sea diving. I was afraid of heights so I bungee jumped and climbed mountains. Who knew I would ever? Not even me. When I begin to think I can't do something, and worse when someone else says it, I try to test my limits and disprove.
6. Embracing change. One very smart guy on Ted Talks said: "What children today should be taught is to be ready and strong enough mentally and emotionally to adapt to change." Change today is fast and sometimes extreme. Whether that be changes in career, financial circumstance, personal status, residence, in technology, etc. If you are left behind and are miserable because of it, that might entirely be your choice. The #BestLife is one that is lived without complaints or whining. We can grow wherever we find ourselves planted if only we allow it.
7. Charity. The answer to the question, "Why am I on this earth?" to me is clear. We are all here to make the world a better place than when we found it. For nature, for people, for animals—for the person beside you. For a poor boy, giving him a pair of slippers can mean the world to him that moment and open up his mind to bigger dreams. If we can help, we should. The #BestLife is the giving life.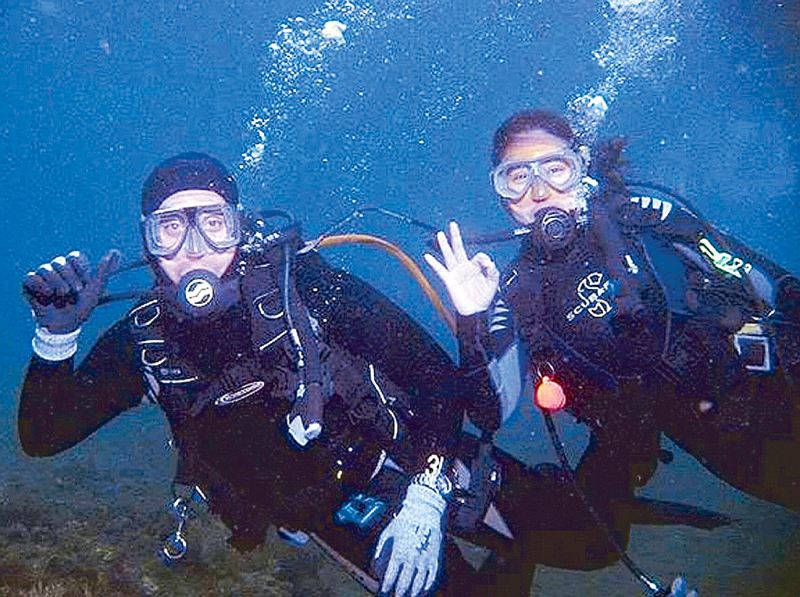 Once afraid of the water and the deep, Korina decided to get over her fears and learned to swim and deepsea dive.
8. Your passions. I didn't realize I had this heart for animals and, even against the opinions of some and the ignorance of many, I just went for helping stray dogs and cats in the streets, rehabilitating them, rehoming them and fundraising as far as the US and Europe for them. Every life saved to me is fulfillment. I also wanted to do something about HIV/AIDS awareness in the Philippines where the disease is an epidemic. So I helped produce my first long-form documentary. I love homes and interiors. So I designed my own space and designed my own furniture. I guess you can't do everything you want to do. But you just have to go for it and try.
9. Your bucket list. Why not make one now? I think many of us don't want to make one because we think we can't achieve all. So what? You don't know that yet. What seemed impossible for me 10 years ago, I have or am doing today. Dream. Hope. Work on it. Make it happen. Can't? Then move on to the next item.
10. Loving yourself. You can't do one to nine if you don't.
(We welcome your suggestions and comments. Please e-mail me at monsrt@gmail.com. Follow me on Instagram @monsromulo.)