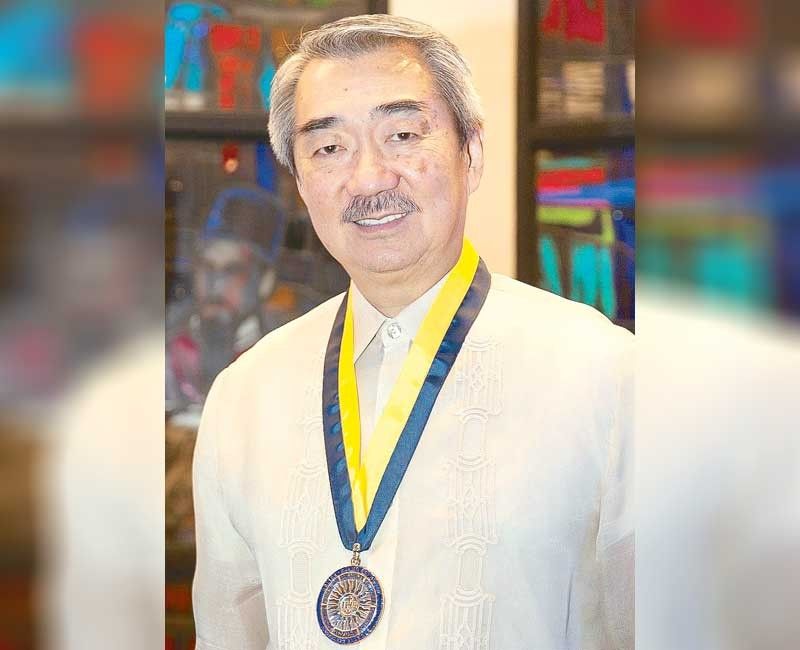 SM Prime Holdings Inc. executive committee chairman and Xavier-Kuangchi Exemplary Alumnus awardee Hans Sy.
PEOPLE
-
Joanne Rae M. Ramirez
(The Philippine Star) - August 16, 2019 - 12:00am
Hans T. Sy is well known in Philippine business for his leading role in the growth of the SM group of companies, serving as chairman of the executive committee of SM Prime Holdings Inc. and chairman of National University and China Banking Corp., among others.
What is less known is his involvement in various personal charities and advocacy for disaster risk reduction and climate change resiliency, so much so that an Assumption nun, who first came to him to discuss community matters in places where SM does business, has likened him to "stained glass."
"You know what you remind me of?" Sister Fidelis, r.a., told Hans upon learning that he was chosen Xavier-Kuangchi Exemplary Alumnus awardee, "You remind me of a stained glass window. Unless the sun shines through the stained glass, one cannot see what's on it. They're just dark pieces of glass glued together. But as soon as the sun shines through the stained glass, then the figures appear. One can appreciate the design on the stained glass. That's how I look at you. Because you allow Jesus, the SON, capital S.O.N., to live more and more fully in you, to shine in you and through you, (so that) others can see the precious design, not just of some outstanding person, but Jesus himself, shining, living through you.
"Thank you for allowing the SON to shine through you," she added.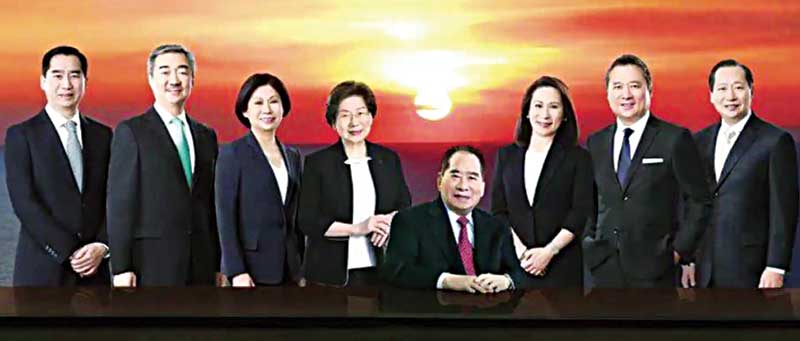 The late SM Group founder Henry Sy Sr. (seated) with his family (from left) Harley and Hans Sy, Tessie Sy Coson, matriarch Felicidad Tan Sy, Elizabeth, Henry Jr. and Herbert Sy.
Hans, who belongs to Xavier's HS Class of '73 has poured his time, talent and treasure in support for Child Haus, a halfway house for sick children and their parents from the provinces seeking cancer treatment in Manila. In 2010, Hans made it his personal mission to relocate Child Haus, which was then facing eviction from a condemned building. He purchased a house near Quezon City hospitals to become Child Haus' new site.
When he turned 60, he celebrated the milestone by purchasing land and constructing a seven-story building near the Philippine General Hospital for the second Child Haus. He visits this facility regularly with his family and friends to give comfort to the children and find better ways to serve their needs. (According to Child Haus' Ricky Reyes, Hans poured in his personal funds for the construction of Child Haus' two buildings.)
SM regional mall manager for North Luzon Danilo Chavez recalls that during a major flood in Rosales, Pangasinan, Hans emptied his helicopter of seats, filled it with provisions, and flew to the province to deliver emergency rations to victims. He flew several pregnant women needing medical attention to the nearest hospital.
His friends shared that Hans was also instrumental in rescuing an abandoned newborn baby from a trash bin in an SM mall, paying for the baby's medical expenses and entrusting him to an orphanage. The boy has now found a home in the United States.
This compassion for the disadvantaged, which he attributes to his late father Henry Sy Sr. and his mother, Felicidad, fueled him to set up SM Cares, the CSR arm of the SM Group. Through "Operation Tulong," SM malls in flood-prone areas serve as alternative shelters during typhoons.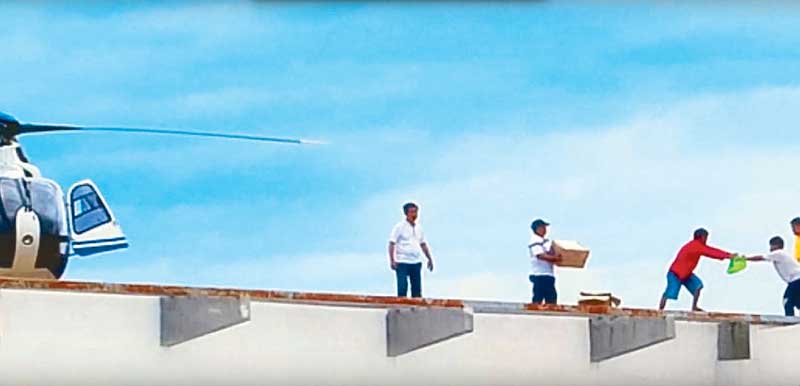 Hans once emptied his helicopter of seats, filled it with provisions, and flew to Rosales, Pangasinan to deliver emergency rations.
Sister Fidelis, who I remember as quite strict and straightforward when she was my principal at the Assumption, said that after she found out from Hans what SM was doing for the community, "Deep down in my heart, I told myself, 'I don't know of any church or any congregation that's doing as much as this.' Of course, I didn't tell Hans that."
Instead, the nun told Hans, "Why don't you publish those things on huge tarpaulins? Instead of just 'Three-day sale, up to 70-percent discount.' Because people don't know this side of SM. And this was his answer, and one of the things that marked me very, very deeply, 'That's not the way our father raised us. When we were growing up (Hans is the fourth of the Sy siblings), he told us, 'If you decide to do good, just do it'."
He also spearheaded the SM Cares Housing Project to fund the construction of 1,000 disaster-resilient homes for the displaced victims of typhoon Yolanda, complete with access to water and electricity, sports and community facilities, livelihood and values formation, and business opportunities to make these villages self-sufficient.
Hans is the driving force behind the incorporation of the risks of climate change and natural calamities in the design and construction of all SM structures. His advocacy caught the attention of the United Nations, which appointed him the first Filipino member of the board of directors of the UN International Strategy for Disaster Reduction.
* * *
Growing up in Xavier, his close friend Jerry Tiu remembers Hans as a protector and the go-to friend.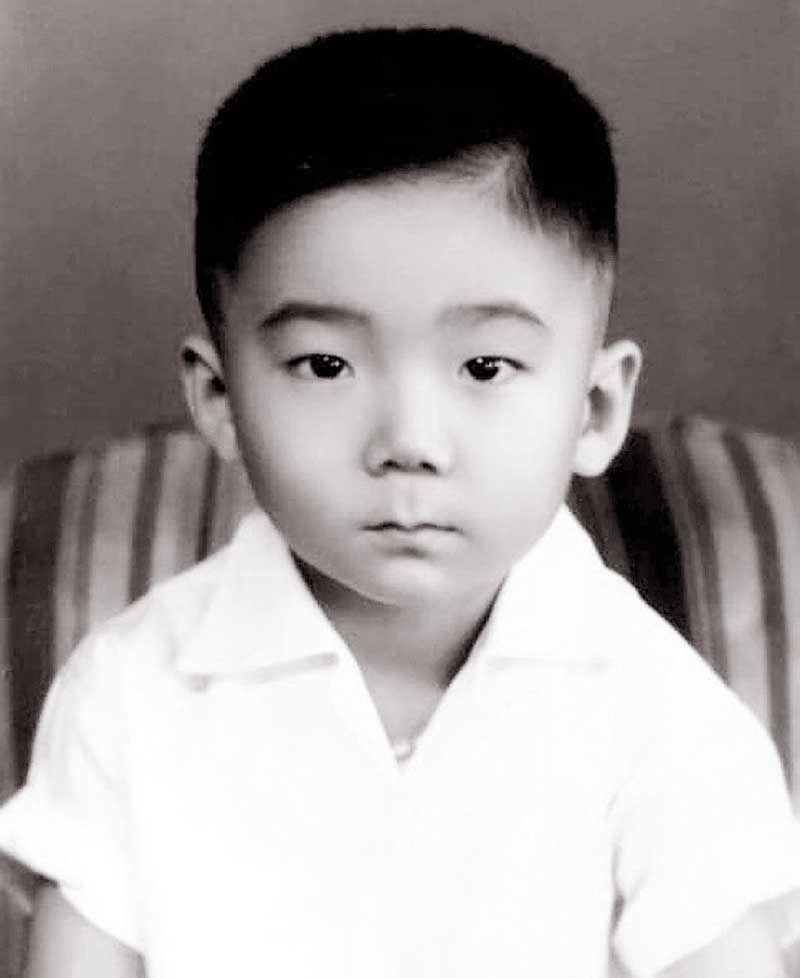 A young Hans.
"My fondest memory of Hans growing up was that he was always there when we needed him. You know what I mean, Hans, right? So every time I would get into trouble, or Willy (Ocier) would get into trouble, here comes the Superman, Hans. From nowhere, he would pop in and the rest is history…" Jerry, a successful businessman himself, recalls.
In the beginning, though, he was scared of Hans.
"We were all scared of Hans! Because he was very tough, tough in sports, like extremely. Not only was he tough, he was very strict. And that scared me. And he was one of the guys that I told myself, 'I would never mess up with this guy'."
The friend with the tough exterior turned out to have a heart as soft as mamon (sponge cake).
Jerry continues: "Hans is one of the very few who has a vision, he knows what he wants to do, he knows how to help, he knows where he can help, and he's a doer. Because he makes sure that this is going to be done. He is not like others who have the vision, who have plans and pass them on to others to do it. Hans is the type of person, he wants to be on top of everything to ensure that this is being done, and done correctly the way he thinks so. Very few would also have the heart like Hans, who's not just doing because he has to do it. He really has a soft heart to help in so many ways. Plain and short."
Indeed, Hans T. Sy, as he is with business, is hands-on in uplifting the lives of the less fortunate.
Hands-on and all-heart.
* * *
(People now comes out on Tuesdays and Fridays. You may e-mail me at joanneraeramirez@yahoo.com. Follow me on Instagram @joanneraeramirez.)