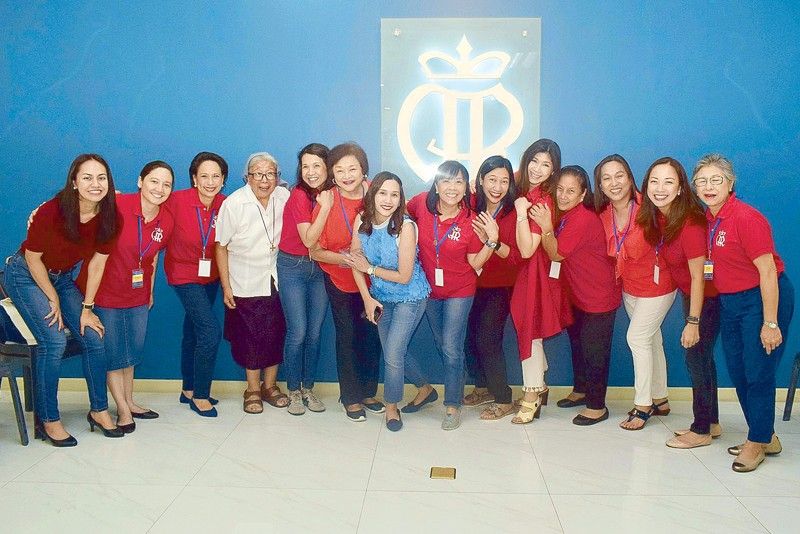 Assumption Alumnae Association (AAA) president Marlu Villanueva Balmaceda (eighth from left) with the AAA board of trustees (from left) lawyer Jeifan-Ira Dizon, Dr. Clarissa Velayo, Sabrina Panlilio, Sr. Ana Maria Melocoton, dean Ola Regala, Chingay Lagdameo, Lia Enriquez, Carmella Araullo, Ana Singson, Nena Fule, Cynthia Gonzalez, Cielo del Rosario and Pilar Villanueva.
The AAA Summit: Dream come true
PEOPLE
-
Joanne Rae M. Ramirez
(The Philippine Star) - August 13, 2019 - 12:00am
A year ago, I joined some members of the Assumption Alumnae Association (AAA) in a trip to Bacolod and Iloilo to meet with alumnae chapters based in those cities. There was no structured agenda. We were happy to go with the flow and kept ourselves open to what experiences awaited us.
AAA president Marlu Villanueva Balmaceda recalls, "It was a learning experience filled with pleasant discoveries. What we used to imagine has now become more tangible; what was once vague, now made clear."
Although many of us only met each other for the first time, our interactions led to a common dream: for Assumption alumnae to gather together in one place to exchange ideas, learn about each other's activities and possibly collaborate on certain projects. In less than a year, this dream was realized when the AAA recently hosted the very first Alumnae Summit at the Assumption San Lorenzo campus.
The first day presentations concluded with a talk from Assumption College president Dr. Pinky Valdes, who presented the changes in the Assumption education.
"The Assumption girl should be, in any room, the wisest and the kindest," Pinky said.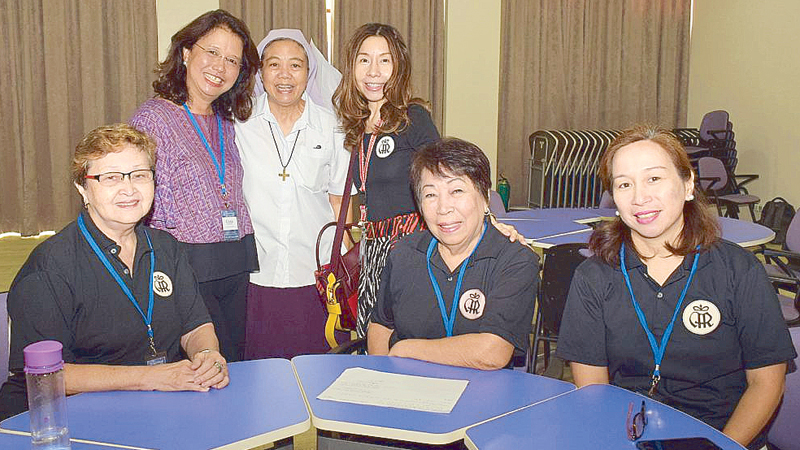 Sr. Mary Joseph Concepcion with Summit 2021 hosts from Bacolod chapter (from left) Lourdes de Leon, Gina Martin, Ria Montelibano, Gloria Melocoton and Mary Rose Tuazon.
According to Pinky, Assumption College operates on this belief: "The student is sacred. The teacher is sacred. The classroom is sacred ground."
In facing the challenges, Pinky exhorted Assumption girls, "Dwell in the possible, not in the absolute uncertainty."
The three-day event also featured selected speakers from the Assumption community. AAA moderator Sr. Ana Maria Melocoton opened the summit with an animated review of the Assumption's history in the Philippines — one that spans nearly 130 years. Sr. Regina Victoria Yulo shared biographical notes and insights on the life of St. Marie Eugenie of Jesus, our Mother Foundress. Meanwhile, Sr. Lerma Victoria Pangantihon, provincial of the new Asia Pacific Province of the Religious of the Assumption, provided the delegates with the overall direction of the Assumption in the next three years.
Among the AAA's beneficiaries are the Assumption Mission Schools and Sr. Fe Beltran of the Assumption Education Development gave an update on how Transformative Education of the Assumption is touching the lives of many. Delegates from alumnae groups based in Antipolo, Bacolod, Cebu, Iloilo and San Lorenzo, as well as those who came from overseas including Japan, Spain and Southern California, joined other alumnae for the AAA Quarterly Lunch. The activity featured a most touching talk titled "Walk with Christ" by former Philippine Ambassador to the Vatican Henrietta T. De Villa.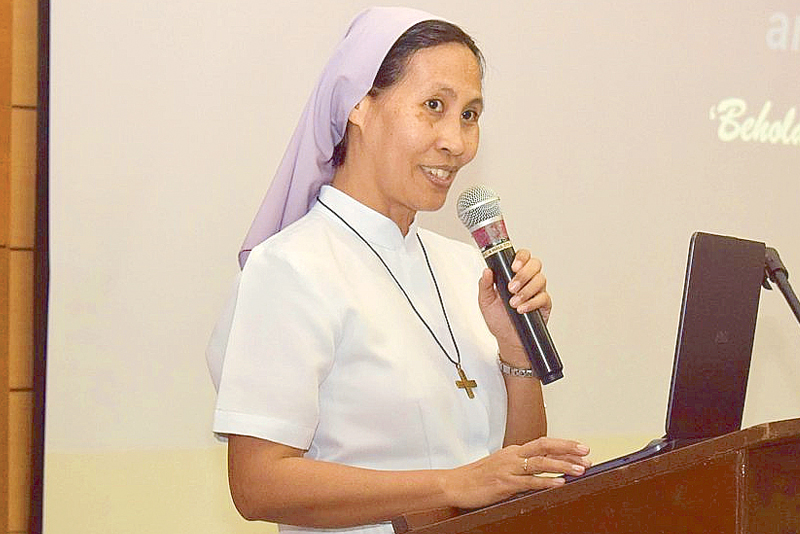 Sr. Lerma Victoria Pangantihon, r.a.
After lunch, the group was transported to the San Juan Nepomuceno School in Malibay, Pasay City — an Assumption Mission School — where Sr. Bernadette Casas, the faculty, staff and some students welcomed the delegates with songs and a hearty merienda of turon and buko juice. The first day concluded with a fellowship dinner in Assumption's Henry Sy Hall where delegates participated in games that brought out their competitive spirit.
On Day 2, Oman Jiao, executive director of the Association of Foundations, then expertly facilitated a workshop that addressed our various concerns, questions and hopes as alumnae. The last day of the summit was spent in reflection with Pinky, who conducted a mini-recollection. The main takeaway was that as a community, the Assumption espouses compassion and kindness in forming women of faith, women of action. This key message tied in very neatly with the homily of Rev. Fr. Mon Bautista, SJ on how we should be compassionate towards others as exemplified by the Good Samaritan in that Sunday's Gospel reading.
With that, the first AAA summit came to its end with our souls nourished, our network strengthened, and our dream fulfilled. What started as an idea that sparked over lunch a year ago had become a reality. Once again, the spirit of the Assumption worked in wonderful ways. And as one delegate captured the prevailing sentiment, "I could feel all of us are 'sisters' because all of us have one 'mother:' St. Marie Eugenie of Jesus."

Assumption College president Dr. Pinky Valdes (standing, 10th from left) with Day 3 mini-recollection participants. Also in photo are Sisters Regina Victoria Yulo, Bernadette Casas, Ana Melocoton and Stella Sanz, r.a.; and my former teachers Angie Barrera and Ana Casas.
Kudos to the AAA Summit dream team: chairperson Dr. Clarissa Lim Velayo, committee members Nena Fule, Cielo del Rosario, Monette Quiogue, Carmella Araullo, Pilar Villanueva and Jeifan Dizon, and AAA staff members Bansky Fermin, Rose Ocampo, Arlene Hombrebueno and William Cahapon.
We now prepare for the next summit in July 2021 to be hosted by our alumnae in Bacolod with the support of the Iloilo and Cebu groups!
(There will be a Mass to celebrate the feast of the Assumption of Our Lady on Thursday, 5 p.m. at the Assumption Chapel, Assumption San Lorenzo. A simple merienda will follow at the Friendship Garden.)
(People now comes out on Tuesdays and Fridays. You may e-mail me at joanneraeramirez@yahoo.com. Follow me on Instagram @joanneraeramirez.)