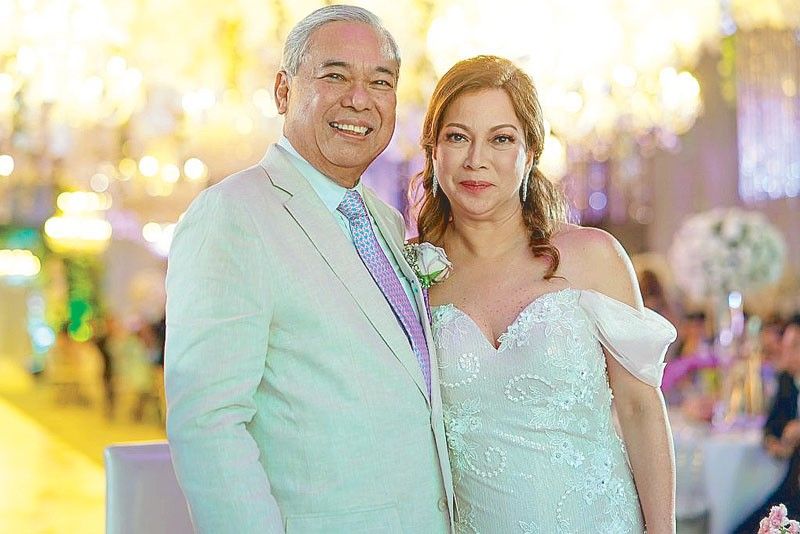 Newlyweds Benjie and Deeday Guevara. Photos by Ralph Alejandrino
Valentine's 101: Never give up on love
After 15 years as a couple, Benjie Guevara and Deeday Concepcion — both with grownup daughters and settling into the lives of grandparents — decided to tie the knot. And those of us who witnessed their fairy-tale wedding at the ballroom of the Marriott Hotel in Pasay City say that the love-struck couple marched down the aisle like a blushing bride and an excited groom, with ring bearers, flower girls, ninongs and ninangs. The works. Just like a millennial couple.
Although it was her second marriage (her first was annulled), Deeday wasn't wearing a simple dress a la Jackie O on her second marriage — she was a vision in her gowns by Amir Sali and Sari Lazaro. A bowery of blooms framed the entrance to the ballroom and as Deeday made her appearance under the bowery, there was an audible gasp from the guests. Then she walked down the aisle under a canopy of more flowers dripping from the ceiling. The setting had the freshness of a debutante's garden party and the elegance of a wedding.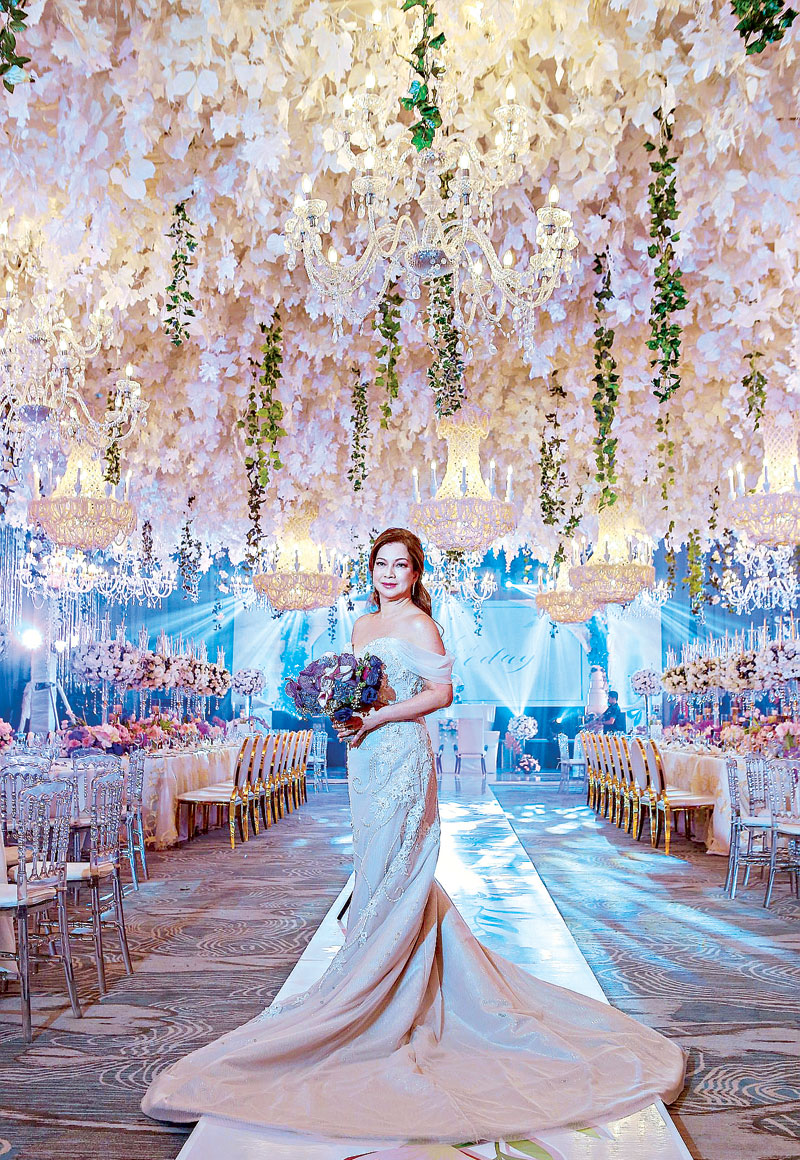 Deeday Guevara in an Amir Sali gown.
Deeday and Benjie met on a blind date in 2003 at the then Conway's Bar at the Makati Shangri-La. "At the time, he was still partying so hard. Benj was fresh from a breakup from the mother of his children. It wasn't easy, it took a lot of patience and perseverance on my end."
Their relationship, according to Deeday, was "on and off many times."
But, the fates conspired to bring the two together. "Circumstances, instances just kept bringing us back together most of the time. And then he probably realized that I was the one for him," she laughs.
Then, on a more serious note, she adds, "I'm just so glad I met Benjie at this age and time. Perfect timing. We are lucky to have each other for the rest of our lives."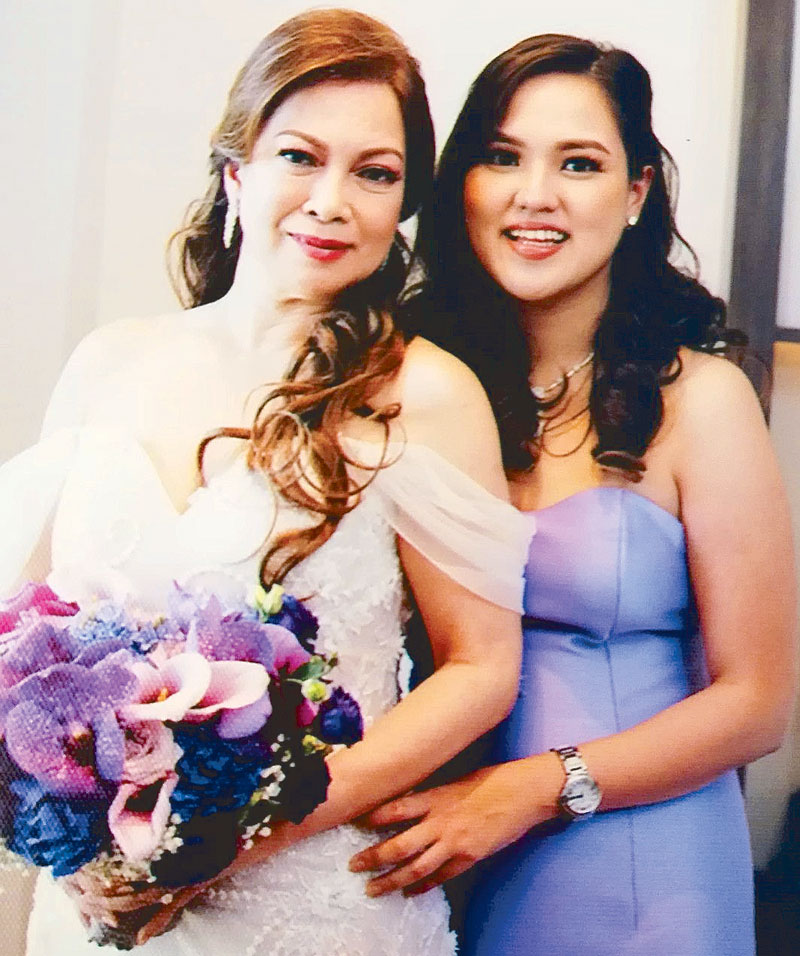 Deeday and daughter Monique.
What drew her more to Benjie was "his intelligence, his sense of humor and most of all his pure heart, he is so real, loving and very caring."
Benjie, the life of any party (he is my husband's classmate from the Ateneo and part of their group "King of the Blues"), is suddenly a man of few words when asked what he admires most about his wife. "It's simple...her honest-to-goodness kindness, to me and to everyone."
* * *
Deeday's daughter Monique Salcedo, in her speech during the sumptuous reception that followed the civil wedding rites said, "It is perhaps quite unconventional that a daughter gives a speech for her mother and gives her away on her wedding day.
"We would joke a lot about her getting married before I did, but you see, this was something she has always wanted ever since she was a teenager. Finally, she gets her fairy-tale ending and we couldn't be any happier.
"Mom, I am just so happy that after all of life's twists and turns, your gift has finally come in the person of Tito Benjie.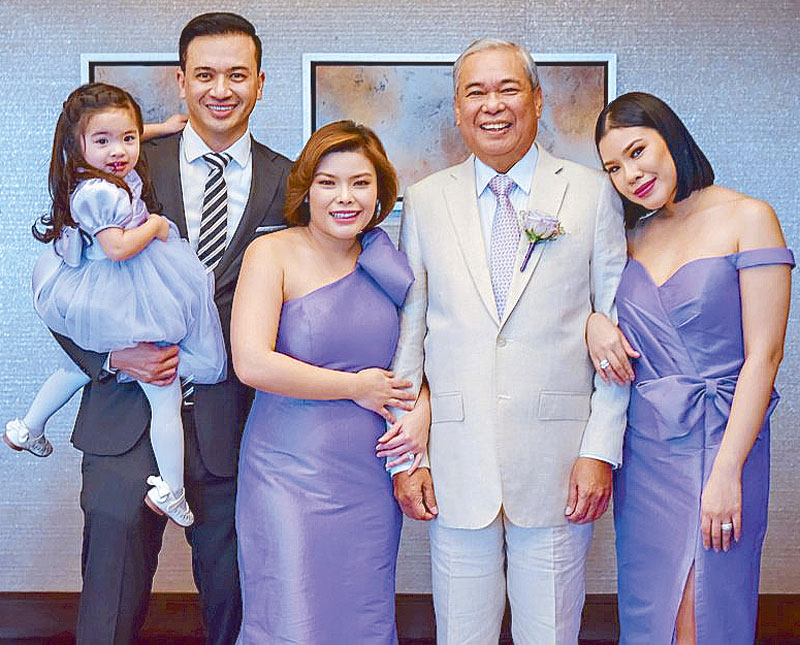 (From left) Ed Hipolito and daughter Ava with Taty, Benjie and Ivana Guevara.
"My dearest Tito Benjie, I am so thankful that you and Mom found each other. I know that she has found in you a true partner, a trusted friend, a man who will love, honor and cherish her."
Monique described her new stepfather, who she met when she was barely a teenager, as "the rock that truly holds a family together." She said the best proof of this are her two new lovely sisters, Tatyana and Ivana.
She proceeded then to thank Tatyana and Ivana "for giving my mom the opportunity to love your dad and for welcoming me into your family and treating me like a sister."
(From left) Kay Veneracion, Deeday Guevara, Corazon Concepcion and lawyer Jay Concepcion.
A wedding planner, Monique certainly knows the anatomy of weddings, and to a certain extent, of marriages, by observing her brides and grooms.
"As a wedding planner myself, I cannot discount the fact that once in a while, we are treated to the sight of two people who did not give up and allowed the grace of God to bring them together."
Happy Valentine's, everyone! Like Benjie and Deeday, don't give up on a second chance at love, and when you find it, cherish it like it were the first time. *
(You may e-mail me at joanneraeramirez@yahoo.com. Follow me on Instagram @joanneraeramirez.)