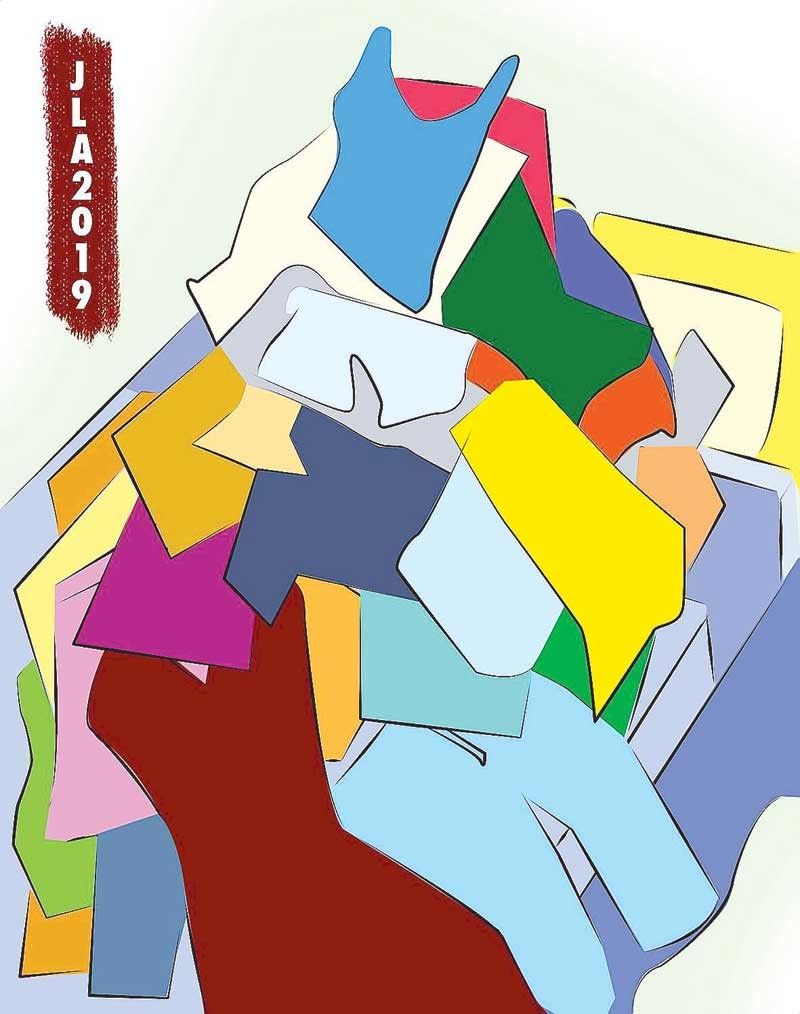 To add another element to this perfect storm on my "domestic" front, my family was celebrating a milestone in January: my Mom's 80th birthday, with all the attendant parties and the visits of my two US-based sisters.
Illustration by Jaymee L. Amores
If it 'sparks joy,' keep it
January began with my domestic helpers taking a leave, my dishwasher conking out, my millennial driver getting sick for days, and my former trusted driver unable to pinch hit.
To add another element to this perfect storm on my "domestic" front, my family was celebrating a milestone in January: my Mom's 80th birthday, with all the attendant parties and the visits of my two US-based sisters.
You can imagine how I coped — because I can't imagine how I did. My driver's license expired over a decade ago, and the only wheel I steer is the wheel of fortune (if I find it!).
The Christmas decor in my house now truly look passe, because I have no time and energy to teach the help how to store the minutiae of all that glitter. Besides, with the help on leave at the same time, there were a million and one things to put in their proper places first — the laundry, the presents, the clutter that had accumulated over the holidays.
Where do I begin?
Many years ago, an Italian businessman gave me this piece of advice that I chew on whenever I am faced with anything daunting: Take life like an orange, piece by piece. Don't take it like an apple, with big bites.
So just like every piece in an orange, each chore in my house, in my life, in my work is attacked by me as a piece. Not as a whole, not as a big chunk that is too big for me to chew.
It's the same formula my late dad — I guess from observing his sisters — taught me when I was attempting to sweep the floor when I was a little girl. He said it was best to sweep the dust and the debris into the dustpan by sections. He told me it wasn't a good idea to accumulate everything into one big pile before sweeping everything into the dustbin. This way, he said, there was no danger of the dust being trampled on again, or being blown around again, as you moved around the room.
My mom taught me, on the other hand, to wash the dishes in increments instead of stacking them on the sink till they were as tall as Mt. Mayon. Whereas others prefer putting everything on the sink before the sudsy process, my mom would start with all the glassware first. After they were squeaky clean, she would then let them drip dry on the rack. Whew, you'd be amazed how the sink is decongested after that, making the next part less daunting. Then after the glasses have been set aside, the silverware — she never wanted the silverware washed last because she didn't want them lying on the bare sink. Rinse, soap, rinse, then stack. Finally, there are just the plates left — ah, light at the end of the tunnel and so much more elbow room to sponge off the grease and the grime off the plates. Again, this dishwashing process taught me to do things by portions, by groupings.
When cooking — not as simple in the Philippines as it is abroad, because of all the chopping and food preparation needed even for a simple dish like monggo — I learned from my aunt Nellie Mayor Loleng and my cooking teacher Mrs. Del Carrion to "clean as you work." Again, to tidy up after each stage of the process and not to wait till the sink, the counter and the entire kitchen looks like a tornado had passed over them.
Believe me, these tips I picked up from my parents (who taught us how to keep house even if maids were in abundance as my sisters and I were growing up) have been my lifesavers when a perfect storm just as the recent one converged on my household. I survived.
But why am I gloating when my Christmas tree is still up?
* * *
Not just my tree, but most of my décor, that is. Over the weekend, my son Chino suggested I watch Marie Kondo on Netflix. Marie, who is changing lives by her simple, but surefire ways of de-cluttering, is the latest TV sensation, and has been named one of Time magazine's 100 most influential people. So for a solid hour, my family of three was glued to the TV set watching the petite, soft-spoken and gentle Marie slay clutter.
Her system is similar to my mom's dishwashing technique — she encourages tidying by category — not by location — beginning with clothes. She starts the tidying (I hesitate to use the word "purging" because she treats even discards with reverence) process by asking you to put ALL your clothes on your bed till they are a heap. The heap stares at you like a monster you want to slay.
Then you go through each item. Whatever still "sparks joy" in you, you keep. She likens the feeling of feeling joy sparked in you to the feeling you get when you cuddle a puppy.
The ones that no longer "spark" joy you don't just dump. She actually encourages you to "thank" the piece for first, then fold the piece neatly before you get rid of it.
Those you want to keep are to be folded neatly into small tents. First you fold into half, then into another half till the piece can stand like a triangle. This way, they can be stored in a box or drawer and are easily visible when you need them.
After the clothes, the books, paper, komono (kitchen, garage, or miscellany) and lastly, mementos or sentimental items.
She stores all items of the same type in the same place and does not scatter storage spaces. She also does not encourage you to store your things in a trash bag, because they ultimately might be mistaken for garbage.
In the kitchen, she advises housewives to store plastic food containers with their lids on, otherwise you'll always be searching for that missing lid.
According to an article by Fox News, here are Marie's six rules when it comes to cleaning up your house:
• Commit yourself to tidying up.
• Imagine your ideal lifestyle.
• Finish discarding first.
• Tidy by category, not by location.
• Follow the right order.
• Ask yourself if it sparks joy.
* * *
As for my Christmas tree, I have already started the bittersweet process of putting it down by first taking away the balls, then the other hanging ornaments. This morning, my helpers and I took away the lights. My dishwasher is now working and my driver is back at work.
We have stored the balls, the trimmings and the lights, but the tree is still up.
Well, didn't Marie Kondo say to save the most sentimental item for last?
(You may e-mail me at joanneraeramirez@yahoo.com. Follow me on Instagram @joanneraeramirez.)