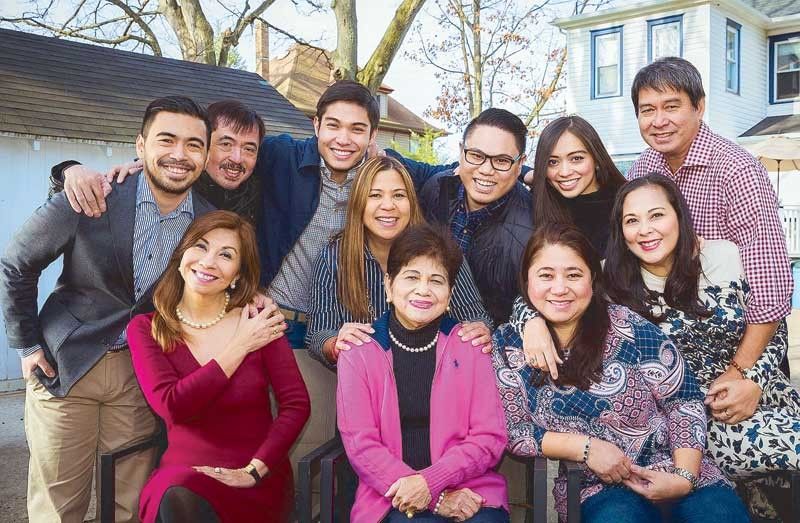 Birthday girl Sonia Reyes Mayor (center) with (seated, from left) the author, Mae Mayor and Valerie Sotto; (standing, from left) Chino and Ed Ramirez, Miguel Sotto, Dr. Geraldine Mayor and Diggy Nye with Patricia and Ping Sotto.
Mom at 80: Like a rainbow
PEOPLE
-
Joanne Rae M. Ramirez
(The Philippine Star) - January 8, 2019 - 12:00am
Tomorrow, Jan. 9, my mother Sonia Reyes Mayor turns 80. On the eve of Mom's birthday, one of my friends, tourism executive and educator Bob Zozobrado gushed, "I've seen pictures of your mom that you've posted through the years and…she hasn't aged at all. Your genes have gotta be of a special blend!"
Then he added, "May I buy some of your chromosomes?"
Indeed, Mommy looks as radiant and youthful as she has for decades now. I think it is because in a world where laughter and tears mix, she has let laughter rise above the blend.
"Auntie Sonia is like a rainbow. For her, there's always a reason to be happy and grateful. She is my epitome of positivity and optimism. And because Auntie is so positive, she really brought out the best in people around her, especially her family," says my first cousin Aimee Loleng Ferrer. Aimee is the youngest daughter of my dad Frank's eldest sister Nellie.
Aimee and her sister Karen Nell Loleng Parungo love my mom to bits.
My mom's youngest grandchild Tricia Mayor Sotto is besotted with her.
"Grandma is the sweetest, most positive person I know. She makes sure to give everyone she sees — new and old friends alike — a compliment, and you can see in her glimmering eyes that they are always genuine and heartfelt. She goes out of her way to make people feel not just at home but like VIP guests," says Tricia.
My mom's niece Gillian Reyes Caballero, daughter of former Oriental Mindoro Vice Gov. Pedrito Reyes (my mom's brother) says, "Every time one engages in conversation with her, you know you have her full attention. She's not like listening to another conversation nearby or her eyes wandering elsewhere. She's very warm."
My mom's nurturing character has also touched friends and neighbors alike. Almost 40 years ago, she made a sister in Didit Castro, then newly married and living near our family home in Las Piñas (where my mom still lives when she is in the country).
"I love her dearly," says Didit. "She is the Ate" I never had. She took care of Denise, my youngest daughter, like her own." Didit was referring to the time she had to be hospitalized after Denise was born, and my mother would take Denise into our home and personally care of her. Till now, Denise, a medical doctor, calls her, "Mommy Sonia."
My youngest sister Valerie Sotto believes, "Mom has a way of making you feel safe. That everything will be alright."
* * *
If I could walk into a room with confidence even when I'm facing people who will give me the "elevator look," or walk along the corridors of power where I know no one but the portraits on the wall, I just think of my mom. At 10, she conquered shyness and swam into a sea of new people with deft, confident strokes.
She belonged to "royalty" in Oriental Mindoro, but she was every inch a "promdi" when she walked into the Gothic iron gates of St. Scholastica's College in Manila in the '50s. Thrust from a public school in Bongabon town, she confidently — but sweetly — beheld stern German nuns and sophisticated classmates. But she never balked, never wavered, never succumbed to homesickness or feelings of inferiority. In fact, she had fun. And she made lifelong friends at St. Scholastica's.
Frank and Sonia Mayor during their 25th wedding anniversary.
And upon graduation from high school, Mom chose to go to UP Diliman — not the likely choice of sheltered convent girls. If she wasn't as tough as nails underneath her sweet smile, she would have had a culture shock the minute she made Manila her new home.
I guess Mom always believed in herself, in her potential and was grateful her parents had the means to give her the best education.
And she seized the moment!
Truly, Mom is my poster girl for guts and confidence. My late dad Frank Mayor made me aspire to be the best I can be, to fulfill my true potential.
Mom enabled me to be the best I can be by believing from the start that I was capable of being what my dad wished for me.
* * *
I believe Mom's other beauty secret is her pride. She will let others see only the best of her. She will invest in beauty treatments and cosmetics and save up for the best clothes. Didit loves her because they are "shopping partners."
Like all of us, Mom has been through challenging times. But you will never see her with her chin down. I've seen her cry (especially after her parents' and Dad's death), but she will wipe her tears away with Swiss lace. Even when she is in mourning, she will invest in stylish black clothes and shoes.
No matter where my dad's job took him, Iloilo City, Legazpi City or Anaheim, California, Mom would go with him and keep house for him.
"She was a devoted wife and is a devoted mother (one of my sister Geraldine's fondest childhood memories are the fancy triple-deck sandwiches Mom would make for our baon, which she looked forward to during recess). She stood by Dad's side till the end," says my sister Mae. My dad suffered from cancer of the pancreas, and my mom was by his side during his difficult journey — from the moment the doctor diagnosed his terminal illness, till he breathed his last in 2010.
* * *
After Bob Zozobrado complimented my mom by saying he wanted to buy her chromosomes because of her eternal youthfulness, I told him, "I chose the right mom, didn't I?" (Echoing what Nelson Mandela told the Aquino sisters after he met their mother, Cory.)
In reply, Bob told me, "Actually Joanne, your dad chose the right mother for you and your sisters."
Indeed, Dad did. And on Mom's 80th birthday, we celebrate that choice.
Happiest of birthdays, Mom! And thank you for your chromosomes.
(You may e-mail me at joanneraeramirez@yahoo.com. Follow me on Instagram @joanneraeramirez.)