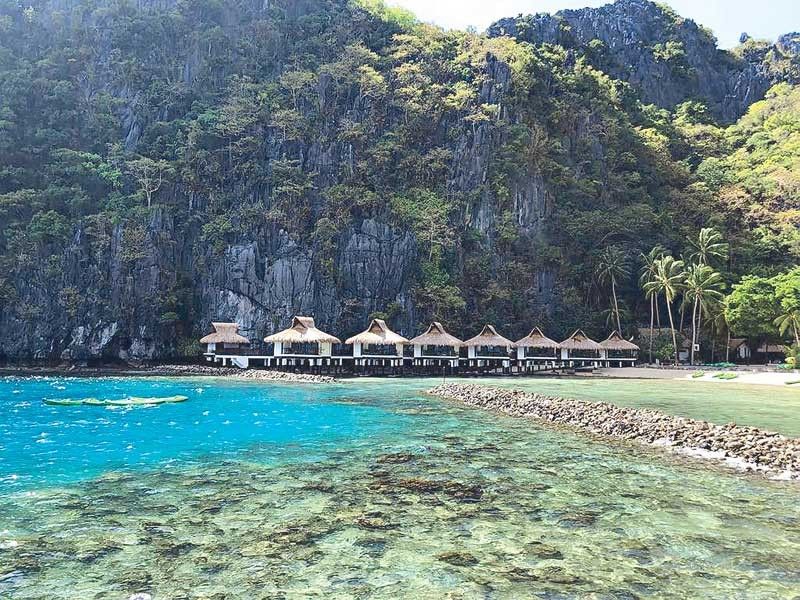 El Nido Resorts is a paradise of natural limestone cathedrals strewn over azure waters that turn into clear as glass near the shore.
Photo by Joanne Rae Ramirez
Life's more than a beach at Miniloc
There's nothing that captures the utter indulgence of the moment more than the phrase, "Life's a beach." Sun, sea, sand, serenity, a frozen mango shake or a margarita.
"Life's a beach" is a catch-all phrase for how wonderful life is at the moment, as whispered to you by the waves, the wind, the waters. You wonder, "How did I get to deserve all this?"
You get to say this over and over again when you're at any of the El Nido Resorts on Bacuit Bay in Palawan, but then you realize you're wrong. Life isn't just a beach here.
Because "life is more than just a beach" in this paradise of natural limestone cathedrals strewn over azure waters that turn clear as glass near the shore. The limestone cliffs, evoking images of sandstone Gothic cathedrals like the Sagrada Familia in Barcelona (albeit on a smaller scale), have secret coves and caves, nature's own side altars.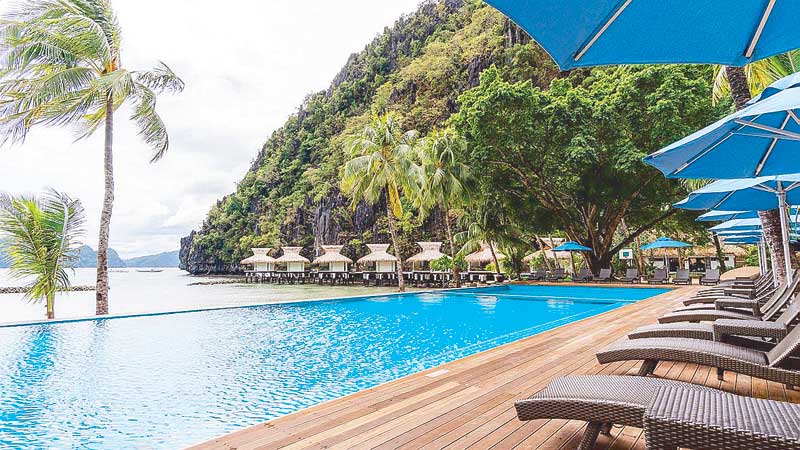 Miniloc pool deck.
What you see is not all you'll get because more natural highs await you in the depths of the sea — coral palaces, exuberantly colored fish, starfish, mollusks, jellyfish that look like parachutes and other denizens of the sea.
I become a little altar girl each time I'm in Bacuit Bay. Every day is a day of worship — to the Being who created it all, who carved the cliffs at the right places (the cliffs were attached to the Asian mainland millions of years ago), poured blue waters around them, and then let loose a million and one amazing creatures above and below the sea. From silver jacks to the birds from whose nests the place got its name, "El Nido."
El Nido, particularly the resorts on Bacuit Bay, is my happy place on earth.
* * *
According to El Nido Resorts' group sales and marketing director Joey Bernardino, what we know now as "El Nido" — not the town proper mind you, but the islands on Bacuit Bay — began on Miniloc Island.
It was "discovered" by Japanese divers in 1979, who set up camp there, and the first semblance of a resort. Today, Miniloc is a four-star luxury resort with 51 air-conditioned rooms, a spa, a swimming pool — not counting the postcard-pretty, calendar-worthy Big and Small Lagoons that are part of the island.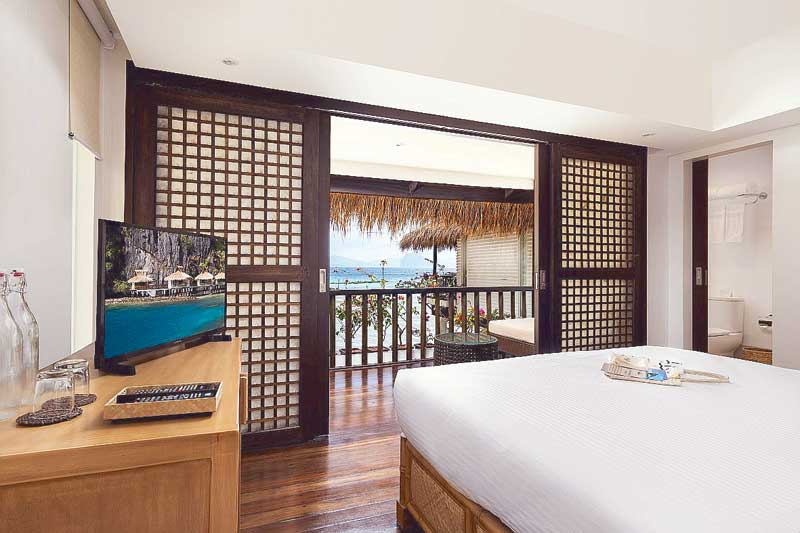 A water cottage.
Miniloc is unlike any other island on Bacuit Bay. It is but 10 minutes away from the breathtaking Big Lagoon, and the picturesque Small Lagoon. It also has some of the best snorkeling spots (which I have found to be the most beautiful places on earth) and diving areas. It is also near Entalula Island, which has the finest white sand on Bacuit Bay. The 250-meter beachfront is thus known as the Boracay of El Nido. Most of Entalula Island is owned by El Nido resorts; therefore, if you stay at Miniloc (or Lagen, Pangulasian or Apulit), you are taken to the private, pristine side of Entalula for a picnic lunch or romantic dinner (the staff is flexible). Many pre-wedding and wedding receptions are held here, with Tivoli lights dripping from its centuries-old trees. (However, there is still a part of the island open to the public.)
On our first day in El Nido Resorts, after a comfortable 60-minute flight via AirSwift, my husband Ed and I were taken by speedboat to Entalula where we had a picnic lunch of grilled tenderloin, succulent pusit and fresh tangigue. With the seawind whetting our appetites, we checked our diets on the sand.
* * *
For most El Nido Resorts visitors, Miniloc is known for its jackfish.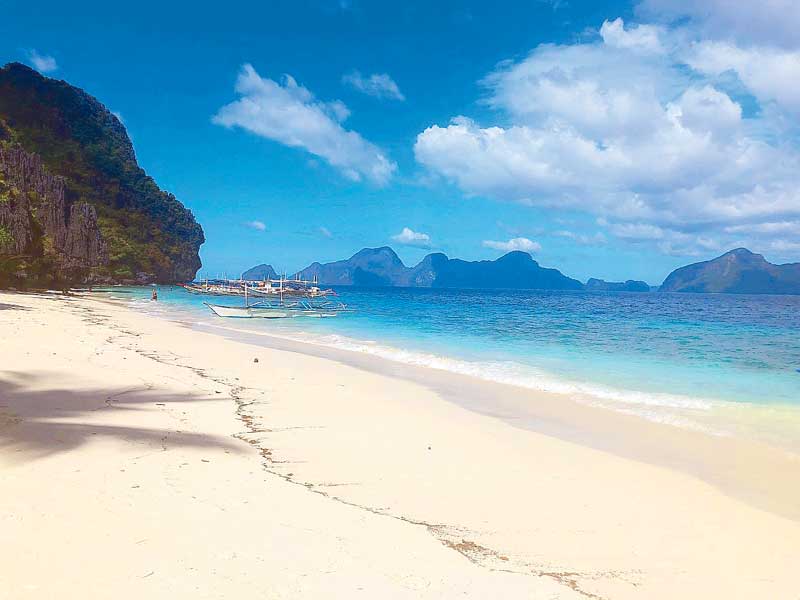 Entalula Island has the finest white sand on Bacuit Bay. Photo by Joanne Rae Ramirez
Reopened last Dec. 13 after undergoing room and facilities renovations for six months, the iconic resort is the ideal setting for live lessons in marine life and in the unique flora and fauna of this part of the Philippines.
Guests of various nationalities have been coming two or three times a year with their children to immerse themselves in nature and island living, according to Bernardino.
Miniloc's 51 rooms and clubhouse were enhanced, but have retained their rustic features. For instance, the water cottages still have their signature cogon roofs, albeit modern and luxurious inside, with eggshell white walls, capiz panels, windows framed in gray and walnut wood floors.
According to resort manager Mark "Big Mac" Guerrero, Miniloc's structures will maintain their signature cogon roof and the use of natural materials to differentiate this family-oriented resort from the other three in the group, all of which have their own interpretation of the tropical plantation theme.
Miniloc's fine sand beach within a quiet cove in a protected bay remains its focal point, though a swimming pool that seems to stretch far into the sea has been added. Bernardino explains that this will not detract from a key attraction of the island resort — the twice-a-day feeding of the resident silver jacks supervised by El Nido guides, with the jacks leaping like friendly dolphins.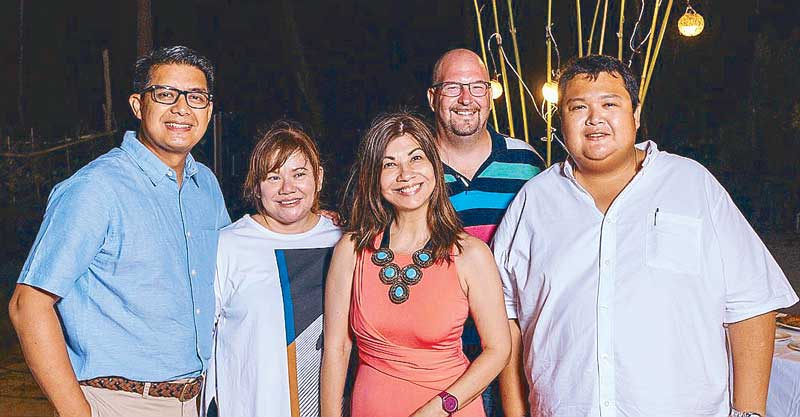 (From left) TKDC group director of sales and marketing Joey Bernardino, Lio Estate Resorts' Melisse Salvano, the author, El Nido Resorts OIC Paul Kerr and Miniloc Island Resort manager Mark Guerrero.
Snorkeling is particularly memorable at Miniloc as the guides patiently point out the various species of fish and coral. They are informative, at the same time assuring. Even adults who don't know how to swim have been enticed by the guides to try snorkeling for the first time.
During my first visit to El Nido Resorts three years ago with my STAR colleagues Büm Tenorio Jr. and Luis Espiritu Jr., it was off Miniloc that I saw a whirlpool of fish, like a funnel or cornucopia. And Luis, a champion swimmer, swirled inside the funnel of jackfish and emerged from it like the king of the school, our very own Neptune. (To be concluded.)
(For more information, call El Nido Resorts at 0917-8437819 and AirSwift at 0917-8222141.)
* * *
(You may e-mail me at joanneraeramirez@yahoo.com. Follow me on Instagram @joanneraeramirez.)