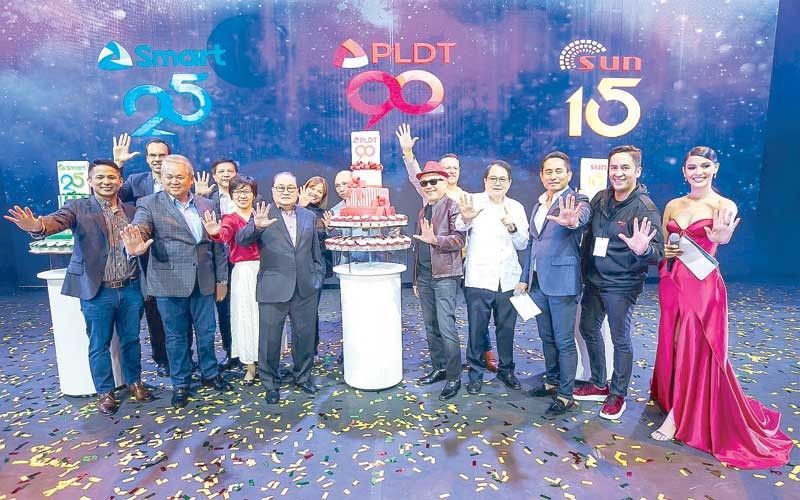 Five for 5G as PLDT marks 90th celebration with first 5G video call between Manila and Clark. (Front row, from left) PLDT SVP and head of consumer business market development Oscar Enrico Reyes Jr., PLDT and Smart EVP and enterprise international and carrier business head Eric Alberto, PLDT SVP, CFO and chief risk management officer Anabelle Chua, PLDT and Smart chairman and CEO Manuel V. Pangilinan, PLDT SVP and corporate services group chief Atty. Ray Espinosa, business transformation head Ricky Vargas, the author, PLDT and Smart SVP and enterprise group head Jovy Hernandez and event host Jamie Herrel; (back row, from left) PLDT chief customer experience and data analytics advisor Ralph Brunner, PLDT SVP and consumer business customer development head Alex Caeg, PLDT Global president and CEO Kat Luna Abelarde, Voyager Innovations Inc. president and CEO Orlando Vea and PLDT chief technology and information advisor Joachim Horn.
Celebrating a 90th birthday or the 90th year of your business is a momentous occasion worthy of joyous celebration.
Reaching 90 is no mean feat.
Since you are a decade shy of reaching the century mark, then, undoubtedly, you would have had your fair share of successes as well as challenges.
Two renowned icons are celebrating their 90th year this year.
One of them is the ubiquitous Disney character Mickey Mouse, created by Walt Disney in 1928 and first appearing in Steamboat Willie, one of the first sound cartoons ever made.
The other is PLDT Inc.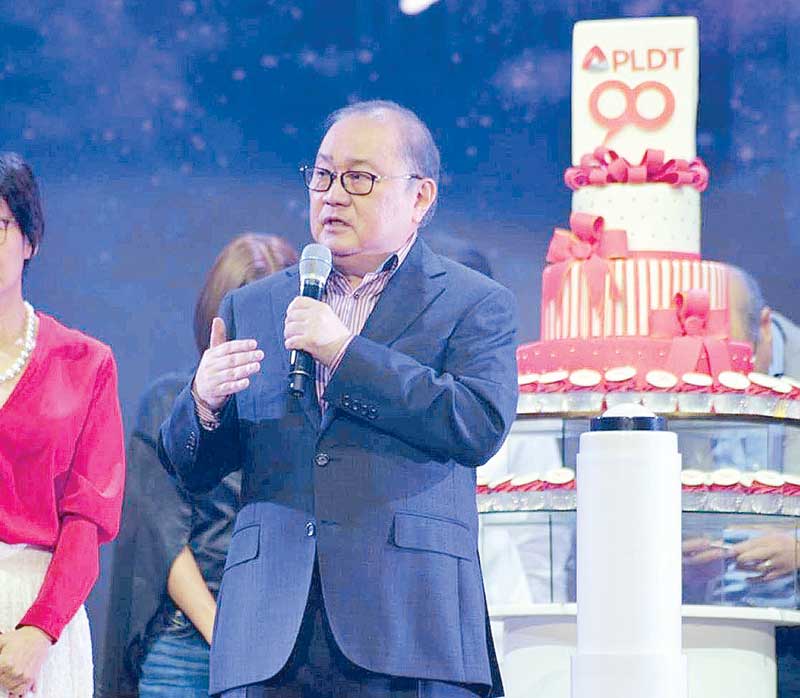 MVP delivering his message
PLDT Inc. started life as the Philippine Long Distance Telephone Company when it was incorporated and given a legislative franchise to operate telephone services in the country on Nov. 28, 1928.
Phone networks in the country then were disconnected, each phone company serving only a particular area but without the means to connect to other companies or networks. The intent of setting up PLDT then was to interconnect all these networks or companies into one.
Thus, under the auspices of PLDT's then American owners, the General Telephone and Electric Corp. (GTE), PLDT started acquiring small companies in the provinces to bring them all together under one interconnected and vast network.
In 1929, the link between Manila and Baguio was established, making the first national long-distance calls possible.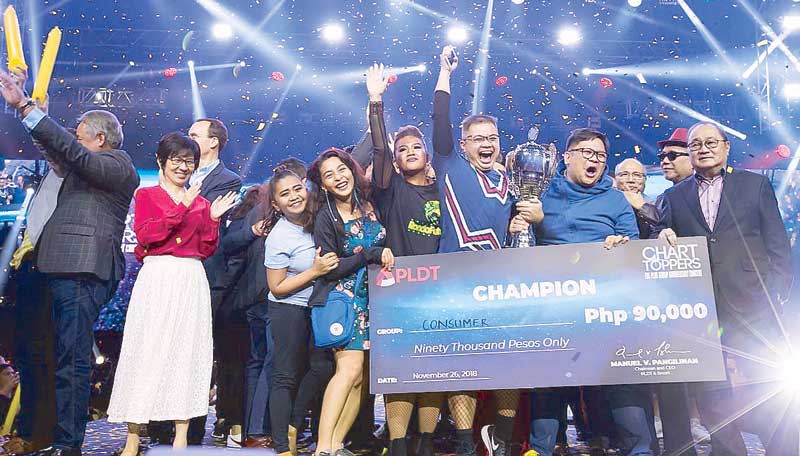 MVP and Anabelle Chua with the Versus Group Competition champion — the PLDT Consumer group.
Overseas radio-telephone service was also established between the Philippines and the US and other parts of the world in 1933.
World War II proved to be devastating to PLDT. Because it was an American installation, the USAFFE had to destroy its facilities so that it won't be used by the Japanese who invaded and occupied the islands.
When the war was over, only 10 percent of PLDT's facilities were able to operate. But in time, the system and the network was rebuilt.
Forty years after its founding, PLDT marked another milestone when it became a Filipino-controlled corporation. In 1968, a group led by Don Ramon Cojuangco bought the controlling stake of GTE in the company.
Fast-forward to 1998, a year after the tumultuous Asian financial crisis that rocked many a company where only the fittest survived.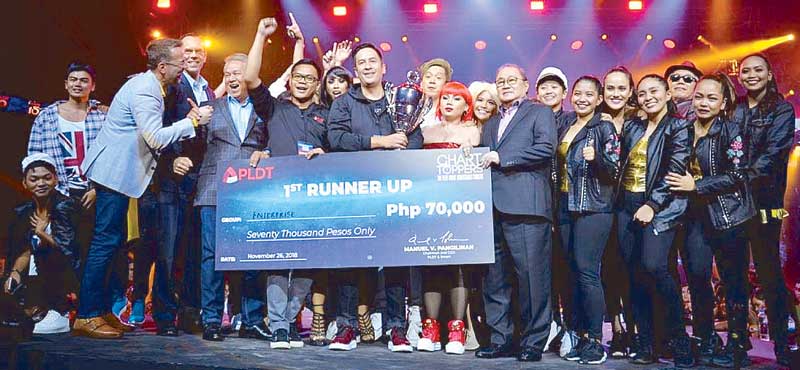 MVP, Joachim Horn, Ralph Brunner, Eric Alberto and Jovy Hernandez with the Versus Group Competition first runner-up – the PLDT Enterprise group.
Just four days shy of its 70th anniversary on Nov. 24, 1998, PLDT announced the entry of First Pacific Company Limited, which acquired a controlling stake in the company.
First Pacific brought in a new culture and a new form of enterprise into PLDT, with Manuel V. Pangilinan or MVP, First Pacific founder and managing director, becoming president and CEO.
In 1999, PLDT forged a partnership with NTT Communications Corp. of Japan, the world's leading telecommunications company.
In 2000, PLDT acquired Smart, the country's largest mobile phone operator.
In 2011, PLDT acquired Digitel, owner of Sun Cellular and one of the country's leading mobile telecommunications company.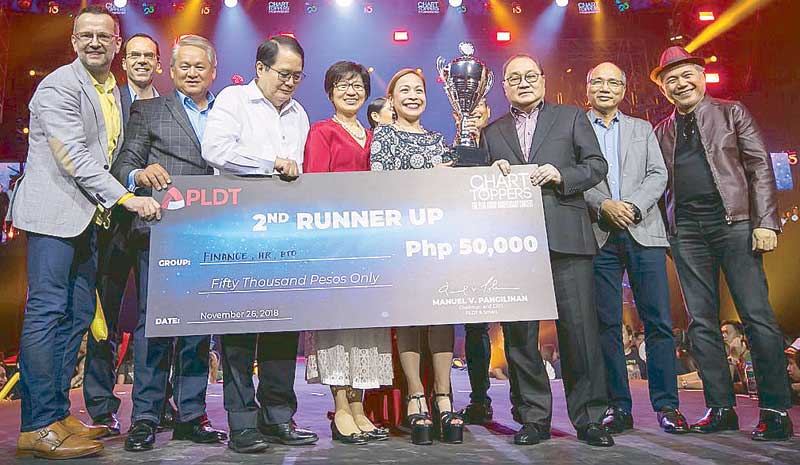 Joachim Horn, Ralph Brunner, Eric Alberto, Ricky Vargas, Anabelle Chua, Chaye Cabal-Revilla, MVP, Orlando Vea and Atty. Ray Espinosa with the Versus Group Competition second runner-up — the PLDT Finance, HR and Business Transformation Office group.
Incidentally, Smart is celebrating its 25th year of commercial operation, while Sun Cellular is celebrating its 15th year of the same.
The years that came after saw a massive disruption in the realm of information and communication technology where PLDT did a digital pivot. It veered away from its legacy business and dove into digital services.
In 2004, MVP became chairman of PLDT, a position he holds to this day, including that of president and CEO.
It was the PLDT employees themselves who kicked off the 90th anniversary celebration in May 2018.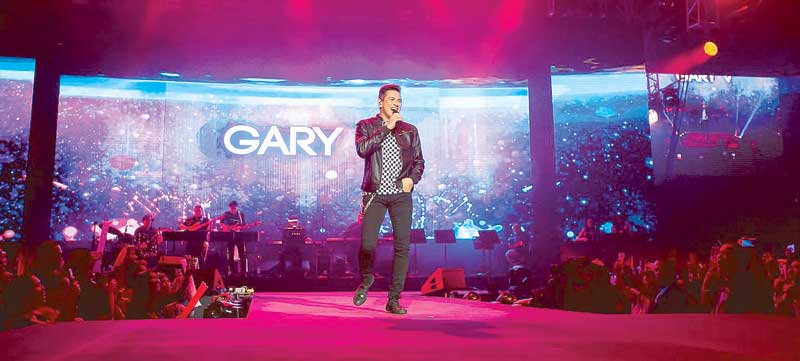 Gary Valenciano.
Back then, PLDT executive vice president and chief revenue officer Eric Alberto had this to say: "For all that we have been and all that we aspire to be for our customers, it's really YOU, our employees, who are behind everything. It's YOU that counts."
For the actual 90th anniversary celebration, PLDT decided to hold it at the Mall of Asia Arena because, let's face it, no other venue can hold the sheer size of the company, let alone its guests and friends.
Special performer of the night was none other than Mr. Pure Energy himself, Gary Valenciano, whose song-and-dance routine with son Gab electrified the crowd enough to almost bring the arena down.
Other stellar performers in the "PLDT Through The Years" segment were Erik Santos, Julie Anne San Jose, Sam Concepcion, Jona and Jed Madela, who, after their respective song numbers, gave an all-star ensemble rendition of All You Need Is Love and Ain't No Mountain High Enough. Here, the whole arena joined them, singing with gusto and in unison. Pardon the old cliche, but it gave me goosebumps and sent shivers down my spine!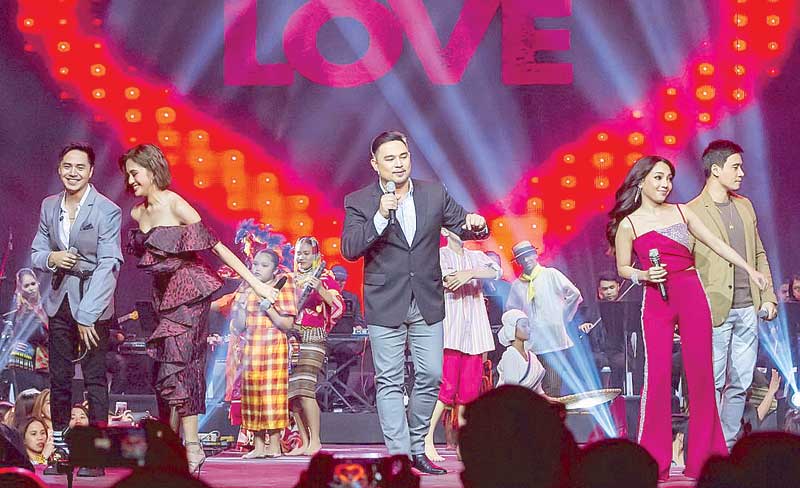 A stellar performance by Sam Concepcion, Julie Anne San Jose, Jed Madela, Jona and Erik Santos.
In his brief remarks that evening, MVP rallied the troops and whipped all in attendance into a frenzy. The indomitable PLDT spirit was evident and very much alive. The burning desire to achieve greater heights next year can be seen on the faces of the multitude as they chanted: "MVP! MVP! MVP!"
If you had stumbled upon this gathering at this time you'd have thought that it was a UAAP finals game with the cheering, the energy and the excitement.
The night was closed by The Dawn with their signature hit Salamat; it was the company's way of expressing thanks to the millions of PLDT subscribers here and abroad.
I do believe that great things are in store for PLDT Inc. next year and in the many years to come. Watch for it.
To the women and men of PLDT Inc., my hat's off to you. Here's to 90, or even a hundred years more!
Cheers!