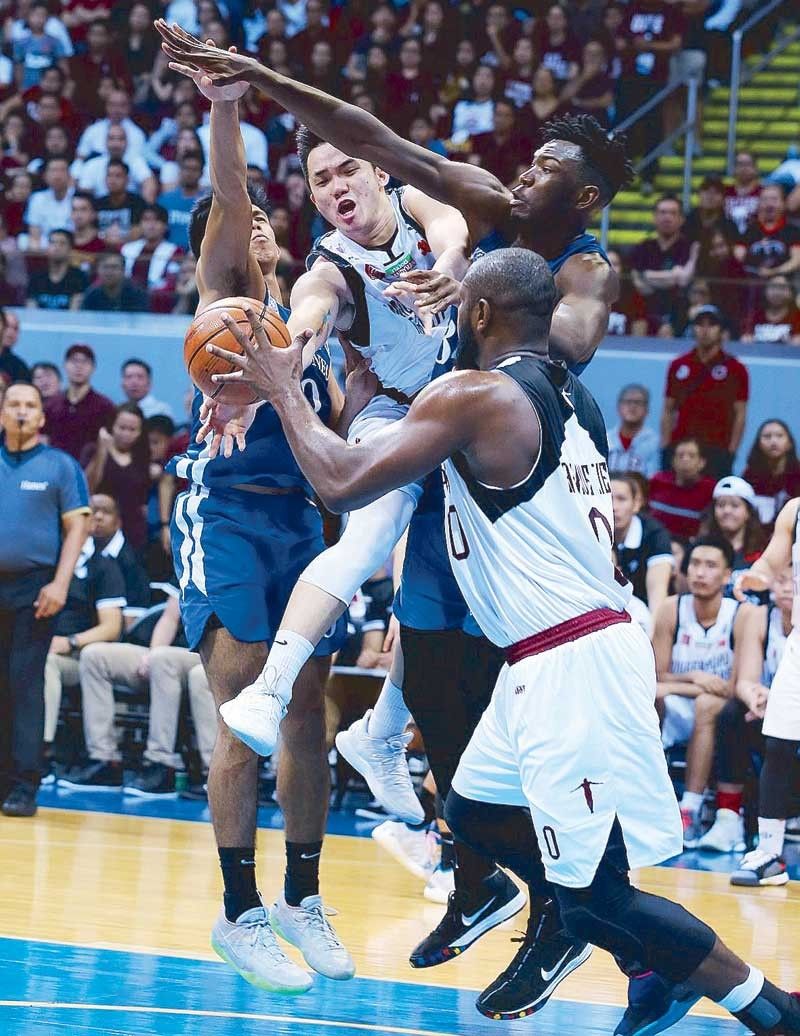 University of the Philippines' Paul Desiderio and Bright Akhuetie battle it out with Ateneo de Manila University's Thirdy Ravena and Kakou Kouame during game one of the UAAP Season 81 finals at the Mall of Asia Arena Saturday.
Photos by Joey Mendoza
Win or lose #nowaytogobutUP
By the time this column comes out, we would have had a winner in the second game in the best-of-three championship bout between the Ateneo de Manila Blue Eagles and the University of the Philippines Fighting Maroons. Maybe, we already would have had a UAAP champion.
Dubbed the "Battle of Katipunan" because both schools' main campuses are located on either side of Katipunan Avenue in Quezon City, the duel between Ateneo and UP has seen more ticket sales than the past games between perennial rivals Ateneo and La Salle. Last Saturday's game alone saw the Mall of Asia Arena packed to the rafters with over 21,000 spectators. Scalpers abound outside the Arena, and some were arrested.
But whichever team prevailed when the final buzzer sounded, it was already a victory for UP to have gone this far. Indeed #nowaytogobutUP.
It took UP a long time to rouse from its 32-year slumber of a lackluster showing at the UAAP. The year it brought home the championship was also a euphoric year for millions of Filipinos.
Blame the slumber partially on lack of fervor from the students and alumni, except I guess for the relatives of the players.
My husband Ed, a Blue Eagle from prep to high school and a Maroon for college, said, "In basketball, yes, Maroon Pride is a new thing. Although in other fields, no, it is not new." Perhaps in excelling the Bar exams, in the medical board exams, in government and in the corporate world. UP also topped the worldwide list of the best universities in the Philippines. But in basketball, it was a wimp.
"Very few used to watch their games before," Ed noted. According to my former UP professor Tessa Jazmines, who was the Maroons' team manager from 1992 to 1997, "there were times when even my free tickets were refused."
A fellow alumnus explained this lack of a team spirit to the fact that UP is composed of many colleges — a ride, not a walk away, from each other. Each college seemed a university unto itself, and when there were reunions, they were hosted per college, or sometimes per course. Unlike the annual Ateneo reunions that brought together all Eagles from wherever nest they came from — grade school, high school, college. Whether engineering or legal management or communications. Their bonfires were a conflagration of pride and unity. They were a school undivided.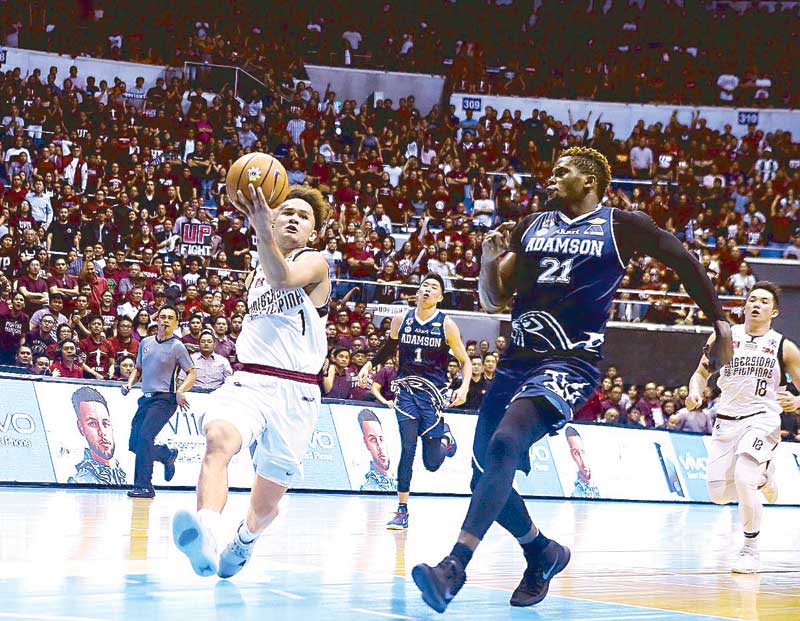 UP's Juan Gomez de Liaño and Adamson University's Pape Sarr during the UP-Adamson semi-finals match at the Araneta Coliseum.
It is my great pride that UP is in my resume. I finished Journalism in UP and spent many memorable, crucial years in the Diliman campus. I even stayed at the Kalayaan and Molave Residence Halls for my freshman and sophomore years. I actually lived in UP!
But I had not attended a single UP reunion or homecoming since graduation, till the university recognized me in 2016 as a Distinguished Alumna in Communications and I almost cried with remorse for my lack of UP pride.
Maybe it was a "college" spirit, if any, that UP had. Not a university-wide spirit that fuels the adrenaline of gladiators in the arena.
Well, not anymore.
* * *
Last Saturday's game, when the UP Maroons refused to give up even if they were physically exhausted from their previous overtime match with Adamson, showed that what propels UP to excel academically can propel them to excel on the hardcourt. They just have to have some motivation and encouragement for it. This brings out the best in all of us, whether you're a Juan Gomez de Liaño or a player in the neighborhood makeshift basketball court.
"UP is playing with heart and a will to win for the entire UP community," said my former professor.
I couldn't bring myself to watch the game live. My heart! But on television I saw several UP luminaries led by Sen. Sonny Angara, whose father, the late Senate President Edgardo Angara, was a former UP president and a keeper of the UP flame till the day he died. (I think that if STAR founding chairman, the late Betty Go-Belmonte, were alive, she would have been joyous. When she passed away in 1994, her family made sure her funeral procession passed by UP on her way to her final resting place in Marikina.)
UP president lawyer Danny Concepcion watched virtually all of the Maroons' games, and gives the players a pep talk before the opening buzzer. Apparently, it has worked. (He wasn't present last Saturday.)
My 24-year-old niece, former UP School of Economics valedictorian Trish Sotto was over the moon when she was able to get tickets to the game last Saturday. The MOA Arena saw a wider swathe of Maroon, than Blue. The Maroons seemed mostly millennials. The Ateneo crowd was said to be…well, older.
Though he praises UP for being this UAAP season's "overachievers," my husband believes Ateneo will bag its 10th championship.
"Ateneo has a good coach (Tab Baldwin). It has a good sports program. Supportive alumni. It has players who have a mindset for excellence," he pointed out to me. "And Ateneo pride." Ever since, not just now that they're fighting their Katipunan sports foes.
* * *
There is much to learn from UP's journey in this season's UAAP. Maybe, even the country can be inspired by the Maroons. From being simply an archipelago of scattered colleges and campuses, it is now one solid republic. Let the feeling last.
And where are the crabs that seem to be the bane of most people's successes? They're missing in action because #theresnowaytogobutUP. *
(You may e-mail me at joanneraeramirez@yahoo.com. Follow me on Instagram @joanneraeramirez.)