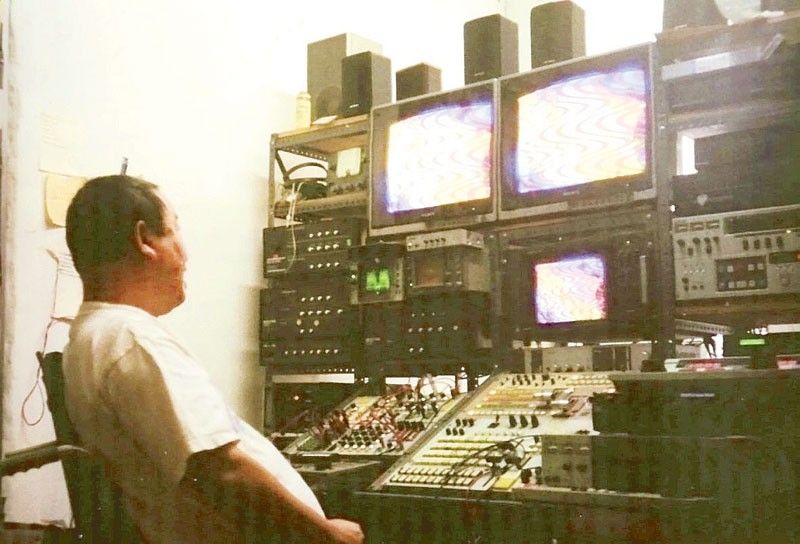 Nam June Paik in his studio in 2006.
Photo by Jon Huffman
'Uniting the world through art'
Artist Nam June Paik was born in Korea, escaped with his family to Hong Kong before settling down in Japan. His family's first television set was an American brand Zenith (ironically, now owned by South Korean LG Electronics). His first exhibit, 55 years ago, was in Germany, and it featured the electronic television.
A museum in America, the Whitney Museum of American Art in New York City, mounted Paik's first retrospective and became the first American museum to feature video art. After Paik's death in 2006, Tate Liverpool organized the first major retrospective since the artist's death.
In 2015, the city where Paik's family found refuge during the Korean War became the scene for the Nam June Paik: Late Style exhibition organized by Gagosian Hong Kong.
And now, the world-renowned gallery has brought Nam June Paik to Manila, in collaboration with Leon Gallery International. Artists have, indeed, made the world a small place.
"It would be no accident that Nam June Paik would be the first global artist attuned to the possibilities of uniting the world through art," says Leon Gallery's Jaime Ponce de Leon.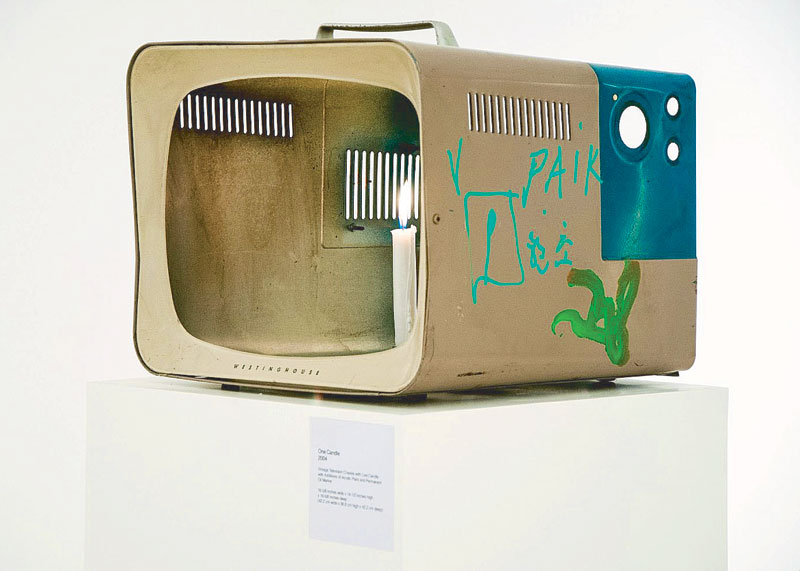 One Candle, 2004.
Former Smithsonian senior curator John G. Hanhardt wrote of Paik, "Paik, who remade the television into an artist's instrument, reminded us that we must recall the avant-garde movements of the 1960s and learn from their conceptual foundation, which expressed the need to create alternate forms of expression out of the very technologies that impact our lives."
Back in the '60s, Paik saw that the television set, which turned the tide in the US presidential debate between Richard Nixon and John F. Kennedy in 1960 and had become as present in US households as a lightbulb, "could become instrumental in an exchange of cultures."
He saw television as not only broadcasting the message, but also as a medium for mounting the message. He painted on television sets and made them his frames!
"In more ways than one, Nam June Paik defined art as we now know it: a mind-bending mash-up of video, sculpture, performance and installation," says Jaime. This was what Paik did in his very first exhibit in Germany in 1963.
Today, "All the museums of the world, modern museums of the world would always have Nam June Paik. There is always a room dedicated to Nam June Paik."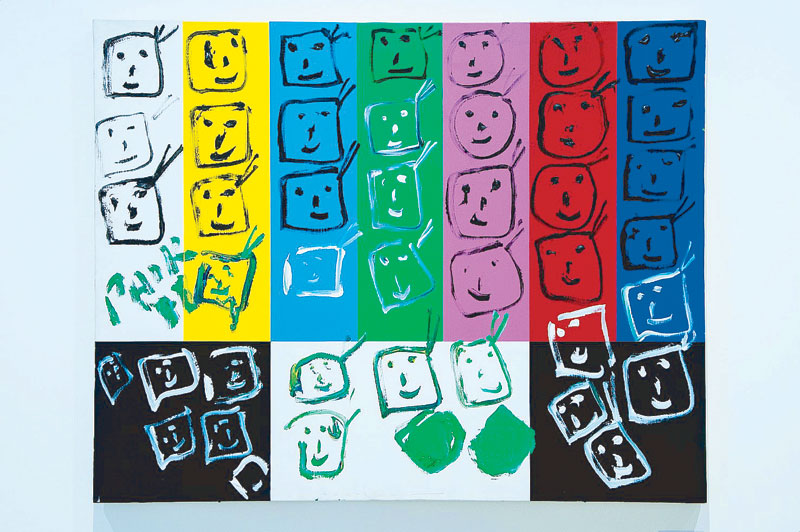 Untitled 2005, acrylic paint and permanent oil marker on canvas.
How Leon succeeded in bringing the works of Paik to Manila is a stamp of prestige on the local art scene. Gagosian supplied all the art works from Paik's estate and approved everything for the exhibit — from the catalogue to the lighting. The exhibit runs until Nov. 30 at Leon Gallery at Corinthian Plaza in Makati City.
That Gagosian itself is in Manila in collaboration with a Filipino gallery is a coup itself. Jaime calls it, "a signal honor."
"Of course, they (Gagosian) did their homework. They asked (art collector) Marcel Crespo about us. Everything fell into place and then I couldn't believe it," says Jaime.
"Everything is for sale. It ranges from $50,000 to $400,000. One of the works here is going to be exhibited in five museums. The Tate Modern in London, the MoMA in New York, the Stedelijk in Amsterdam and two others and they will end up in the National Gallery in Singapore, which will immediately stamp impeccable pedigree to the piece. Whoever buys it will get an invitation to the gala dinners and to all these important museums in the world. So, there is still an opportunity for anybody who would want that," reveals Jaime.
Jaime points to a "candle TV" on exhibit in Leon — a vintage TV chassis with a live candle inside and says proudly, "This candle TV that we have here is to be included in the five-museum retrospective of Nam June Paik."
"Being a collector is one thing, but for the pieces in a certain collection to be welcomed as part of a retrospective exhibition in an important institution or museum is another thing. You can be the best collector, but your pieces may not have something of that quality," Jaime underscores the "pedigree" of owning a piece of art exhibited in the world's top museums.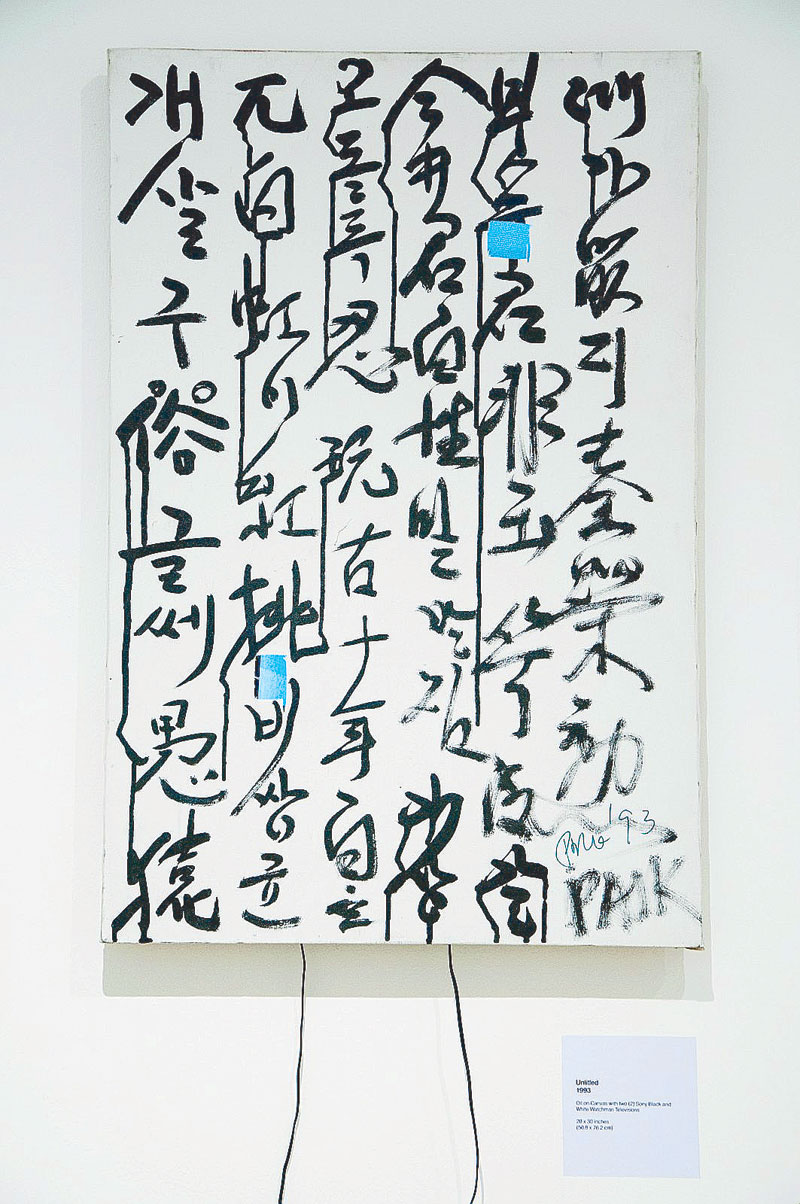 Untitled 1993, oil on canvas with two Sony Black and White Watchman Televisons.
"Paik is considered among the Top 5 most fundamental artists of modern art," continues Jaime. "He changed the way we see things. Just imagine, he put art in the television set. And look now, there's so much video art. It was all a ramification of his thinking.
"He would paint on TVs. He would use TV as a medium of art. Here in the Philippines, we have a following of his works, like Johnny Manahan. They are all practitioners of video art and it's a cult, and Nam June Paik is the god."
Jaime realizes modern art, video art, is not for everybody.
"Even if you have all the money, it's not for everybody," he concedes. Asked who would collect a Nam June Paik, he says, "A young well-traveled couple who loves art, who wants to grow their sophisticated taste. A global and sophisticated collector would want a Nam June Paik."
* * *
Though renowned for his trove of art of Filipino artists, Jaime is opening the doors to appreciation of foreign art.
"We are trying to trickle in with the appreciation for foreign art. It's not yet seriously been looked at in the Philippines because here, everyone is looking at Filipino art."
Doesn't he feel like he should focus on Filipino art?
"Not exactly. Art is globalization. Isn't that what the world is all about? Bringing art internationally."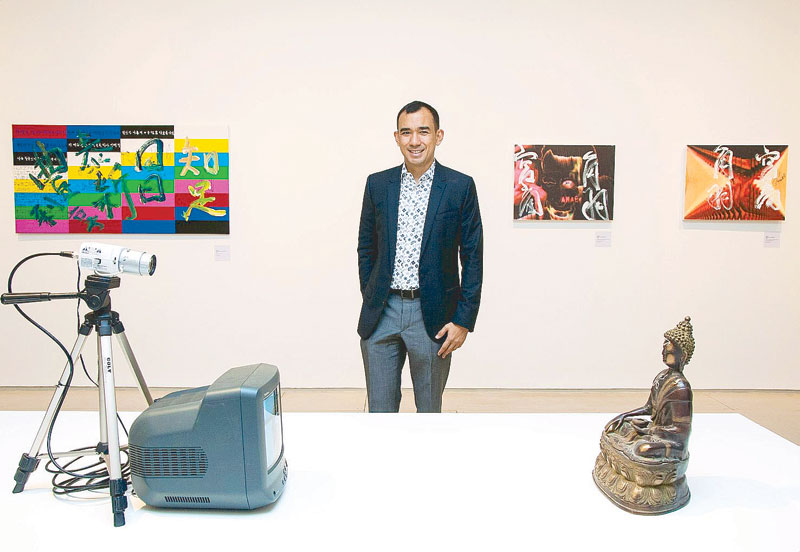 Jaime Ponce de Leon by the TV Buddha. Exhibit photos by Jo IVAN LLANETA
"Art puts you in a different world especially when people are appreciators of art. You could just get lost in all this," Jaime smiles widely.
Leon Gallery has become a cultural hub of sorts, where Jaime and his friends share a cup of coffee with pastries as they talk art, politics, and well, the latest in almost anything around town.
"I always welcome everybody who comes whether they buy or not, it doesn't really matter. As long as they appreciate art. Being able to buy art is one thing, but appreciating art gives you a positive energy," he believes.
It even makes you appreciate a repurposed TV set, and realize its message goes beyond what it broadcasts through radio waves and frequencies — indeed it makes waves by both being the medium and the message and the glory.
(Leon Gallery International is located at G/F Corinthian Plaza, 121 Paseo de Roxas, Legazpi Village, Makati City.)