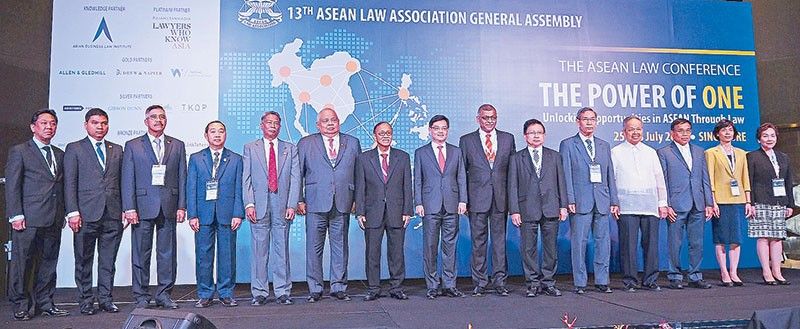 (From left) ASEAN Law Association (ALA) national committee heads Dato Paduka Haji Hairol Arni bin Haji Abdul Majid of Brunei, lawyer Prom Vicheth Akara of Cambodia, Indonesia Chief Justice Dr. Muhammad Hatta Ali and Phomsouvanh Philachanh of Laos, ASEAN Secretary General Dato Lim Jock Hoi, Executive Secretary Salvador Medialdea, ALA president lawyer Avelino Cruz, Singapore Minister of Finance Heng Swee Keat and Chief Justice Sundaresh Menon, Malaysia Chief Justice Tan Sri Richard Malanjum, U Win Myint of Myanmar, retired Supreme Court Chief Justice Artemio Panganiban, Thailand Justice Slaikate Wattanapan, Le Thi Kim Thanh and ALA secretary general Regina Geraldez.
Last year, the Philippines hosted the 50th anniversary celebration of the Association of Southeast Asian Nations (ASEAN). All and sundry agreed it was a very successful hosting. Kudos to President Rodrigo Duterte and Executive Secretary Salvador Medialdea, who was the chairman of the organizing committee. On several occasions, President Duterte commended Medialdea for this no-easy feat. One of the events held in Manila as part of the ASEAN golden anniversary was the Commemorative Meeting of the Governing Council of the ASEAN Law Association (ALA).
That meeting in October 2017 was in preparation for the 31st ASEAN Summit in November of that year, and for another big event, the ASEAN Law Conference held recently in Singapore. The ASEAN Law Conference coincided with the 13th ALA General Assembly.
What is the significance of this organization of lawyers, judges and justices across the region that was founded back in 1979, or 12 years after the founding of ASEAN?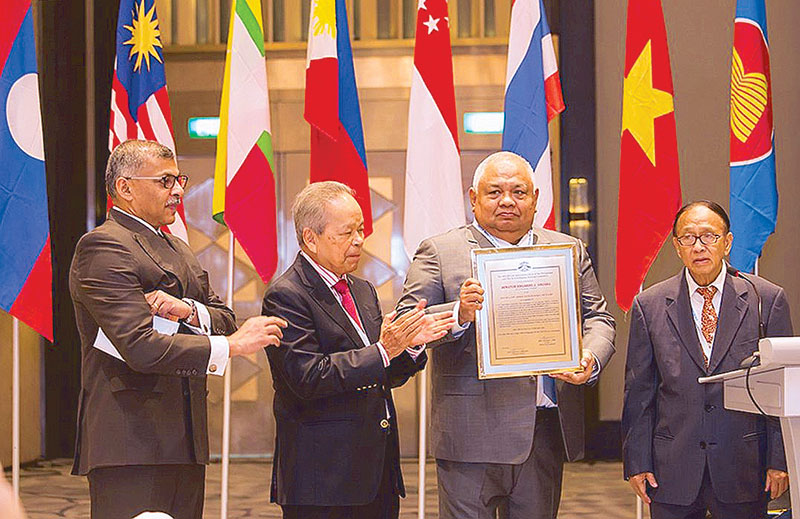 Justice Menon of Singapore, Justice Panganiban and Avelino Cruz at the Induction rites to the ALA Hall of Fame of the late Edgardo Angara with Secretary Salvador Medialdea (third from left), a long-serving ALA official, doing the honors.
For one, it is the only private or non-government organization that is acknowledged or recognized by the ASEAN. For another, having embarked on this journey towards ASEAN integration, it is imperative that laws of each member-nation be harmonized in order to fast-track the vision of having one economic community.
After all, it is the goal of ASEAN to pursue "one vision, one identity, one community" while upholding the independence and interdependence among member-nations, and ALA plays a crucial role in the achievement of that goal. Thus, the theme of the ASEAN Law Conference: "The Power of One: Unlocking Opportunities in ASEAN Through Law."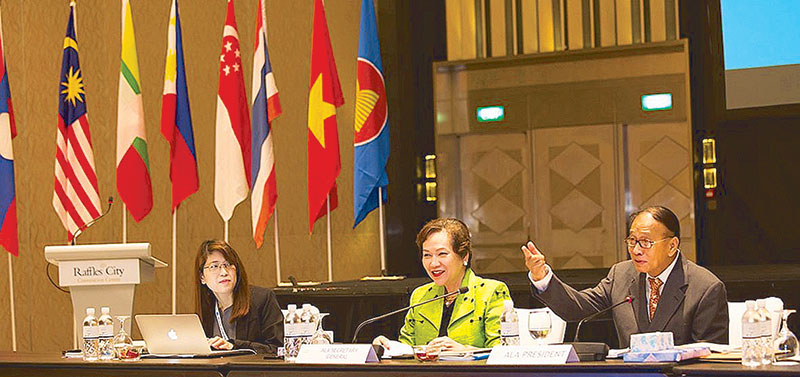 Secretariat head Grace Salonga, Regina Padilla Geraldez and Avelino Cruz.
The conference was occasion for ALA to honor its first and founding president, the late former Senate President and Executive Secretary Edgardo J. Angara. A testament to Angara's vision is the fact that ALA is now on its 39th year and growing stronger in terms of its influence and gravitas. The current ALA president is Avelino V. Cruz. Both he and Angara were founding partners of ACCRA Law, a firm which I joined after law school. Ave and retired Supreme Court Chief Justice Artemio Panganiban, are the driving force behind ALA both in the Philippines and the region; while ALA secretary general Regina Geraldez, a former immigration deputy commissioner, provided the much-needed support. Incidentally, Medialdea also started his illustrious legal career in ACCRA Law and has always been active with ALA.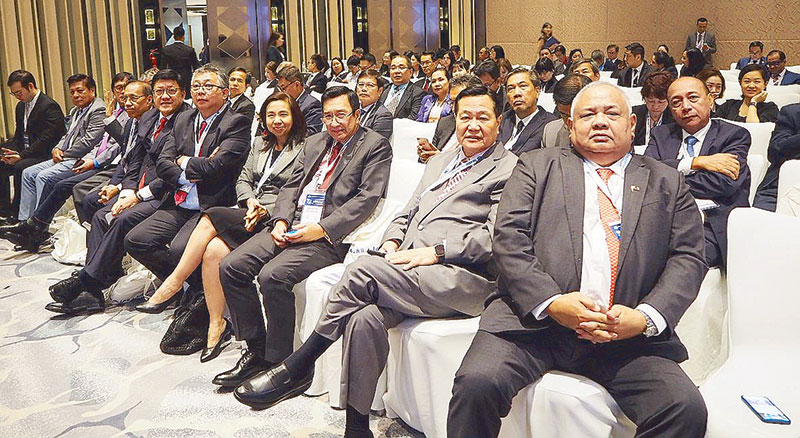 Secretary Salvador Medialdea with the SC justices and other members of the Philippine delegation.
In his speech at the conference, Ave said that ALA has had years of remarkable success in mutual legal cooperation through general assemblies, standing and adhoc committees, and even golf chapter networking. For ALA, however, to move "inexorably towards the 'Power of One'," the organization must intensify its role as ideas generator particularly in the key ALA objective of harmonization of laws; have a proactive engagement with the ASEAN Secretariat (ASEC); and support mediation and arbitration activities to resolve disputes in the manner provided in the ASEAN Charter.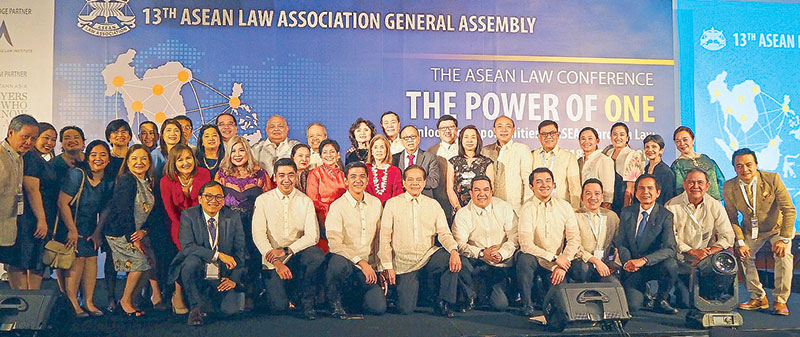 The Philippine delegation with Secretary Salvador Medialdea, acting Chief Justice Antonio Carpio, Justices Andres Reyes and Estela Bernabe, and panel session chairman Francis Lim.
In a special meeting in Cambodia last June, ALA finalized the setting up of an ASEAN Law Institute that puts in place an ALA-wide legal infrastructure, a central legal think-tank as a workhorse of the ALA Governing Council that will promote capacity building, exchange programs, host legal forums, handle publications and journals, and monitor ASEAN treaties and agreements. In one of the breakout sessions moderated by former PSE president Francis Lim (Francis was one of my mentors in the ACCRA Law litigation group) titled "Power of ONE: AEC Financial Integration," I asked the panel of experts if "the ASEAN Way," which is to decide by consensus, should be set aside to attain the ASEAN goal of integration, which includes financial integration. The prevailing view was the "ASEAN Way" should stay. Governance by consensus among its member-states has, to a large extent, contributed to ASEAN longevity.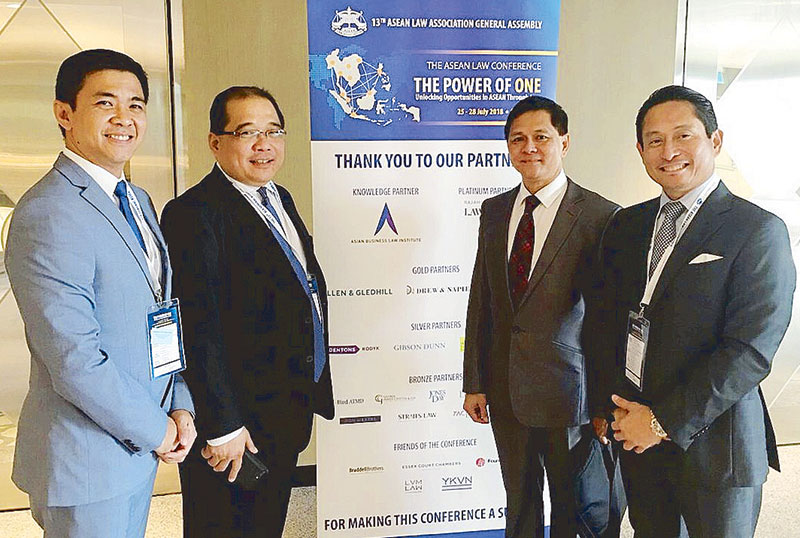 With (from left) UP Law professor Andre Raj Palacios, 2017 Bar Examiner lawyer Raul Vasquez and IBP EVP Domingo Egon Cayosa.
Indeed, exciting and challenging times lay ahead for ALA and the practice of law in the ASEAN. As in the past, an ALA event does not end with a whimper; on the contrary, it ends with a huge bang. Justices, government officials, academics, practitioners and legal luminaries, after days of getting down to brass tacks and serious business, all look forward to the cultural presentation of all the delegates from the different member-states.
Our heartfelt thanks and congratulations to the ALA Singapore National Committee for graciously and efficiently hosting the conference and general assembly, particularly to its chairman Sundaresh Menon, Chief Justice of Singapore.