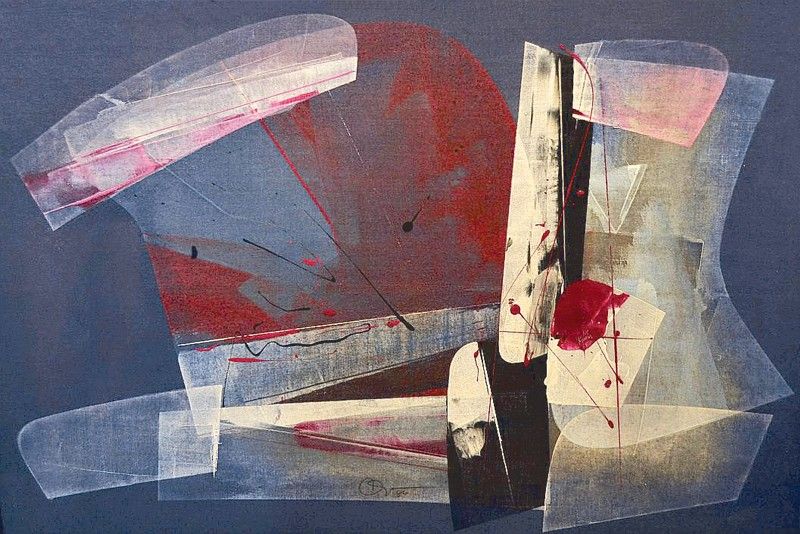 Romulo Olazo's Untitled #129, 1986, mixed media on canvas, 51 x 71 cm. (20 x 28 in.).
Gavel&Block by Salcedo Auctions and the International School Manila mount auction to raise funds for the Vicky SyCip Herrera Filipino scholars
"Education is the greatest gift that we can bequeath to our country." — Washington SyCip
Art that paints a rosy future for a child is a masterpiece. Both — the art and the child — are priceless.
This is exactly what will take place at benefit, an auction jointly mounted by the International School Manila (ISM) and Gavel&Block, a subsidiary of the prestigious auction house, Salcedo Auctions. On May 5 (Saturday), a trove of distinctive artworks by National Artists, international masters, leading Filipino artists, and other artisanal objects of design merit will be up for bids at The Conservatory of The Peninsula Manila starting at 2 p.m.
This time, one person's acquisition will be another person's gain.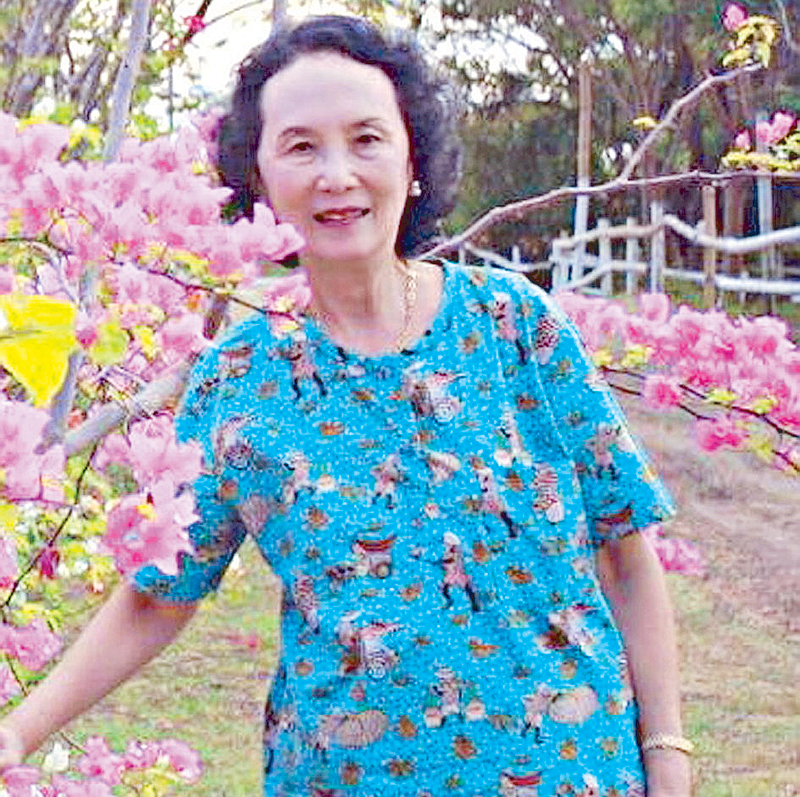 Vicky SyCip Herrera, ISM's beloved guidance counsellor of 38 years.
The benefit auction is being held to raise funds for the Vicky SyCip Herrera (VSH) Filipino Scholarship at ISM. Established to honor the well-loved guidance counsellor and her 38 years of service to the school, the VSH Filipino Scholarship underwrites the education of a fifth student with exceptional ability in each grade level from 8 to 12 at the ISM, adding to the four in each grade level already funded directly by the school.
Vicky is the daughter of the late venerable Washington SyCip, patriot and founder of SGV. SyCip also once said, "It is knowledge and education, above all, that will uplift the well-being of a person, company or even a country."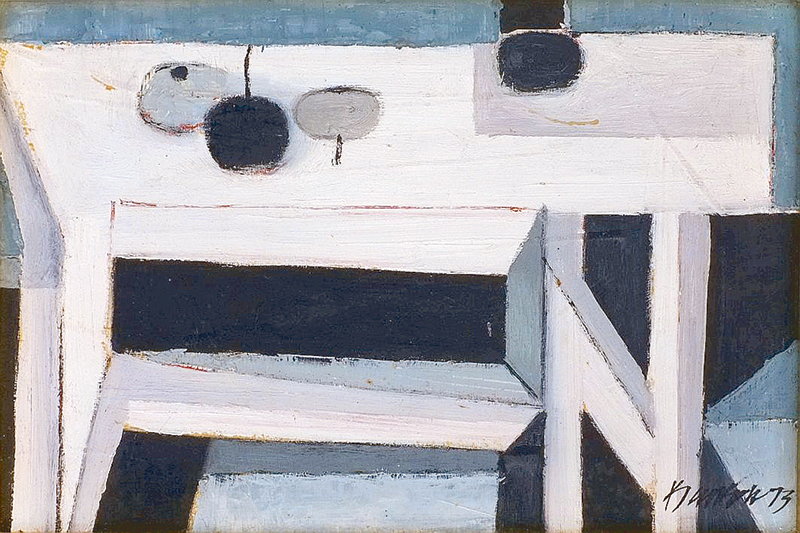 Ang Kiukok's Still Life Table with Fruits, 1973, oil on wood, 20 x 30.4 cm. (8 x 12 in.).
For the past 57 years, the Filipino scholarship program at ISM has provided promising futures for over 150 Filipino scholars, who have gone on to top colleges and universities in the Philippines, as well as renowned universities abroad — Harvard, Yale, Stanford, Columbia, Cornell, Princeton, among others. These scholars have gone on to pursue successful careers as entrepreneurs, humanitarians, lawyers, doctors and architects.
Highlights of the sale include a 1986 mixed media painting on canvas by leading abstractionist Romulo Olazo, a 1973 oil on wood by National Artist Ang Kiukok, and Deco Deconstruction, a limited edition digital print on Hahnemühle Fine Art paper by Ronald Ventura, which was generously donated by the artist to the school.
National Artist Arturo Luz is represented by two pieces — a 1999 paper collage from the Desert Series and an untitled, timeless wood cubiform sculpture that shows the depth of his artistry. Also included are The Moving Form by Eduardo Castrillo, and two works by the late expatriate Paris-based artist Nena Saguil — an iconic pen and ink featuring her primordial spheres, and a 1978 watercolor of similar motif translated into elegant chromatic forms.

Eduardo Castrillo's The Moving Form, 2004 , movable free-standing sculpture with sanded brash finish, 41 x 48 x 46 cm. (16 x 19 x 18 in.).
Apunte del Puerto de Santa Maria, a 1973 etching by Fernando Zobel, represents two views of sunset. Another opportunity not to be missed at the benefit auction are two artworks offered as one lot by the modernist vanguard: a pen and ink and a mixed media work.
Works by leading international masters round out the important artworks offered in this sale, including rare documented lithographs by the Spanish surrealist Salvador Dali, and the French post-impressionist Henri Matisse, as well as Filipiniana prints and maps by Pedro Murillo Velarde, Rigobert Bonne and Jean Francois La Perouse.
Underscoring the support of the ISM community to this auction are pieces donated by alumni and parents in the fields of art and design, among these: embroidered pillows by Iñigo Elizalde, elegant foot stools using T'nalak fabric by Maricris Floirendo-Brias, an acrylic on canvas painting by Alan SyCip, and several pieces of estate jewelry. ISM senior Fine Art students also donated paintings from their final assessment exhibition to help fund the VSH scholarship.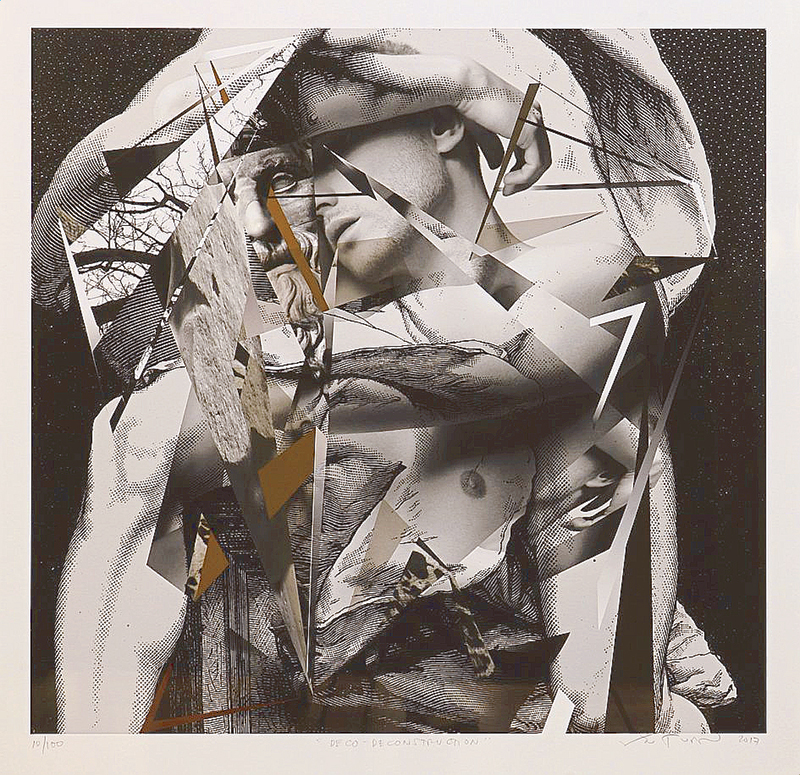 Ronald Ventura's Deco Deconstruction, 2017, digital print on Hahnemühle Fine Art paper 10/100, 89 x 125 cm. (35 x 49 in.).
Philippine tribal and ethnographic art features prominently in benefit. The list includes 1930 A Dancing Bu'lul, an early 20th-century Bontoc province Kalasag shield and spear; and a Chalapong, Hagabi — an Ifugao priest's miniature ritual/prestige bench in narra wood with natural patina, dating back to the 1930s to 1950s. Philippine antique and estate furniture are also finding their way to the auction, the highlights being a 1930s Art Deco narra settee with its original solihiya, an exquisite narra altar table dating back to 19th century Nueva Ecija; an early 20th-century comoda in narra with bone and kamagong inlays made by the master craftsmen of Baliuag, Bulacan; and a historic Chinese mahjong table from the 1920s in hardwood from the Paterno collection. A pair of eye-catching Kenneth Cobonpue Yoda swivel chairs used by heads of state at the 2015 APEC conference will also be going under the hammer.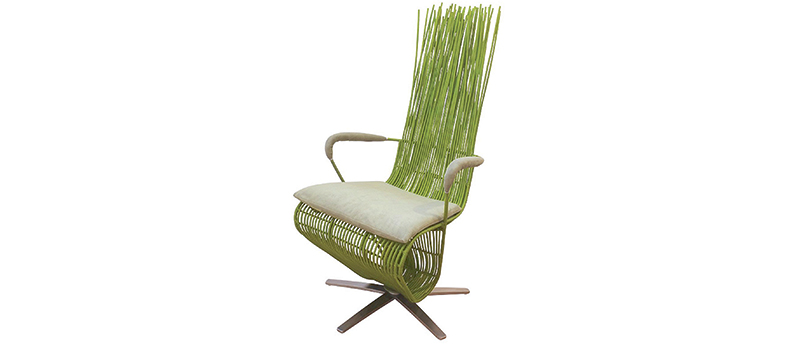 Kenneth Cobonpue's Yoda swivel chair for APEC 2015, made of rattan poles entwined on a supple but stainless steel frame, 119 x 62 x 58 cm. (47 x 24 1/2 x 22 3/4 in.).
The auction preview will run from Tuesday, May 1 to Friday, May 4, 10 a.m. to 6 p.m. at The Gallery, Level 3, The Peninsula Manila, and the online catalogue may be viewed at salcedoauctions.com. For further information regarding the benefit auction and the Vicky SyCip Herrera Filipino Scholarship at ISM, please contact Salcedo Auctions at 659-4094 (Rose) or the International School Manila at 840-8606 (Maica).