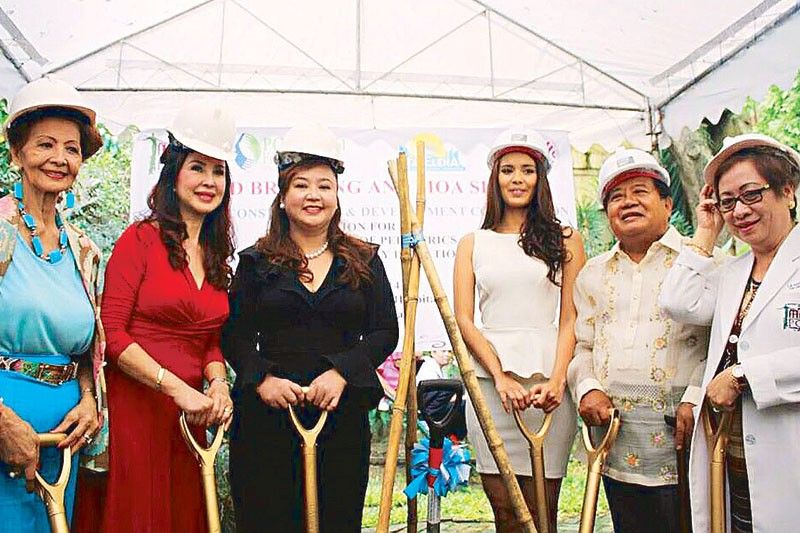 (From left) Philippine General Hospital Medical Foundation Inc. (PGHMFI) board members Lolita Mirpuri and Cory Quirino, Sta. Elena Construction president and CEO Alice Eduardo, Miss World 2014 Megan Young, PGHMFI chairman Dr. Gregorio Alvior and PGH deputy director Dr. Lourdes Capito at the groundbreaking ceremony of the Hematology-Oncology Isolation Ward in 2014.

Alice Eduardo's Valentine
Construction magnate Alice Eduardo was so shocked one day when, while visiting the child of an employee, who was being treated for dengue at the Philippine General Hospital, she saw all the sick children in one ward. Including those undergoing chemotherapy to vanquish their cancer.
"Paano na sila?" she asked their doctors, who told her of the need for an isolation ward for these most vulnerable of God's creatures.
According to Alice, she was also told that children with cancer comprise the fastest-growing sector of hospital patients, with their numbers rising by an alarming 30 percent every year.
Dubbed "Woman of Steel" for her various landmark construction projects, Alice told her sister Small Laude, "It's time for me to build a monument of thanksgiving for all the blessings we have received."
Alice chose to build the monument, which her friends call her "monument of love," at the PGH compound. The marker of the ward was unveiled on Feb. 18, 2015 — just after Valentine's Day.
The donation of the Hematology-Oncology Isolation Ward to the Department of Pediatrics of PGH is part of Alice's Sta. Elena Construction's corporate social responsibility program. The stand-alone pediatric cancer ward has a 14-bed facility for children from poor families with leukemia and other killer diseases. It also has in-patient chemotherapy facilities as well as blood transfusion and bone marrow extraction equipment and supplies.
"The isolation ward has done wonders to improve the survival of cancer patients," says Dr. Gap Legaspi, director of the Philippine General Hospital. "From 20 percent to 80 percent!"
Leukemia is known to affect around 40 to 60 percent of cancers among children. The disease reportedly accounts for more deaths among children than those caused by dengue shock syndrome, sepsis and prematurity combined, according to experts. Its extremely expensive treatments are a shot at the moon for most indigent families.
According to published sources, before the isolation ward was functional, "The survival rate was barely two in 10 children because of the high cost of diagnosis and treatment that childhood cancer entails. Between 50 and 60 percent of these children, however, could be saved with relatively simple and inexpensive drugs and procedures."
That's when Alice dug deep into her pocket to build the new ward, which reportedly cost close to P10 million including equipment.
"This new pediatric cancer ward will aid the families who can't afford expensive treatments for children with cancer, providing them a separate ward, especially since they are more susceptible to communicable diseases," says Alice.
That's a lot of children's lives saved for the country's future. Who knows one of those saved can find a more affordable cure for cancer someday?
"Actually, these children have been my Valentine," says Alice, who is a single mother. "It warms my heart to love them."
***
Because of her devotion to her parents, Alice hopes one day to also build a wing in the isolation ward for the elderly.
"All I have and the fruits of my success I want to share with my family. If it were just me, I can live in a smaller, more manageable house. But I want my family to also enjoy what we didn't have before. Recently, I had 1,000 mango trees planted in our farm. Not to sell, really, but para may mapitas ang mga mahal ko sa buhay at mga kaibigan (for my family and friends to harvest)."
With power plants, bridges, and the foundation and piling of virtually all structures of the Entertainment City as feathers in her hard hat, Alice says she is content, and still simple.
"The feeling of satisfaction I get now in sitting in my car is just as much as the feeling of satisfaction I got when I drove my first Toyota Corolla 16 valve many years ago. Pareho lang."
One of her favorite quotes, she says, is from the movie Mahogany: "Success is nothing without someone you love to share it with."
Vicki and Atom's enduring love story
Vicki Belo and Atom Henares were once crazy in love with each other, had two beautiful children and hoped to live happily ever after.
However, life was not the fairy tale they hoped it would be. They separated and eventually had their own relationships.
But they never stopped loving each other. "We promised each other that we would take care of each other even in our old age."
Then one day, Vicki found out she was sick. "I called up Atom and told him I may not be able to fulfill my promise of being able to take care of you because I am not well. You have to find a wife who will take good care of you."
By this time, Vicki had married Dr. Hayden Kho, whose devotion to her was impregnable during her sickness, treatment and recovery. They got married in Paris in what was dubbed as the "Wedding of the Century."
Certain that someone was going to love her and care for her for the rest of her life, Vicki gently told Atom to find a partner who will love him unconditionally as well. Vicki even had someone in mind — Atom's girlfriend, who she liked.
And so last week, the former spouses celebrated their enduring love in the presence of their new spouses when Atom took Nathalie as his wife in a beautiful wedding at Antonio's in Tagaytay.
Vicki's husband Hayden and their daughter Scarlet Snow, who calls Atom "Papa Atom," were there to celebrate this new chapter in Atom Henares' life.
Now, really, all the world needs is love. In a world of squabbles and court cases, the love story and friendship of Vicki Belo and Atom Henares proclaim how much simpler, and more beautiful life is when people just care about each other.
"We remain good friends because we share wonderful children and we wanted them to have as little trauma as possible regarding our separation. So we raised them together. I think we genuinely love each other but our views on marriage and what it should be are radically different so we decided to be best friends instead."
A good decision because my source in stork land has tweeted to me that Atom and Vicki's only daughter Cristalle and her husband Justin Pitt are expecting a visit from the stork. Atom and Vicki will soon be grandparents!
Happy Valentine's to all!