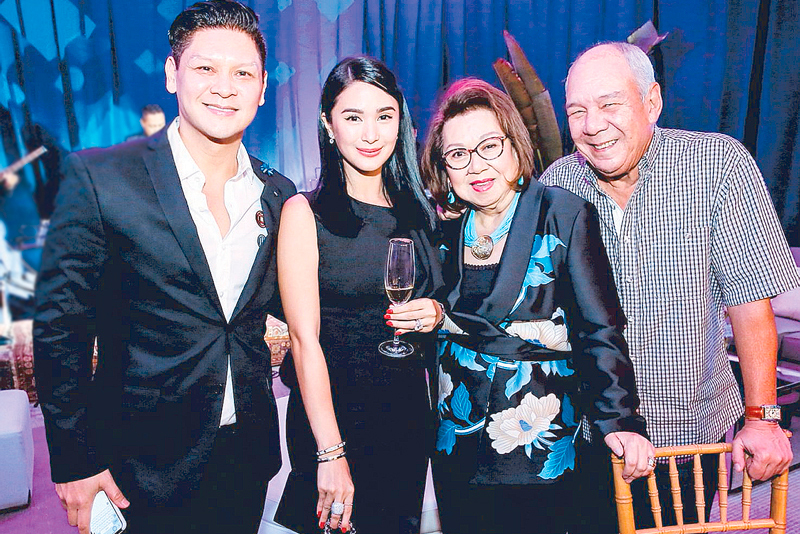 (From left) Anton San Diego and Heart Evangelista with Tessie and Mike Prieto. Photos by Alex Van Hagen, Powered by MAC Center
Golden celebration for Anton
Anton San Diego's parties are always something to look forward to, for the mix-mix of friends, all-out superb decor and the surprise entertainment.
For Anton's golden birthday celebration held at the posh and one-its-kind très private club The Manila House in BGC, tons of his closest friends prepared performances for him, palanggas. This included a song number by Tim Yap with a 20-piece band, Tessa Prieto-Valdes with her laser-light headgear, and a song-and-dance number by Anton to Night Fever with Mons Romulo, Cristalle Henares-Pitt, Stephanie Zubiri, Lala Dinglasan and Mandy Santos.
Anton said, "(This year), I will focus on some of the best singers in the country from Christian Bautista, Emmanuelle Vera, Kiana Valenciano, Jay-R, Gian Magdangal and Morissette."
In between songs, Anton's dearest, closest and most loyal friends gave him heartfelt messages.
Pops Fernandez hosted the event side by side with Kit Zobel, oh what a beautiful sight to behold. Kit was such a natural, so much so that après hosting, as a Madonna song played, she gave it her all, dancing with all the bumps of the hips and legs flying up the air! I was surprised and delighted to see the shy-ish Kit letting her emotions all hang out, dahlings. Bravo to this gem of a woman!
Guests were treated to an amazing spread that included succulent Japanese oysters, prime rib, salt-crusted apahap, whole hamon Jabugo sliced thinly (by the time I went back for thirds, all that was left was its bone, palanggas!), a selection of cheese and an overload of sweets.
Other guests included eye-catching Dedes Zobel, Babette Aquino Benoit, Anna Rufino, super couple Robbie and Helen Delgado, Nini Licaros, statuesque beauty Audrey Puckett, and vivaciously adorable Shirley Hiranand who jetted in from Hong Kong.
Yes, palanggas! Anton San Diego was definitely the bash of the month, making my adorable amiga, Tessie Oca Prieto, so proud her son, dahlings.
'Kingly Treasures'
Every December, dahlings, Manille's art glitterati and mega collectors look forward to the prestigious León Gallery's year-ender, the "Kingly Treasures Auction."
The 2017 edition was truly a remarkable one. The awesome jewel in the crown was the extraordinary lot of four letters from the national hero himself, Jose Protacio Rizal, to his palangga de tutti palanggas, his favorite sister, Maria Rizal.
In these letters, Jose Rizal wrote about his all-too-human condition, allowing us a never-seen-before look at his personal life and times with his beloved "Miss B" (as in, the Irish lass Josephine Bracken), his efforts to educate the Dapitan schoolboys, and his own love for that wonder fruit mangosteen and honey, among other intriguing never known things, dahlings. Not surprisingly, the letters were sold at a whopping P10 million, the highest ever for "ephemera" — the art term for such fleeting but incredibly precious collectibles — in the Philippines.
Also snapped up faster than you could say "I want that" was a wonderful sketchbook of Juan Luna of his travels to Japan. On the cover page, the sketchbook was dedicated to the famous collector Don Alfonso Ongpin from another Japanophile, the ilustrado Mariano Ponce.
Furthermore, world records for works by Vicente Manansala, Lao Lianben, Mark Justiniani and Isabelo Tampinco were all made at the December auction, no less.
A vivacious and bubbly crowd attended the de rigueur preview of the much-awaited sale. The visionary Jaime Ponce de Leon played the totally effervescent host-with-the-most alongside constant companion Robbie Santos with Bambi Harper, Tats Manahan and Lisa Guerrero Nakpil. Missing were society raconteur Toto Gonzales and antiquarian Sonny Tinio, who had jetted out of town way before the happening.
On hand were well-known patrons of the arts, the très famous Que famillie led by distinguished connoisseurs Paulino Que and beautiful wife Hetty, as well as Mario Que and glamorous wife Mimi plus the super learned Terry Que. Former Governor of the Central Bank of the Philippines Jaime Laya was seen chatting intently with the affable Manny Dizon.
Other art connoisseurs present were National Museum director Jeremy Barns, Jose Mari Treñas, Ambassador Isabel Caro Wilson, Deanna Ongpin and Ernest Escaler of the Asian Cultural Council. Culturati Robert Lane, Tony Martino, John Forbes and Rudolf Leitz got busy examining the many glorious to-die-for antique pieces, dahlings.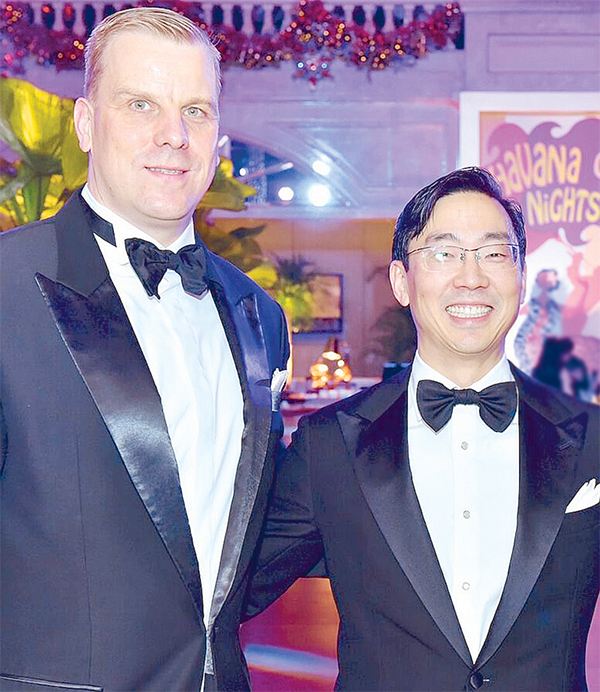 And may I add, palanggas...I should have included the photo of The Peninsula Manila GM Mark Choon (right) and hotel manager Patrick Behrens in my column last Jan. 17 titled "A taste of Havana revelry at The Pen." Was just too excited by the New Year's revelry, dahlings!
Also seen at the auction were the pillars of the Filipino-Spanish community Alejandro Zobel Padilla, Esperanza Padilla, Chicho Dominguez, Rosa Aboitiz and Alfredo Rocha.
Added to the gloss of the event were legal eagle Tonico Manahan, men-about-town Tim Tan, Junjun Camcam, super artist Ramon Diaz, Hugo Bunzi, lighting expert Mark Wilson, Migs Anzures, Thomas Luzurriaga, Amado Fores, Parisian history fan Martin Arnaldo, talented foodie Claude Tayag, bubbly Ramon Bilbao, Derek Flores of DF Art Agency, Alice Eduardo, Art Informal's Tina Fernandez, Pria Chiongbian-Solon, Margarita Padilla Tiangco, Dindi Gallardo, restaurateur Cecile Reynoso and Marivic Rufino.
Now, how's that for namedropping tremendous success?