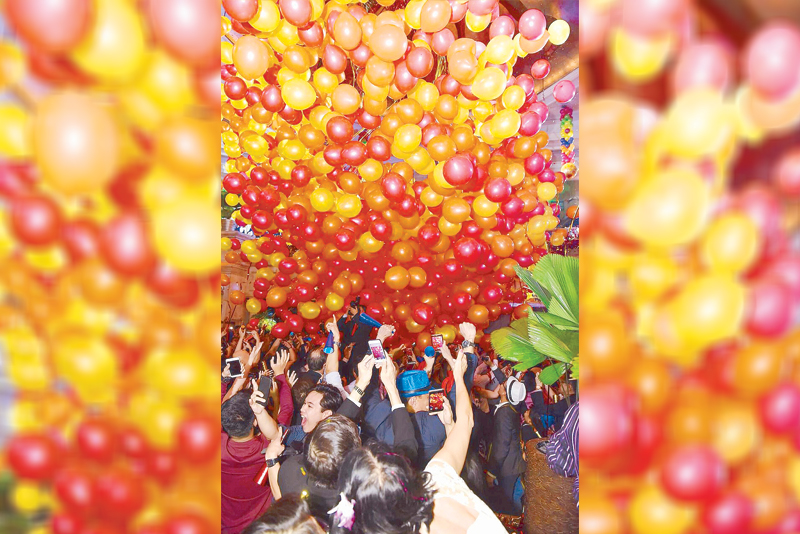 Guests welcome the New Year at the grand lobby of The Peninsula Manila. Photos by Alex Van Hagen, Powered by MAC Center
A taste of Havana revelry at The Pen!
The Peninsula Manila welcomed 2018 with a lavish New Year's Eve bash, dahlings.
And, as usual, the grand old lady of Makati hotels did not disappoint and lived up to its reputation for throwing the most beautiful and elegant year-end revelry — one that even the most discerning partygoers would find no fault with The Pen's preparation for the celebration.
The scene was vintage Cuban, reminiscent of the luxurious haciendas of renowned rich tobacco and sugar plantation owners. It was all-out Latin elegance with endless champagne and twinkling stars, all over the hotel, palanggas. Señoras in flowing gowns and caballeros in tuxedos added to the event's Latin flair.
An endless spread of sumptuous buffet items started with the likes of citrus poached tiger prawns, local lobster, crab claws and New Zealand mussels, pulpo (octopus), poisson cru tuna tartare, Mexican-style shrimp tomato ceviche, assorted sushi, different types of to-die-for caviar and the yummy Day Boat Scallops. An imported cheese display and charcuterie were also a hit. The salads did not disappoint as well.
Latin flavors, of course, dominated the delectable buffet, palanggas, that included Atun en Honduras (tuna, vine-ripened tomatoes, coconut and fresh ginger), Peruvian Causa Rellena (layered potato and chicken), Brazilian chicken salad called Kalamata olive aioli salpicao de frango, cumin and garlic roasted prime rib of beef, steamed red snapper fillet wrapped in banana leaves, charred lamb rack, Puchero (Argentine beef vegetable soup), beef tenderloin lomo saltado, Brazilian-style lamb kibe, Camarones Al Ajillo, linguini pasta, seared Chilean sea bass and seafood chorizo paella. Wow!
Dahlings, guests indulged in the selection of scrumptious desserts like deep-fried dulce de leche-stuffed banana, an ice cream station with a selection of toppings, trifles, bonbons, donuts, cakes, pies, pralines, macarons and so much more! Hey, palanggas, are you still there?
At the stroke of midnight, bright-colored balloons dropped from the ceiling, dahlings, making The Lobby a sea of balloons and shiny confetti. Guests tooted their noisemakers and horns and clinked their glasses with champagne. They danced the night away to the music of the hotel's band with Shane and the Brown Union group and the renowned MPE Orchestra.
Once again, The Peninsula Manila's legendary New Year's Eve Ball proved that it was still the hottest colored party in town, with the sultry spirit of La Habana, the inspiration for 2017's send-off party.
Let's all welcome 2018 with joy, palanggas! *