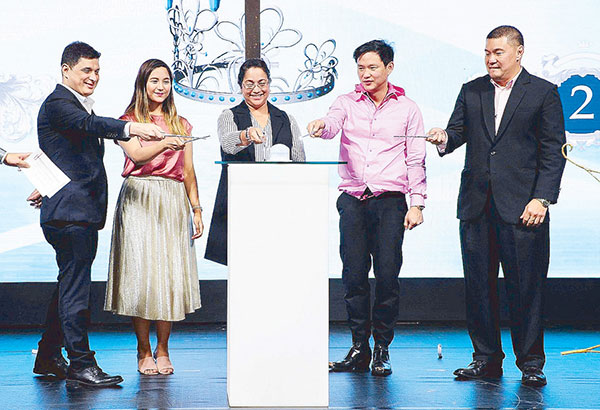 (From left) SM Supermalls AVP for operations Christian Mathay, Mandaluyong City councilor Charisse Abalos-Vargas and Mayor Menchie Abalos, SM Supermalls SVP for operations Steven Tan and SVP for marketing Jonjon San Agustin.
my LIPS are SEALED… sometimes…
-
Maurice Arcache
(The Philippine Star) - December 5, 2017 - 4:00pm
As always, leave it to SM Megamall to give us all an enchanting Christmas, palanggas.
Several sleeps ago, SM welcomed the Christmas season in a trés royal way with a centerpiece fit for a princess, an enchanting performance and the graciousness of giving.
Mandaluyong City Mayor Menchie Abalos and her daughter, city councilor Charisse Abalos-Vargas, were the guests of honor during the event, where the mall's 45-foot grand Christmas centerpiece was unveiled. The centerpiece was regally decked in holiday style with two white stallions, giant tiaras, dazzling sapphire-colored jewels and mirrors.
Guests also enjoyed an original performance by Okada Manila's World of Wonders, The Enchanting Princess: A Holiday Musical Wonder. Directed by Giulio Scatola, a seasoned veteran of Cirque du Soleil, the performance left the mallgoers breathless while watching acrobatic stunts and prismatic sets, plus a parade of dazzling costumes.
The Enchanting Princess is a five-act holiday musical that tells the story of a prince's promise to return to his princess after war. The timeless story took the audience through a magical journey of love, friendship and wonder with an interactive performance fused with artistic theatrics and enthralling illusions.
In this season of sharing, SM Foundation's Bears of Joy 2017: Share a Bear this Christmas project also takes center stage. This project, which runs until Dec. 25, allows a customer to buy a pair of bears for only P200 at Christmas Toy Fair booths in selected SM Malls. One bear is for the customer to keep; and the other bear will be donated to the mall's chosen beneficiary, the Nayon ng Kabataan orphanage. Not bad, huh! Not bad at all, dahlings.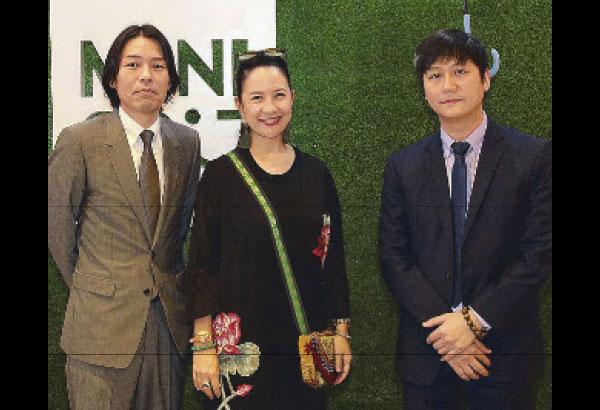 Miniso International co-founder and chief designer Miyake Junya, Mia Borromeo and Mini Depato Corp. president Michael Hong.
A delightful homecoming
What happens when a Japanese designer and a Chinese businessman form a partnership? They come up with a fantastic brand that answers the needs of consumers. Miniso, dahlings, is just that! It is a company that provides beautifully designed, high-quality consumer products.
Miniso's philosophy is simple: "elevate everyday products to elevate people's quality of life. That providing high-quality, affordable and beautifully designed products is showing respect to their customers."
The simple lines and subdued colors of its stores suggest the philosophy of "simplicity, nature and good quality, three things that are signature components of Zen-inspired products."
Founded in Japan, naturellement, in 2013 by Miyake Junya, as its chief designer, and Ye Guo Fu, president of the company.
Miniso has opened over 4,000 awesome stores in over 50 countries, from Asia, the US and the Philippines, dahlings.
Every month, 80 to 100 Miniso stores are opened. In the Philippines, Miniso has already opened 40 outlets in NCR and other key cities.
The popularity of the store among its Filipino customers is attributed not only to its consumer-friendly products sold at affordable prices, but also to the company's strong partnership with SM Retail Inc., which has helped Miniso reach a broader market nationwide.
Miniso Philippines is taking things a step further by opening opportunities for partnership through the Miniso Franchising Program, which accomplishes two things: reaching more people to provide them with high-quality, everyday products; and establishing a presence in the Top 10 emerging provinces in the country. With this, a franchisee meeting with the theme "Coming Home to Miniso" was held at the Conrad Manila Hotel in Pasay City. It means that partnering with Miniso gives one the warm and fuzzy feeling of homecoming.
Yes, palanggas, Miniso continues to be a trusted global brand because of one thing, and one thing only — the company always puts its customers first. -Photos by Alex Van Hagen, Powered by MAC Center