Rizal in his own words
November 20, 2017 | 4:00pm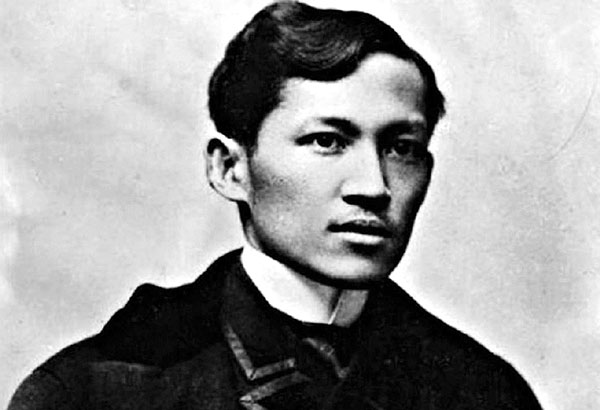 Heroes have hearts that ache, that yearn. They have hands that tremble, sometimes in fear, sometimes in anger. They have egos that get bruised. Most of them are likely to have had financial and relationship problems. But unlike most people, they rose above their frailties and ordinariness to become extraordinary people.
We know of National Hero Jose Rizal as a linguist, an ophthalmologist, a novelist, a patriot. One who was willing to face a firing squad for his beloved country. One of his letters to his sister Maria, which is among four that are going to be sold at an auction by Leon Gallery on Dec. 2, reveals to me a source of Rizal's courage.
He believed fervently in justice in the afterlife.
In one of his letters (datelined Hong Kong) to his older sister Maria, who had marital problems, Rizal wrote: "Magtiis tiis ka na muna nang hirap dito sa lupa, at maasahan mong sa isang buhay ay ligaya na lamang at tuwa ang iyong kadamhan. Ang buhay natin ay maikli, at ang hirap nito'y madaling lumipas."
To me, it shows that Rizal believed that the afterlife was worth the sacrifices, the pain, and the hurts of life on earth — whether one was in an oppressive marriage or an oppressive regime. Maybe he turned to face the light during his execution because he knew he was journeying toward the light.
The four letters, brittle and brown now after more than a century, are remarkably in good condition. Rizal's aristocratic prose, expressed in fine penmanship, is clear and very legible still.
"Well, I think the best part about it is the chance to own a part of your National Hero. Because most of Rizal's letters are with the government," says Bambi Harper, a cultural writer and former president of the Heritage Conservation Society of the Philippines and a former administrator of the Intramuros district. One of the US-based descendants of Maria Rizal is her close friend, and she believes her great-grand uncle's letters deserve to be taken out of the family baul.
"This is the first time that, I mean if you're not a relative, that you can own a letter of Rizal," Bambi adds.
According to Bambi, Rizal was a prolific letter writer, "just for his family alone there were 100 of them."
And it was not as if he was bored or idle. Aside from his travels, he wrote the Noli Me Tangere and the El Filibusterismo and did some pieces of sculpture.
What is the significance of owning a letter from Rizal that shows the man and not the hero?
"Humanity!" replies Bambi in a heartbeat. "I always thought that heroes are cardboards. Just like the lives of saints, their lives seem perfect. The humanity of the person doesn't come out."
Aside from showing his brotherly side, his belief in the sanctity of marriage and justice in the afterlife, Rizal's letters to Maria also reveal his pride and his fierce desire to protect his dignity.
One letter (datelined Dapitan) showed him quite incensed that one of his patients had doubts about his skill.
"But there's this one particular letter for me that is more interesting, about Mang Pedro, one of his patients. He told his sister, 'Tell him if he doesn't trust me he can go to somebody else because he might think I can't do without his money.' It shows something of his character, his temper, his pride in his profession. And you don't really get that, this very intimate type of correspondence unless through his sister. So, it's very rare to own something like this," explains Bambi.
"There was a phrase there, 'kulang nalang alipinin ako', referring to this character who doubted his expertise as an ophthalmologist. Rizal was very proud," she adds.
For Bambi, this particular letter shows that, "Somebody who gets cranky can also rise above his humanity to die for his country for something even loftier."
* * *
Even then, Rizal wanted his nephews, especially Moris (Maria's son) to learn how to speak in English.
"I wonder if it was because he went to the States and saw something of the future that English is going to be something very important," muses Bambi.
Though the letters to be auctioned by Leon Gallery were written in both Tagalog and Spanish, Rizal wrote letters in English to Moris, "because he would use it as a code because the Spaniards didn't speak English. He was presuming the Spaniards would be reading his letters so he would write in English," says writer Lizza Nakpil.
In another letter, he fondly refers to Josephine Bracken as "Miss B."
According to Leon Gallery founder Jaime Ponce de Leon, starting bid for each letter is P1 million.
"It is Leon Gallery's great privilege and honor to handle the historic sale of four personal letters signed and dated by no less than our beloved National Hero Dr. Jose P. Rizal. This will be a remarkable moment as it is the first time in living memory that a letter by the greatest — and first — Filipino will be sold in a public auction," says Jaime.
If I had the money, I would bid for the letter written from Hong Kong, where he talked to his sister about how life on earth is short, and therefore one's sufferings on earth will be fleeting and that the best is yet to come in the afterlife. I think that belief sustained many great men who changed this world — from the crucified Christ to the many martyrs who were burned at the stake or executed at the tarmac. Glory is fleeting (Sic transit gloria mundi), and so is suffering.
(Leon Gallery may be reached at (632) 8562781)
(You may e-mail me at [email protected].)