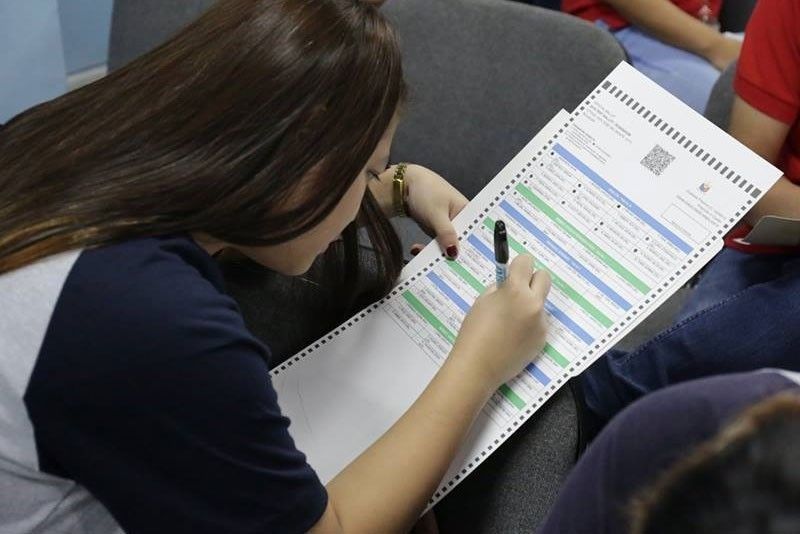 Voters must ask themselves: "What has this candidate done for the people? How much impact has it done?"
Facebook/Comelec
Eligibility for candidacy: Education, experience, or both?
The provisions regarding eligibility for candidacy in the House of Representatives and the Senate on the 1987 Constitution was envisioned to promote equal opportunity. However, these same candidates are also being elected into a position of power whose decision-making will influence the development of a country and its people.
Legislative power goes beyond creation of laws. The Congress has power over the president in times of national emergency and a state of war; he or she can impeach and hold constitutionally mandated public officials accountable; propose charter change; and even, conduct necessary hearings in the process of creating laws.
As open as the eligibility is, voters must understand the demands of this responsibility, of being a public servant. Analyzing a candidate's credibility, competence and integrity is a responsibility therefore of a voter. These can be measured by looking into their education, experience, records and platforms.
Your vote will allow this individual to dictate what laws should be made and how it should be implemented, which ultimately will affect how Philippine society functions and progresses.
As such, the candidate must have the right educational background for the job. This does not necessarily mean graduating from top universities but having a relevant education that is in line with understanding the nature of work in Congress.
Relevant experience comes in along with the advocacy of the candidate. Voters must ask themselves: "What has this candidate done for the people? How much impact has it done?"
Experience shows concrete actions and a clear direction. Being able to identify actions that have had a long-term impact on a community means this candidate cares for sustainability. An assessment of a candidate's background isn't black and white; thus, voters must also take into account issues and records that these candidates were involved or participated in.
Candidates must be able to "walk the talk." From their background alone, one can identify the advocacy and platform to which these candidates remain committed and may also contribute in legislation.
However, this has to be backed with a concrete plan of action. Voters will be able to measure the commitment on these advocacies and platform based on their track record or their past engagements from the profession or career they have chosen.
In 2017, the Office of the Ombudsman reported that Local Government Units (LGUs) and House of Representatives were among the top five government agencies with the most cases filed in the Sandiganbayan for offenses on falsification, RA 3019 also known as the Anti-Graft and Corrupt Practices Act, and Malversation.
The 2017 annual report also showed a huge increase from the previous years due to a backlog of filed cases which may mean that it may have increased further for 2018. Others who were accused, some from the Senate, were pardoned, acquitted, or on trial but were still running for elections.
In 2013, the PDAF scam became a huge controversy in the public sector with several senators involved, some of whom were also acquitted and allowed to post bail.
This raises the question: are the anti-corruption laws in the Philippines strong enough to keep public officials in check of their duty? If not, then shouldn't we elect officials who show integrity and commitment to even start discussion or discourse on the amendment of these laws?
Laws should be initiated and amended to promote transparency so that the people are included in the discourse and may participate further.
Democracy and elections
People believe that their sole duty is to go out to vote. While this may be part of the duties of every citizen in a democratic country, a democracy requires much more. The purpose of a democracy is to preserve and protect the rights of individuals, to ensure social justice, and to foster inclusive development.
Elections provide citizens an opportunity to show their support behind issues and solutions pushed by candidates that achieve these democratic goals. However, election period isn't the only time a citizen can and should do something to uphold democracy.
A main component of a successful democracy is participation—and not just on voting day. It should be a daily activity to participate in our democratic society.
The start is to listen, learn and judge information from various sources such as newspapers, TV and magazines. These give insights on the conditions of the country and other citizens. Being apathetic or ignorant of discourses helps no one.
Democracy is no easy task. It also doesn't rely on a single group, but instead a comprehensive and integrated approach from every single person. Participating in elections is a good and timely means to uphold democracy and its values.
However, one needs to be an informed voter and select a candidate that will uphold the principles of the country and system. Let us push for a truly democratic government that is transparent and after the best interests of the Filipino people. This starts with electing the right people into office and continues with monitoring and checking them once they are in position.
Citizens can protect their rights, ensure justice, and introduce inclusive and lasting development through democracy. They just need to do our part and make sure others do theirs as well.
Claudette Guevarra is the deputy executive director for programs of think tank Stratbase ADR Institute, a partner of Philstar.com.