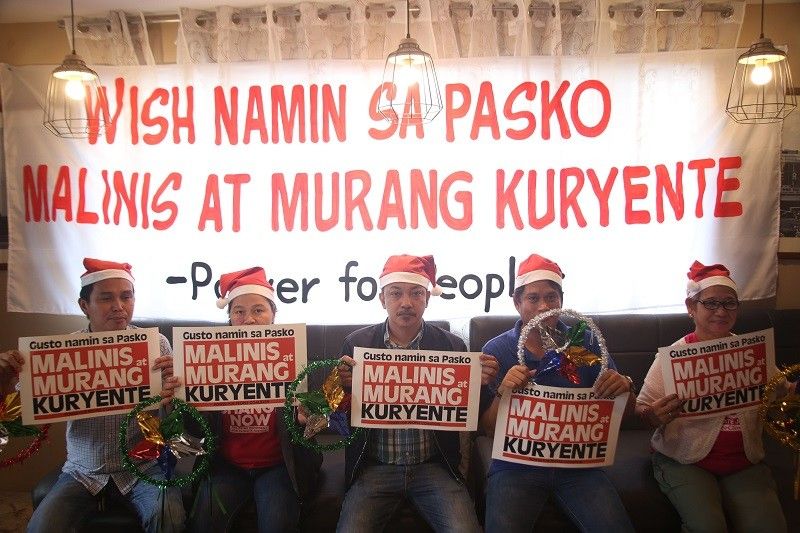 In this Dec. 4, 2018 file photo, a coalition of consumers, civil organizations and communities affected by energy projects joined forces to demand clean and affordable energy this Christmas season during a press conference in Quezon City.
The STAR/Michael Varcas
Stable and low cost of electricity: A wish for brighter Christmases, more prosperous new years
As the much-awaited holiday is fast approaching, many Filipino houses are decorated with Christmas parols, lights and display to bring some festive cheer.
'Tis the season for high electricity consumption
While it is the season of joy, it is also the season of high electricity consumption.
Residential electricity consumption, which accounted for 25.1 percent of the sector's energy demand in 2016, increased from 2.2 million tons of oil equivalent (MTOE) to 2.3 MTOE in 2017.
Accordingly, the 2017 Department of Energy Power Statistics reflects that two out of three regions of the Philippines had its peak demand during the so-called "Ber-months." The Mindanao region had its highest system peak demand in December at 1,760 MW, while the Visayas region reached its peak demand in November at 1,975 MW, close to the December demand 1,957 MW. The demand soared in May for the Luzon at 10,054 MW.
The cost of merriment, festivities
For this season, the cost of merriment is reflected in the electricity rates, and Filipinos no doubt would rather much spend their holiday pay and bonus for their families and friends rather than in increased electricity rates.
Last November, Meralco announced a rate increase for Luzon due to higher Wholesale Electricity Spot Market (WESM) charges in connection with the surge in demand and an increase in Malampaya gas prices.
While Meralco said rates might stabilize due to the appreciation of the Philippine peso and potentially lower WESM prices thanks to fewer plant outages in the Luzon grid, it remains to be seen if this will indeed be reflected in our electricity bills this December.
Tight supply scenario in 2019
While there are many factors contributing to the increase of electricity prices, such as the lack of competition in the industry, the absence of state subsidy and the potential manipulation of market prices, one of the major drivers of costs is the thin supply margin, which disrupts the power supply in the form of power outages.
For 2019, the DOE forecasts a tight power supply as the power demand is expected to peak at 11.2 gigawatts (GW) in Luzon, nearly 4 percent higher than the 10.8 GW this year. The biggest growth in power demand is expected in Mindanao, estimated at 2.2 GW, a significant 10 percent increase from the expected 2 GW this year. In the Visayas, peak demand is estimated at 2.3 GW in 2019, an increase of 9.5 percent from this year.
Countering increased rates through increased investments in power capacities
Substantial investments in power generation are likely to put an end to the tightness of supply and, ultimately, high electricity prices.
The importance of achieving a more affordable, reliable and adequate supply of electricity to improve the competitiveness of the country's economy is reflected as a top priority of this administration. This is likewise stressed in the Philippine Development Plan 2017-2022.
One step is fixing the ineffective bureaucratic policies that drive away investors. As a complement to the Ease of Doing Business Act, the Energy Virtual One Stop Shop (EVOSS) Act of 2017, which aims to remove red tape in the permitting process of new power generation projects, should be passed.
Another aspect is resolving the regulatory and legal issues regarding the extension of the competitive selection process deadline for awarding new generation contracts. While these issues are properly threshed out as it seeks to ensure that supply is bought and passed on to consumers at the least possible cost, it is important to note that this reflects the timing and certainty of a significant tranche of the new capacities that are expected to go online by 2021–2023.
Lastly, in order to create a more stable investment environment for the energy industry, the close cooperation and collaboration with the public and private sectors is necessary.
Atty. Hannah Viola is an energy and infrastructure fellow at Stratbase ADR Institute, and convenor of CitizenWatch Philippines.