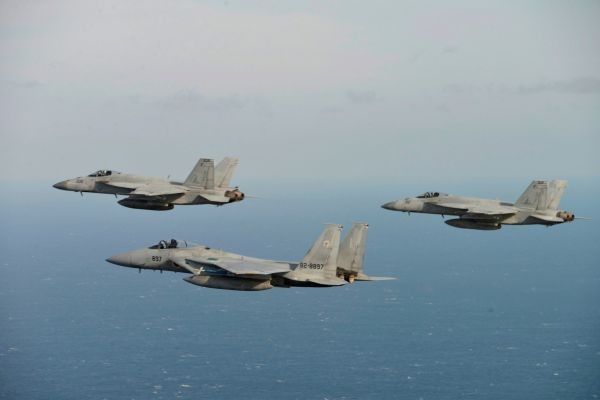 In this Nov. 10, 2017 photo provided by Japan Air Self-Defense Force, two of U.S. F/A-18, left, and right, and Japan Air Self-Defense Force's F-15 fly during a joint military exercise at an undisclosed location.
Japan Air Self-Defense Force via AP
Analysis: The rise of Japan's military muscle
MANILA, Philippines — A few weeks ago, some 40 vessels of China's People's Liberation Army participated in a series of naval exercises within the West Philippine Sea region.
Among the vessels is the Liaoning, the former Ukrainian aircraft carrier that was recommissioned for the Chinese navy as the country's first aircraft carrier.
While practical in nature, the conduct of the staging can also be seen as Beijing's war of declaring itself as a naval power. After all, these exercises took place while the United States Navy conducted exercises with Japan at the South China Sea and one of its major warships visited Vietnam.
Even so, these other naval activities show that the Chinese do not have an uncontested presence in the region.
However, all of these are lost on a country like the Philippines whose government appears to have rapidly become beholden to Beijing.
The Duterte administration has managed to put the Philippines into an indefensible position with China while at the same time allowing Beijing to have free reign over the West Philippine Sea.
But the excuse that the Philippines is powerless against Beijing fails to take into account the powerful potential allies that the country can form relationships with — either those with territorial disputes with Beijing or powers with a stake in the region.
One of these countries is Japan.
Although its postwar constitution has tied Tokyo's hands in developing a comprehensive conventional military capability similar to other world powers, its armed forces remain to be modern and a force to reckon with.
For Japan, as a reflection of its pacifist constitution, the new military dropped all association with the imperial force and recast itself as a true defensive force.
It came to be called the Japan Self Defense Force (JSDF), which came to include an independent air arm (Japan Air Self Defense Force), an army (Japan Ground Self Defense Force) and a navy (Japan Maritime Self Defense Force).
During World War Two, the Japanese did not have an independent air force and instead the Imperial Army and Imperial Navy had their own air components.
The JSDF also shared similarities with the German Bundeswehr in terms of development and manning. Many officers and enlisted personnel had come from the previously defeated militaries and therefore had extensive combat and operational experience.
On the matter of supplies, methods, equipment and training, both enjoyed the largesse of American military aid. By the 1960s, both had increasingly moved away from American military assistance in maintaining their systems and moved to develop their own.
Much of Japan's Cold War military effort was concentrated on anti-mine and anti-submarine warfare, while its air and ground missions were the defense of the home islands done in conjunction with American military presence.
By the end of the Cold War, the Japanese military was poised to make a fundamental shift in its capabilities that would see it begin to project further away from its traditional stomping grounds around Japan's EEZ and territorial interests.
In the 1990s onwards, the Japanese conducted a number of groundbreaking operations driven by America's push for its allies to contribute to a collective defense.
In the early 1990s, Japanese troops participated in peacekeeping efforts in Cambodia, the first time that the Japanese military had set foot in another country in strength.
At around the same time, Japanese minesweepers conducted mine clearing operations following Operation Desert Storm in the Gulf area.
From then on, Japan periodically deployed forces abroad for operations, observation, training, and exercises. From 2004 to 2008, units of the Japanese military were involved in peacekeeping and support operations in Iraq following Operation Iraqi Freedom.
In the two decades from the 1990s, the Japanese introduced better and larger naval vessels and entered into joint development on modern weapons systems to maintain its superiority.
All these efforts culminated in Prime Minister Shinzo Abe's efforts to recast Japan's security engagement in the international community and amend certain pacifist articles in the constitution.
That Abe is singlehandedly responsible for Japan's policy of steadily increasing its involvement in international security affairs is thus mistaken. The writing was already on the wall in the 1980s, first spurred on by the encouragement of American interests.
The foremost factors today include the unpredictability of China driven by its baseless territorial claims, the fixation of North Korea on its nuclear weapons and the appetite of Russia for power.
—
Jose Antonio Custodio is a non-resident security fellow at independent think tank Stratbase ADR Institute.