Undue process: The long wait for Ormoc City's agrarian reform beneficiaries
TACLOBAN CITY, Philippines (Updated 6:54 a.m., June 21, 2016) — Farmer leader Pablo Silva, 53, almost didn't make it to the meeting with police and Agrarian Reform officials and land reform advocates in this city.
His mother had passed away a few days before the final briefing for a large-scale multi-agency effort to take control of farmland that the government had awarded them in 1997. The other members of their farmers' association in Barangay Sumangga in Ormoc City were either unwilling to take the three-hour trip to Tacloban or felt unready to talk about land rights issues with government officials.
It did not help that the third week of June marks a year since the failed attempt at installation — of taking control of their property, which former landowner Potenciano and Aniceta Larrazabal Enterprises Corp. (PALEC) still uses for sugarcane.
Silva, although still in mourning, had to go. After all, he had the most at stake. After another failed installation in February, PALEC representatives told him his house would be demolished if the farmers make another attempt at installation.
He cannot occupy the land he owns on PALEC land. He can lose his home any day.
"Karamihan, natakot. Kaunti lang kami doon na aktibo sa karapatan namin (Most of us are scared. There are few of us fighting for our rights)," he says, adding some of the Agrarian Reform Beneficiaries (ARBs) to 35.5 hectares of PALEC land covered and distributed by the DAR have chosen to keep quiet about their claims. "Kahit ako, takot eh. Mayayaman yun eh. (Even I am scared. They are rich.)."
Since leading the farmers' association, he has been banned from working the PALEC fields, for which he used to be paid P70 a day. Owners of smaller plots have also refused to hire him.
He gets by now on financial support from agrarian reform advocacy group Kaisahan and on support from his children who managed to find work on construction sites.
"Wala kaming bigas. Palagi. Palagi wala kaming bigas, (We have no rice. Always, we have no rice)," he says in a small hotel in Tacloban City where the meeting is being held. The DAR offices are in Tacloban and it is safer to meet here. Meetings in Ormoc have to be held in church halls and in other places away from the farms.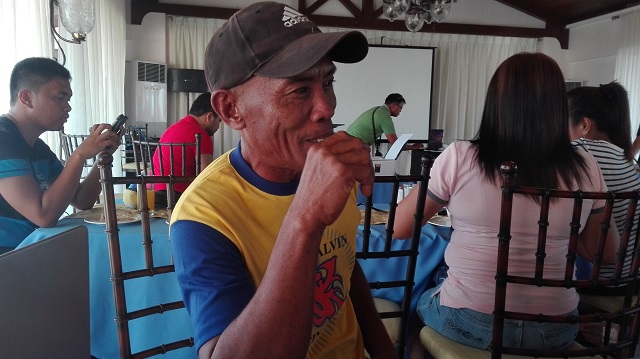 Pablo Silva of the Sumangga Farmers' Association at a meeting in Tacloban City on June 14, 2016.Philstar.com/Jonathan de Santos
Despite the failed attempts, Silva says he is hopeful that he will finally get to work the land that he legally owns.
He says it is too late for his older children, but his two youngest might yet get to finish high school and possibly even go to college if he gets his land. One wants to be a stewardess, the other dreams of becoming a police officer.
The day after the final briefing will be another attempt at installation. The Philippine National Police (PNP) had promised support as they did in an installation in Barangay Matica-a earlier this month. That land dispute, though, was between ARBs and farmers. A very different situation from what the ARBs from Sumangga and Valencia, who are in a similar dispute with the Tan family, face.
Meeting and momentum
The meeting starts with the prayer and playing of the national anthem typical of government gatherings. It also starts with hope.
Provincial Agrarian Reform Program Officer Renato Badilla acknowledges that past attempts to install the ARBs on their land have been frustrated. The Office of the Ombudsman and the Commission on Human Rights have been invited as observers. The Department of Social Welfare and Development and the Department of Health will also be on hand to help.
"Wala yung pulis during the previous attempts. Pero ngayon, completos recados na tayo (We didn't have police assistance in the past attempts)," he says, pointing at a representative from the provincial police.
The plan is for the police to provide a security convoy and send a crowd control unit and representatives of its women's and children's desk in case there is trouble. The Bureau of Fire Protection in Ormoc will also send fire trucks.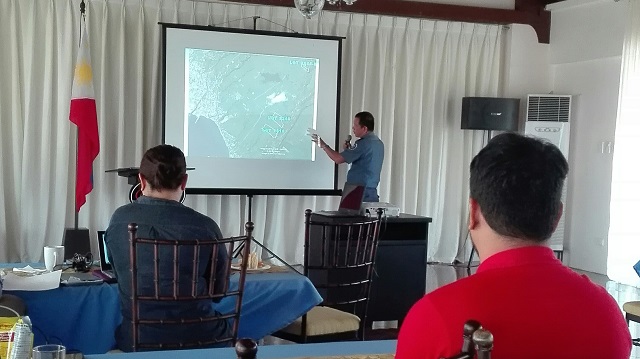 A representative from the Philippine National Police discusses security arrangements for the installation activity. Philstar.com/Jonathan de Santos
But, the police representative says, that will depend on a report and recommendations from DAR Adjudication Board Sheriff Joseph Catingub. It is at this point that the discussion takes on the same tone as last June.
Catingub, saying he was only informed of the meeting the day before, says he will try to file the documents within the day. He also says that even if he does finish the report that the PNP needs, PALEC has to be officially informed in writing first, which would mean moving the installation to 8 a.m. from around 5 a.m. as planned.
The last time this was done a year ago, service of the writ of installation took up the entire afternoon. Catingub and Badilla were also drawn into discussions with a PALEC representative who convinced them to delay installation until a compromise agreement could be reached. The next day, when the installation had already been postponed indefinitely, the representative denied authority to negotiate for the company.
Kaisahan lawyer Rolly Peoro, points out that PALEC no longer owns the land and, anyway, since this is not the first attempt to install the farmers, the firm already knows about it. "It's become evident that we are unprepared," he tells Catingub.
"What do a few hours matter?" Catingub tells the room, citing proper procedure. He is overruled by DAR Regional Director Sheila Enciso, who said as the meeting began that the installation will finally push through "so the farmers will not be sent away, so they can finally benefit from their land."
Peoro suggests having the writ served at the PALEC office in Ormoc at 8 a.m. to address Catingub's concern, "even though we strongly disagree with [the] position."
"Let us just prepare the document," Badilla urges the sheriff.
This, Catingub does, as DAR officials and lawyers from Kaisahan watch on.
But the momentum has been broken and inertia sets in.
When the document is finally brought to the regional police office, it is late afternoon and the installation faces another roadblock.
Chief Superintendent Jose Erwin Villacorte, acting regional police director, was not yet in charge when Badilla asked the PNP headquarters for police assistance for the installation and to set up a police detachment in August 2015. That request was granted but because Chief Superintendent Asher Dolina was the regional director at the time, Villacorte's office said he needed confirmation that the order to provide assistance was still valid.
Kaisahan Executive Director Anthony Marzan said the order needed to come from Camp Crame in Quezon City so regional police would not be caught in the middle of land disputes, but said that Crame had already sent the regional office confirmation over the phone.
Without written confirmation, however, the regional office will not move. The scheduled installation is pushed back a day while a draft memorandum sat on a desk in Camp Crame awaiting a signature.
When the memorandum, signed by Director Jonathan Miano of the PNP Directorate for Operations, finally arrives, it is already the afternoon of the day the farmers were supposed to finally take over their land.
In this 19-year-long waiting game, time and technicalities are not luxuries that the farmers of Sumangga and Valencia can afford.
The wait of a lifetime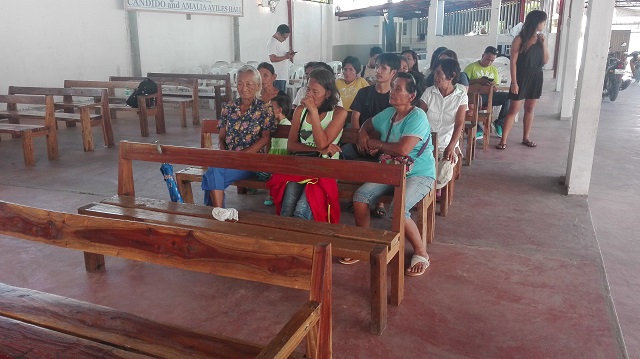 Vicenta Tumampo and other Agrarian Reform Beneficiaries meet in a church in Ormoc City on June 15, 2016. For security, the farmers hold meetings away from their farms.Philstar.com/Jonathan de Santos
Vicenta Tumampo, one of the ARBs in Sumangga, is 83 years old and can no longer work the land but she is hopeful that her grandchildren will be able to live on and make a living from it. She shows up at a farmers' meeting in Ormoc City dressed as she was last year and still as strong.
Neresita Sabino, 47, hopes to finally get control of the land that she helped her mother apply for decades ago.
"High school pa ako... Fourth year. Alam ko yun kasi nanay ko nag-apply tapos ako yung nag-fill up ng form (I was in fourth year high school. I know because my mother applied and I filled out the form)" she says at another meeting, this time held in a church on the outskirts of Ormoc City.
It took around 10 years for the DAR to issue a Certificate of Land Ownership Award. Close to decades have passed since and her land is still just an abstract idea.
"Sa totoo lang, alam namin [na may lupa kami], pero hindi namin alam kung saan, (We know we have land but do not know where exactly)" she says. Individual plots can only be assigned to the ARBs after they are installed on their land.
In the meantime, former land owners in Leyte and in other properties covered by CARP across the Philippines, continue to benefit from land that is no longer theirs. Sabino says the former landowners should pay them for the income earned over the years since 1997 but knows that that is unlikely.
According to Task Force Mapalad, which has been helping ARBs in Negros, where the bulk of CARP-covered farmlands are, around 20 percent of CARP land is still held by former landowners.
"There are many Luisitas in Negros – big landholdings that remain undistributed by CARP and still under the control of haciendero families such as the Cojuangcos, Arroyos, Aranetas, Locsins, Benedictos, Yulos, Gustilos, Ledesmas, Lopezes and Jalandonis. It is where the core of injustice and inequity are taking place up to now," TFM president Jose Rodito Angeles said in a press release this month after President-elect Rodrigo Duterte announced former Anakpawis Rep. Rafael Mariano will head the DAR during his administration.
Angeles was referring to Hacienda Luisita in Tarlac, which is owned by President Benigno Aquino III's family. It is covered by CARP and around 4,100 hectares of the hacienda have been distributed but Mariano and the Kilusang Magbubukid ng Pilipinas say the farmers still do not control their own land. He has promised a review of how the CARP was implemented there.
The DAR claims it has distributed 4.718 million hectares of around 7.8 million hectares of agricultural land covered by CARP to 2.783 ARBs between 1972 and December 2015, leaving it with just 625,432 hectares — around 12 percent — left to distribute. Distribution, however, can simply mean that the land has been awarded. Actually getting to stay and till the awarded land is a different matter altogether.
For Erlinda Naya, 54, taking possession of her land could mean her children — one is working in Metro Manila, while another is in Saudi Arabia — can come home to Sumangga and help take care of their own children, whom she has been raising.
Naya, who talks through an interpreter, admits she is afraid of retribution in case the installation eventually pushes through.
"Don't be afraid," one farmer leader tells her in Bisaya. "If we are afraid, this may take another 30 years."
Police assistance and a detachment that will be set up nearby will keep them safe for a while, Naya says the police cannot stay there forever.
Kaisahan's Marzan says that is why post-installation support from the government is essential. With farming assistance from DAR and the Department of Agriculture as well as social services from other government agencies, the farmer beneficiaries will be in a better position to keep their land. He says that, in some cases, ARBs are forced to rent out or even sell their lands back to former landowners for lack of post-installation support and capital. This is illegal, but is done anyway.
But, he points out, installation has to happen first.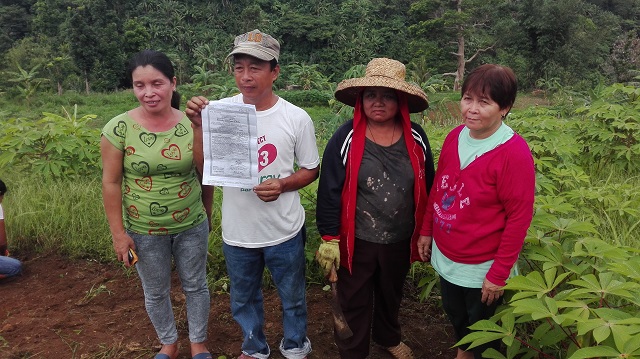 Some good news: These ARBs were recently installed on this farm in Barangay Dolores, Ormoc City. Philstar.com/Jonathan de Santos
Changing the game
"Sa totoo lang, pagod na rin kami sa pakikipag-usap (Actually, we're tired of talking too)," Marzan says. Talks with the DAR over the installation of the Sumangga and Valencia farmers began in early 2015 and each fresh attempt takes around six months of planning and dialogues.
Gilbert Nedad, Kaisahan coordinator in Leyte, says some members of a federation of farmers' groups — it currently has 14 barangay-based ARB associations on its roster — have been talking about self-installation. "Kahit walang DAR. Tutal, sila na ang may-ari ng lupa (Even without DAR. After all, they own the land already)."
But this is a course of action that Badilla says he will advise against. "That will be difficult," he says, citing safety and security risks.
In 2005, eight people were killed and 10 were wounded in Barangay San Agustin in Palo, Leyte when an installation of ARBs turned into an encounter with the Army 8th Infantry Division. A journalist who covered the 2005 activity and who was at the meeting in Tacloban City last week said somebody told authorities that the farmers were New People's Army members but that none of the farmer beneficiaries had guns when she arrived at the scene.
Marzan says the decision to self-install is up to the farmers' associations. In the meantime, the federation has been doing consolidation work among its member associations so they can support each other in their separate but linked disputes. To even get to the point where self-installation will be a feasible option, the farmers need to be able to put up a united front.
As the meeting breaks up, there are reminders to look out for each other and to immediately inform the farmers' association and the police in case of trouble or in case they notice suspicious strangers in their communities.
"Do not be afraid. They are afraid to kill us," one leader says in Bisaya. It is as much hope as they can manage this day.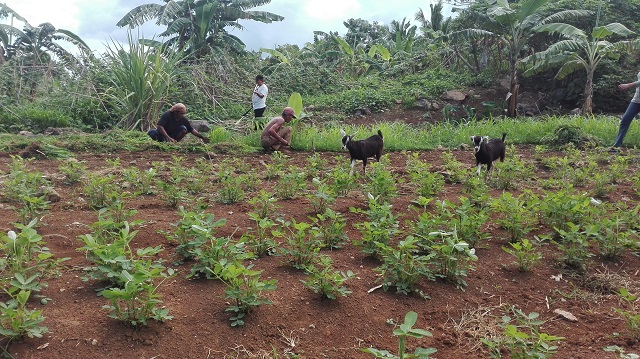 Despite installation, the Barangay Dolores ARBs are threatened by an alleged land grabber who claims to be the heir of the original owners of the property. Philstar.com/Jonathan de Santos
With just 10 days left in the Aquino administration, the window for installation to happen is incredibly tight. Already, DAR and PNP officials have blocked off dates because they have to be in Manila for testimonials to officials in their national headquarters.
Marzan says there may be better chances under the Duterte administration with Mariano, a farmer leader himself at the helm of the DAR. "It will either be very good or very bad," he says, since Mariano favors the Genuine Agrarian Reform Bill over the present CARP and may wait for passage of that before implementing the program.
"But it will definitely not be business as usual," he says. And business as usual has not helped the farmers of Sumangga and Valencia much in past years.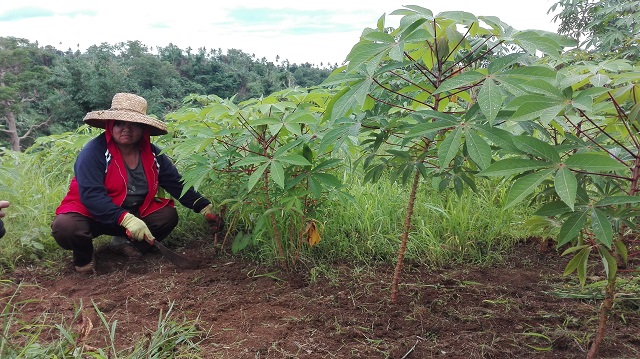 ARB Mary Moralde on her farm in Barangay Dolores, Ormoc City. Philstar.com/Jonathan de Santos
Editor's note: The reporting trip to Leyte was arranged by Kaisahan as a follow up to a story that the author did last year. At no stage did Kaisahan have a say in the stories generated from the coverage, interviews conducted, publication date and story treatment. Content is produced solely by Philstar.com following editorial guidelines.