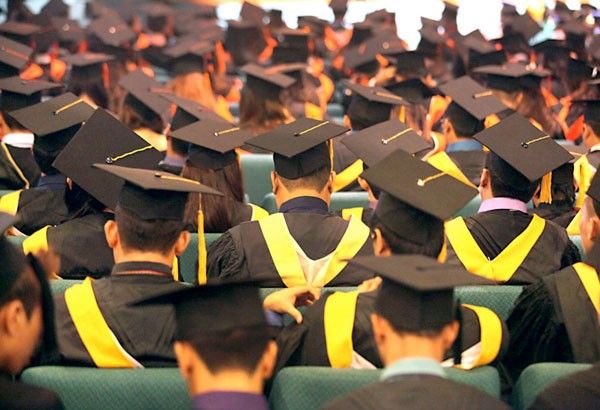 "One must learn to dream, but the moment you start making your dreams come true, you realize how education is being commercialized in this country."
File photo
It has been observed that in the Filipino culture, one's mediocrity cannot be hidden. We tend to be superficial in terms of our political and educational systems. We live in a society which proclaims that the youth is the hope of this nation. One must learn to dream, but the moment you start making your dreams come true, you realize how education is being commercialized in this country. We are confined in our old system wherein we only improve our performance when authorities and the powers-that-be pay our schools a visit.
We lack excellence because we even do not look back at our heritage. We tend to be arrogant, as if we are the smartest in the room, yet we propose to abolish Filipino as a subject in our college curriculum. No wonder why we find it difficult to distinguish "nang" from "ng." Our arrogance has made us ignorant of a lot of things.
We do not yearn for more research. We are not eager to read. We are content with just reading the headline, reading the comments and adding our own comments without really understanding what the news is all about. We seldom write and if we write at all, our work usually adds nothing significant to the existing literature.
We spend four to five years of our lives completing a degree, passing but not really learning much. At the end of the day, we find ourselves being exploited as part of the labor force and as slaves of materialism. We work hard in the belief that buying material things will make us satisfied, yet fail to grasp the need for an interest in humanities, the main foundation for understanding history and developing a sense of nationalism.
Ironically, in as much as there are a lot of Filipinos who cannot afford to study in college, we also have leaders from prestigious universities who, instead of serving the country, have become plunderers. And in a country like the Philippines where poverty is the main problem, misusing public funds is more than just an economic and legal issue – it is a moral issue at its core.
It is a tragedy that we elect leaders based on their popularity and not competence. We elect leaders whom we thought would serve us, having identified themselves as "masa." Yet, they are part of the ruling elite and promote and protect the status quo.
I am a student of history under the College of Liberal Arts. In an Asian country like the Philippines, programs such as mine are underrated because people thought these are not what the global market demands.
I thought studying history would just make me feel excited for dismissal time. However, as I begun exploring our readings, I realized that what we learned from our history subjects back when we were a little younger were just lies. Even before we were colonized, we were already civilized and had early interactions with neighboring countries.
Similarly, it is also important to note that Spanish influences are not all bad. Our past shaped who we are today. They influenced us not just in terms of culture, but also in creating our heritage such as great architectural structures like the historical town of Pila and my very own school, the University of Santo Tomas.
Honestly, I've never been to Europe or even to other Asian countries. This inspires me to finish my degree and look for a career that would allow me to travel and learn other countries' culture. Having this aspiration, I follow students from European universities in my social media accounts, and I cannot deny that I feel jealous on how big their libraries are. It fascinates me that they even study Greek language and classical history. I have seen how powerful it is to study Greek – with the Philippines being the only Christian nation in Asia – given the fact that the first translation of the Bible was in Greek. They also inspire me to do well in understanding the Spanish language for it played a big role in the history of the Filipinos.
In order to nourish Filipino culture and to be inspired by the European style of education, there must be some form of renaissance or rebirth in the educational system of the Philippines. Filipino language must be retained to preserve and develop it the same way we should cultivate others dialects in the country.
Through strategic planning, we could develop more universities to give the youth the education they deserve, as well as to implant nationalism through humanities so that love for country would be imbued in the hearts of Filipinos.
And perhaps by achieving this, we will no longer elect politicians based on popularity. There will no more Filipinos who will be exploited in other countries, forced into slavery or unfair labor practices. Instead, we will produce great scholars who would write pieces that seek justice, who would move readers into action to solve our country's problems.
We will no longer settle for mediocrity but we will transcend ourselves to become better individuals empowered by wisdom and knowledge to make this country a better place to live in.
Hannah Joy Ibarra is the second place winner of Share EUr Story Writing Competition.