EDITORIAL - Saving a watershed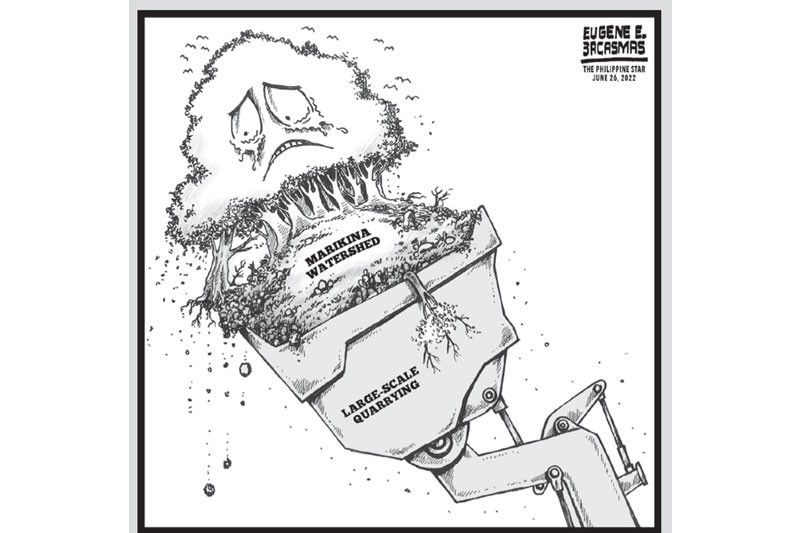 With the risks posed by extreme weather disturbances caused by climate change, Metro Manila faces few options to prevent ruinous flooding. One is to install more flood pumping stations. Another is to clear drainage systems and natural waterways of obstructions, garbage and heavy siltation.
A third measure is to preserve the watershed that protects the National Capital Region. The watershed encompasses the Upper Marikina River Basin and Masungi Georeserve in Rizal. The Upper Marikina watershed was declared a protected area under Presidential Proclamation 296 in November 2011.
The watershed is now imperiled by large-scale quarrying covering 1,300 hectares of the protected area. The mayors of Marikina, Muntinlupa, Pasig and Quezon City have called on the Department of Environment and Natural Resources to cancel the mineral production sharing agreements issued to the quarrying firms. DENR officials, however, have said it is simpler to just wait for the MPSAs to end in 2023.
The mayors have cited the assessment of the DENR's Mines and Geosciences Bureau that the quarry firms have committed "gross violations" of the Philippine Mining Act. But the MGB said the MPSAs have been in place since 1998, before the Marikina watershed was declared a protected area, and three companies with the agreements have not been operational since 2004, partly because of protests from residents.
In Masungi, quarrying applications were banned in 1993 through an administrative order issued by then environment chief Angel Alcala, who was later named National Scientist. The georeserve is home to threatened and endangered endemic wildlife.
The DENR has been working with civic groups on reforestation projects in the watershed, but complaints about quarrying in the watershed persist. Following catastrophic typhoons in 2020, even officials of Rizal province have asked the DENR to act on the complaints. The approaching typhoon season will give an indication of the state of the watershed.