EDITORIAL - Budget priorities
September 13, 2021 | 12:00am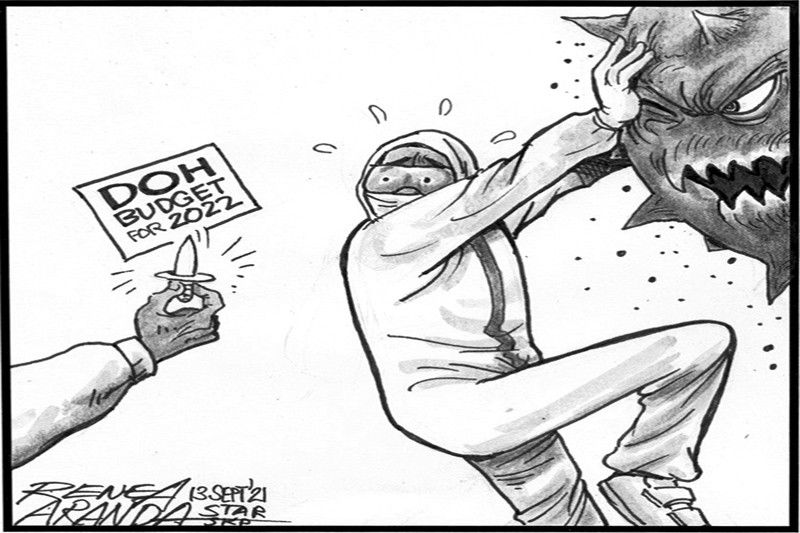 Perhaps policy makers of the administration think public health issues will take a backseat in 2022. This is what healthcare workers are seeing in the substantial cuts in the proposed 2022 appropriations for the Department of Health including its primary COVID testing facility, the Research Institute for Tropical Medicine or RITM.
As disclosed by Secretary Francisco Duque III at a recent budget hearing of the House of Representatives, the Department of Health had proposed P73.99 billion for the pandemic response in 2022. But the Department of Budget and Management slashed the funding to just P19.68 billion. Duque said the DBM cut P50.41 billion allotted for the special risk allowance, meals, accommodation, transportation and life insurance of healthcare workers. More than 100,000 HCWs have yet to receive their hazard pay of up to P5,000 a month from December 2020 until June this year.
The RITM, meanwhile, is seeing a P170-million cut in its funding for 2022, from this year's P393 million to P223 million – lower than the P242.22 million proposed by the DOH. Director Celia Carlos said the RITM is still appealing the budget cut.
When the pandemic began last year, the RITM was the only institution providing DOH-approved RT-PCR tests. Today, even with 278 licensed testing centers nationwide, the RITM still provides the most affordable tests, but its capability is limited.
Those bewailing the funding cuts for the health sector are citing the increase in the proposed 2022 budget for the National Task Force to End Local Communist Armed Conflict. The Duterte administration has asked Congress for P28.1 billion for the controversial NTF-ELCAC – a hefty increase from this year's allocation of P16.4 billion.
Lawmakers want to scrutinize the utilization of the NTF-ELCAC budget this year and are questioning the jump in its funding in 2022, an election year. NTF-ELCAC officials have defended the appropriation and deny that funds will be used for election purposes. Still, the appropriations for the anti-insurgency campaign and the health sector reflect the priorities of the administration amid a raging pandemic.