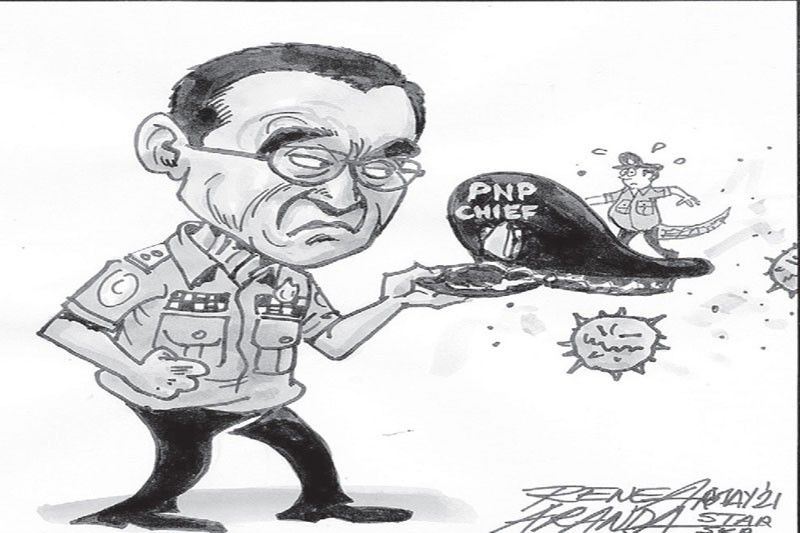 EDITORIAL - Make a difference in the PNP
(The Philippine Star) - May 7, 2021 - 12:00am
After the controversies that hounded the stint of Debold Sinas as Metro Manila police commander and then chief of the Philippine National Police, the appointment of Lt. Gen. Guillermo Eleazar as PNP director general has been hailed by many quarters.
Eleazar will be assuming the leadership of the PNP with high expectations that there will be improvements in the way COVID health safety protocols are enforced by the police. With his 55th birthday over, Eleazar undoubtedly will not be saddled with criticisms over the holding of a birthday serenade or mañanita in his honor in which those safety protocols are broken.
His first challenge is the enforcement of President Duterte's order to "arrest" people who do not wear face masks properly in public – who do not cover their noses and mouths. With virulent variants causing a surge in infections and deaths in the past two months, and reports that the coronavirus could be airborne, the President's order makes sense. But in this pandemic, people are suffering enough and humane law enforcement is also called for.
Eleazar will also be continuing the President's priority campaign against illegal drugs. As the President himself has acknowledged, the drug menace persists, and drug trafficking continued even amid the strictest COVID lockdowns. Neither did the pandemic put an end to drug-related killings, carried out both by police and by gunmen in civilian clothes. State forces' readiness to use violence against threats to public safety must be matched by other measures to address the other aspects of the drug menace.
The PNP also continues to confront other human rights challenges in the course of law enforcement, especially in connection with the government's intensified campaigns against the communist insurgency and terrorism. Eleazar has six months to make a difference in the way the PNP carries out its mandate.