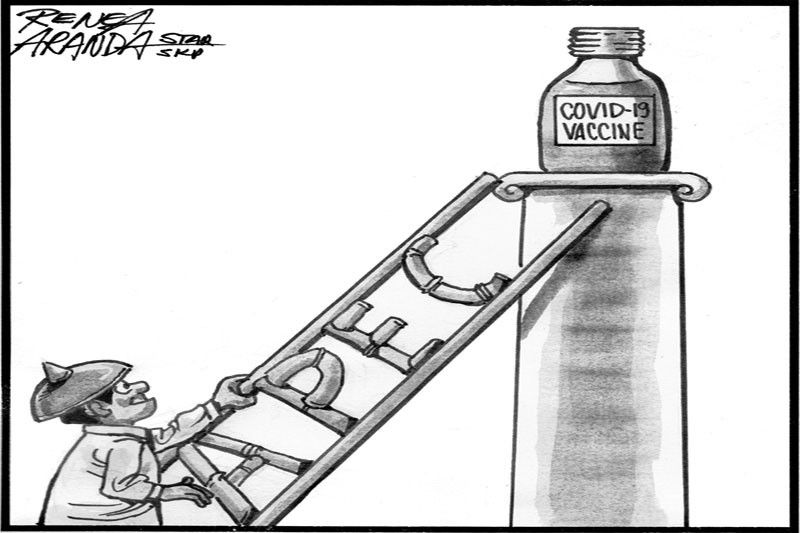 EDITORIAL - Vaccine for all
(The Philippine Star) - November 23, 2020 - 12:00am
From the start of this pandemic, the global call has been to heal as one. The virulence shown by COVID-19 has meant that as long as there is one hotspot left on the planet, there is the risk that the coronavirus can spread again, bringing death and debilitation and wrecking livelihoods.
Healing as one is being emphasized as top pharmaceutical and bioresearch companies begin rolling out COVID vaccines that are touted to be up to 95 percent effective. Pharmaceutical manufacturing is a business; developing a single drug could cost up to $1 billion, from inception to clinical trials to the securing of regulatory approval and international patents. Pharmaceutical firms need a healthy return on investment to keep churning out their products.
So it's understandable that the companies now preparing to release their vaccines for mass application under emergency authorization would accept advance orders for their products. And it makes good business sense to give priority to those who have made advance payments.
But the pharmaceutical industry is also infused with public interest, and it can be more than a business. This is true especially when there is a global public health emergency. And this is true particularly in an emergency that happens only once in a century.
Thanks to rapid advances in science and technology, several pharmaceutical and research companies appear to have succeeded in producing vaccines for coronavirus disease 2019 in record time. Some viral diseases have defied science; there are still no vaccines for Acquired Immune Deficiency Syndrome and Severe Acute Respiratory Syndrome. Now the world is anticipating the mass rollout of COVID vaccines within months.
COVID vaccination, however, will have the best impact only if there is equitable global access, with priority given not based on country but based on the level of vulnerability to infection. Obviously, frontliners will get priority. The hierarchy of priorities in vaccination may have to be standardized worldwide.
Last week President Duterte urged the Asia-Pacific Economic Cooperation forum to ensure equitable access to COVID vaccines. A similar call was made by the Group of 20 – composed of governments and central bank governors of 19 countries and the European Union. As COVID vaccines begin to be administered, the calls deserve to be heeded.