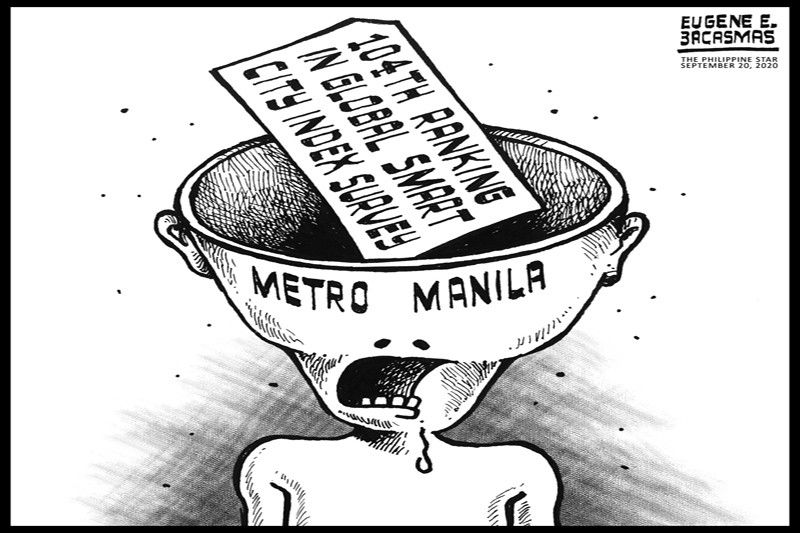 EDITORIAL - No smart city
(The Philippine Star) - September 20, 2020 - 12:00am
The National Capital Region has entered its seventh month of pandemic quarantine, with residents looking in envy at several other Asian capitals that have managed to revive economic activities faster and ease lockdowns as coronavirus transmission has slowed down.
This is not the only reason, however, for Metro Manila residents to envy developments in neighboring countries. In the latest Global Smart City Index, the Philippine capital has fallen by 10 spots and is now nearing the bottom, placing 104th out of 109 cities. Metro Manila also received the lowest rating of "D" from last year's "C."
The index, prepared by the Switzerland-based Institute for Management Development or IMD, rates cities or mega cities based on the technological provisions in terms of five key areas: health and safety, mobility, activities, opportunities and governance. This year's survey was undertaken at the height of the COVID pandemic, from May to April, with 120 respondents taken from each city. Metro Manila ranked ahead of only Rabat, Morocco; Cairo, Egypt; Nigerian capital Abuja; Nairobi, Kenya, and Lagos also in Nigeria.
Not surprisingly, Southeast Asian city-state Singapore was rated the world's smartest city, ahead of Helsinki, Finland, and Zurich, Switzerland. In Asia, only Taiwan capital Taipei was also in the Top 10, placing eighth. South Korean cities Busan and Seoul placed 46th and 47th, respectively.
In Southeast Asia, Malaysian capital Kuala Lumpur placed 54th; Bangkok, Thailand was 71st; Vietnam's Ho Chi Minh and capital Hanoi were at 83rd and 84th, respectively, while Indonesian capital Jakarta was at 94th. Cities in Cambodia, Laos and Myanmar were not included. Manila had the worst ranking among 34 cities in East Asia and the Pacific.
The survey showed that the most urgent concerns of Manila residents in terms of the "smartness" of the mega city were road congestion, corruption, health services, air pollution and unemployment.
IMD officials point out that the COVID pandemic offers opportunities for sustainable reforms in the development of smart cities. In assessing the fall in Metro Manila's ranking, officials and stakeholders can consider the comment of Bruno Lanvin, president of the IMD Smart City Observatory: "This year's Smart City Index suggests that the cities that have been able to combine technologies, leadership and a strong culture of 'living and acting together' should be able to better withstand the most damaging effects of such crises."