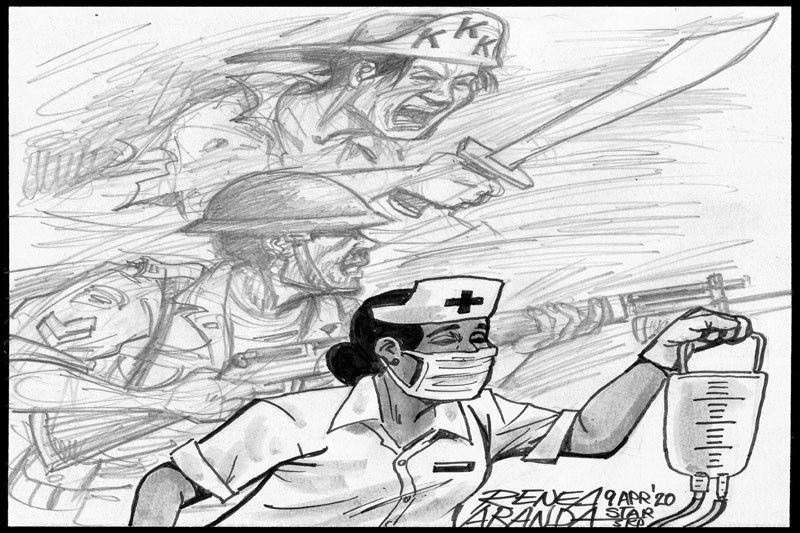 (The Philippine Star) - April 9, 2020 - 12:00am
We honor the heroes of Bataan and World War II today as the country wages a new war that is creating a new breed of heroes. In the last stand of the defenders of Bataan, selflessness and service to the nation marked the actions of the heroes who are being honored today, Araw ng Kagitingan or Day of Valor.
In this period of a killer pandemic, Filipinos feel pride in seeing thousands of people on the frontlines of a war against an unseen enemy, the coronavirus disease 2019. The courage and determination are there, despite awareness that COVID-19 is highly contagious and there is still no vaccine or cure.
Doctors, nurses and other health professionals account for an inordinate number of people who have succumbed to COVID-19 in this country, and those who are infected or are suspected to have the coronavirus. Yet they continue to soldier on, despite the inadequacy of personal protective equipment, the long work hours, and the harrowing presence of the sick and the dying in their midst.
Also in the COVID-19 frontlines are the uniformed personnel who are entrusted with the complex task of enforcing the enhanced community quarantine. The men and women of the police and military carry out their often thankless duties with even less personal protective equipment than the health workers; many of them have since fallen ill.
The nation honors the heroes of Bataan through this annual remembrance. We can honor the frontline heroes of the pandemic not just by extolling them on multimedia and through music, but by donating what we can to give them better protection, and by sparing them from discrimination and harassment.
The best way to honor the new heroes is by helping to ensure that this public health crisis ends as soon as possible. This requires staying at home as much as possible, wearing protective masks and observing physical distancing, and cooperating with other measures to contain the pandemic. People have lost jobs and livelihoods due to the COVID-19 threat; personal sacrifices during the quarantine can be considered as heroic deeds. There is a hero within each of us, ready to sacrifice so the nation can heal as one.