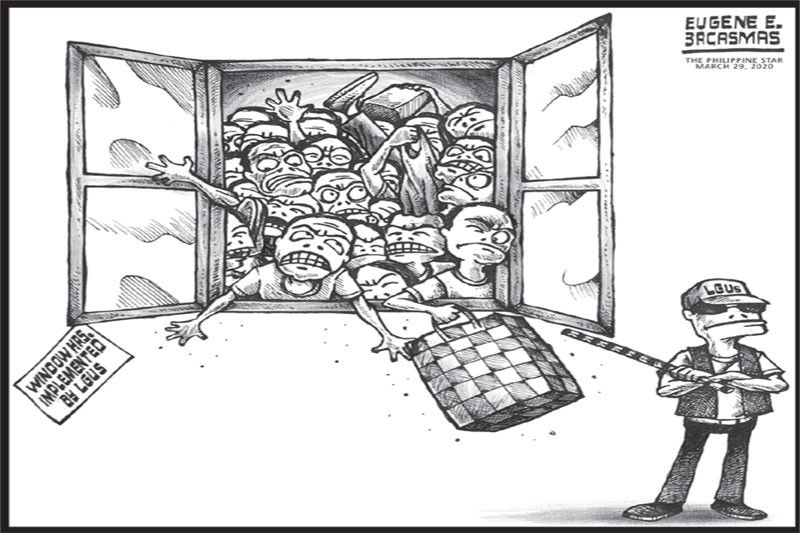 (The Philippine Star) - March 29, 2020 - 12:00am
In pre-pandemic times, we were all familiar with the phenomenon: with most schools and offices opening between 7 to 9 a.m. and closing between 4 and 5 p.m., motorists jammed the roads all at the same time in the morning and evening rush hours.
Now, in the time of the coronavirus disease 2019 contagion, we're seeing another rush hour of sorts. This time, in several communities in Metro Manila and Luzon under enhanced community quarantine, people also rush to the supermarkets, drug stores, public markets and related establishments, making physical distancing challenging. Not because of panic buying, but because residents are given by barangay officials only certain hours within the 8 a.m. to 8 p.m. period between curfew to shop for food and then to shop for medicine.
The inevitable result is a crush of people during the window hours. Since most retail outlets are also promoting social distancing, the long lines outside the outlets and around public markets inevitably invite physical closeness, defeating the purpose of physical distancing.
The community quarantine is painful enough for everyone without barangay officials who like playing God imposing their own unreasonable restrictions. In the average community in crowded Metro Manila, the 8 a.m. to 8 p.m. period is enough time for one member per household to buy necessities without crowding.
On Friday the Department of the Interior and Local Government said such window hours are unnecessary. The DILG, one of the two main implementers of the community quarantine, also said supermarkets, public markets and other establishments need not require shoppers to present quarantine passes – which further slows down everyone and creates longer lines – or wear face masks before entry.
The question is whether the DILG order will reach the barangay offices. A good way to ensure that the message is delivered is to make an example of anyone violating the DILG directive, and to ensure that penalties are imposed.
In this crisis, the government cannot emphasize enough that the nation can survive the pandemic with unity; we will heal as one. Public cooperation for healing as one is best given without resentment, when government impositions are deemed to be reasonable and restrictions are implemented without going overboard.