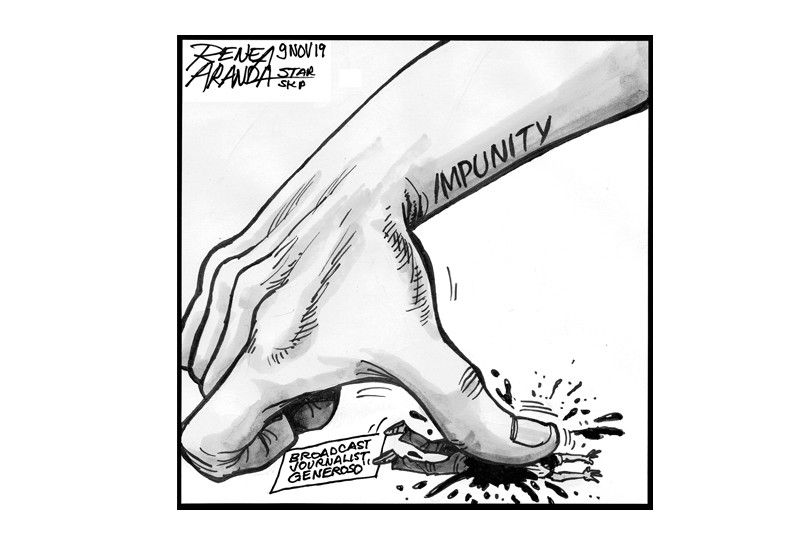 EDITORIAL - Murder in Dumaguete
(The Philippine Star) - November 9, 2019 - 12:00am
On Nov. 2, All Souls' Day in this country, the world marked International Day to End Impunity for Crimes Against Journalists. Last Thursday morning in Dumaguete City, broadcaster Dindo Generoso was driving his car on his way to work when two men on a motorcycle opened fire. Generoso, a blocktimer in radio station dyEM, died from at least eight gunshot wounds.
Generoso is the second media worker to be murdered in the city after radio broadcaster Edmund Sestoso of dyGB was shot on April 30 last year. Sestoso, a chapter chairman of the National Union of Journalists of the Philippines, died a day later. Police linked suspects in his killing to the communist New People's Army.
The United Nations notes that only one in 10 killings targeting media workers leads to the conviction of the perpetrators. The failure to solve such killings inevitably breeds impunity, and the Philippines has consistently ranked among the five worst countries in the annual Global Impunity Index drawn up by the Committee to Protect Journalists.
Yesterday, police announced the arrest of two suspects in Generoso's murder, one of them a police corporal who has been inactive. The motive is still unclear.
Even when suspects are arrested, however, justice could remain elusive for victims and their families. The world's worst attack on journalists – the Maguindanao massacre, in which 32 of the 58 victims were media workers – is still waiting for resolution, despite a directive from the Supreme Court to resolve cases within 90 days after the termination of trial.
Yesterday, the SC granted a request of Quezon City Regional Trial Court Judge Jocelyn Solis-Reyes for a one-month extension to resolve the case. It was submitted for resolution on Aug. 22, so a decision was expected before the 10th anniversary of the mass murder this Nov. 23. But Solis-Reyes argued that with 58 victims and 197 defendants, she needed more time to hand down a decision.
The massacre is unusual even in this land of impunity, but there are also many other murder cases targeting journalists that are stuck in a judicial bottleneck, or where no arrests have been made. This failure breeds impunity. At least in Generoso's killing, suspects have been arrested. Perhaps there could be justice in his case.