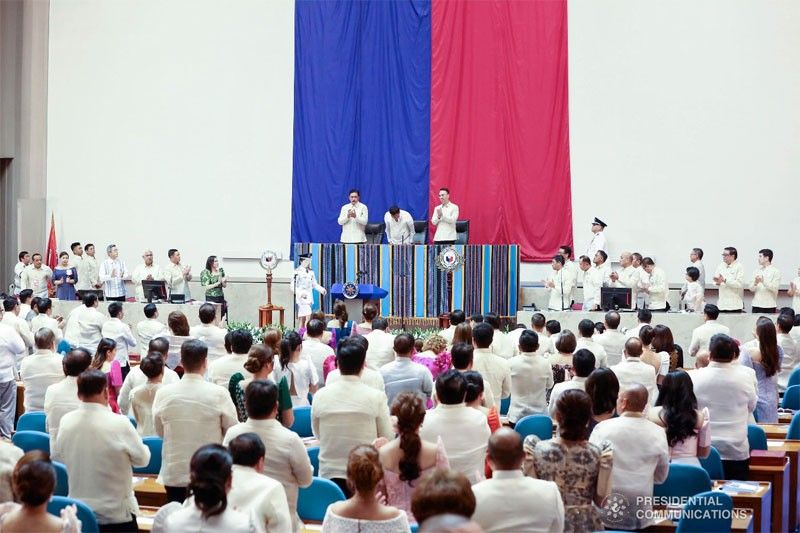 Pork barrels are discretionary funds, usually lump sums, that legislators award to themselves from the national budget. The funds go to their pet projects, often identified only after budget enactment.
File
Old porky habits die hard: P300M for each congressman
GOTCHA
-
Jarius Bondoc
(The Philippine Star) - September 6, 2019 - 12:00am
Congressmen are at it again. Barely two weeks after promising to enact a pork-free state budget for 2020, they recalled the bill purposely to insert personal pork barrels in it. The insertions are huge. Totaling P90 billion, it would average P300 million for each of the 300 congressmen. The amount is unconscionable. They will waste their pork barrels on needless projects from which to draw kickbacks. Favorites are unquantifiable river dredging supposedly for flood control and interminable farm-to-market roads. Such works fetch 50-percent commission for the congressman, plus five percent for his chief of staff. With only 45 percent left for materials, labor, contractor's margin, and pork fixer's share, no meaningful project is ever completed. Floods recur every rainy season, with lives, property and crops lost. No road connects farms to market, only to the congressmen's manors and private resorts. Their constituents remain poor, and so sell their votes to the congressmen in the next election. Some cast their lot with roving communist rebel bands. That's the story of this godforsaken land under political dynasties.
Pork barrels are discretionary funds, usually lump sums, that legislators award to themselves from the national budget. The funds go to their pet projects, often identified only after budget enactment. Declaring them unconstitutional, the Supreme Court outlawed pork barrels in 2013. Congressmen have since been attempting ways to revive it. Of late they have been claiming that if the funds are not lump sums and if inserted before budget passage, then those are no longer pork. That's hogwash. In illegalizing the corrupt practice, the SC gave a third all-encompassing definition. That is, that all permutations of the self-awarding of funds are pork too. That includes personal insertions made during budget deliberations aimed to benefit individual congressmen. In effect, congressional insertions defy SC verdicts, which are part of the laws of the land. They thus promote lawlessness – by the favored few members of the political elite.
Majority congressmen withdrew the P4.1-trillion 2020 budget bill during their Aug. 28 plenary. It was on motion of Deputy Speaker L-Ray Villafuerte (Camarines Sur). Appropriations committee chairman Isidro Ungab (Davao City) opposed the move, but told reporters he understood their motives. Supposedly they only want their district allocations restored. Some of those were slashed during the protracted deliberations last year on the P3.7-trillion budget for this 2019. Others were deleted when President Rody Duterte vetoed P95.3 billion from that 2019 budget. He scrapped that amount precisely because it was unlawful, wasteful congressional pork. Ungab's explanation sounds anesthetized. Simply put, the congressmen want to reinsert what the President already had nixed.
Old pork habits die hard. Congressmen and their dynastic kin have gotten so used to living off the fat of the land. Overspending hundreds of millions of pesos to get elected, they recoup their investments through pork barrel kickbacks. Congressmen know that even middling projects dazzle gullible constituents, who readily reelect them. They know that their job is lawmaking, not project implementation which is the Executive's turf. Yet they persist. Their spouses, offspring, parents, and siblings – sitting as governor, mayor, and other local posts in their bailiwicks – also collect kickbacks from provincial and city projects. The stakes are big. Only last April the SC tripled the internal revenue allotments of local governments from national tax collections. "Mabuti pa ang linta kusang bumibitiw kapag nabusog," the Tagalogs say, ("Better is the leech that lets go after having its fill"). There is no satiating the political dynasts.
In tête-à-tête with Speaker Alan Peter Cayetano, Ungab and Villafuerte relented to a group of 68 congressmen. The 2020 budget bill was remanded to Ungab's appropriations committee. There he expects the 68 to tear at the proposed allocations of the Dept. of Public Works and Highways. Projects deemed necessary by the Cabinet economic managers will be realigned into congressional district pork. Those 68 will surely grab bigger slabs than their colleagues of the P90-billion pork. "What are we in power for?" as one predecessor lawmaker infamously remarked.
Ungab says he dislikes that. But will he stand his ground? Coming from Duterte's Davao home city and aligned with the latter's congressman- and mayor-offspring, hopefully he might. He presumably knows that Duterte is aching to get dozens of projects off the ground. The administration is under fire for delayed implementation of 70 of its 75 ballyhooed major infrastructure works. Any pork barrel realignments can only come from those "Build, Build, Build" projects. There are no other pork fund sources. Lawmakers are forbidden by the Constitution from increasing whatever budget Malacañang submits to them.
It would help Malacañang and Ungab's cause to identify the 68 porky congressmen and their personal projects. That way the people can pinpoint the crooked leaders. It would be interesting to find out to which party they belong and whom they elected as Speaker. Then Malacañang would know who its friends and enemies are.
The country can ill afford to have a repeat of the five-month delay in the passage of the 2019 budget. It was supposed to have been approved by mid-Nov. 2018. But Senators Panfilo Lacson, Tito Sotto, and Franklin Drilon discovered the P95.3 billion, plus nearly P75 billion more, in pork embedded in various budgetary items for public works, transportation, health, and social services. Majority senators supported the three in having them scrapped. The greedy House of Reps leadership insisted on retaining their members' personal pork slabs. Only in Apr. 2019 was the impasse broken, with Duterte vetoing the pork insertions. By then the economy had suffered a GDP dip of 1.5 percentage points. The thieving congressmen blamed it all on the anti-pork senators. It was like the robber castigating the policemen for foiling his bank heist.
* * *
Catch Sapol radio show, Saturdays, 8-10 a.m., DWIZ (882-AM).
Gotcha archives: www.philstar.com/columns/134276/gotcha