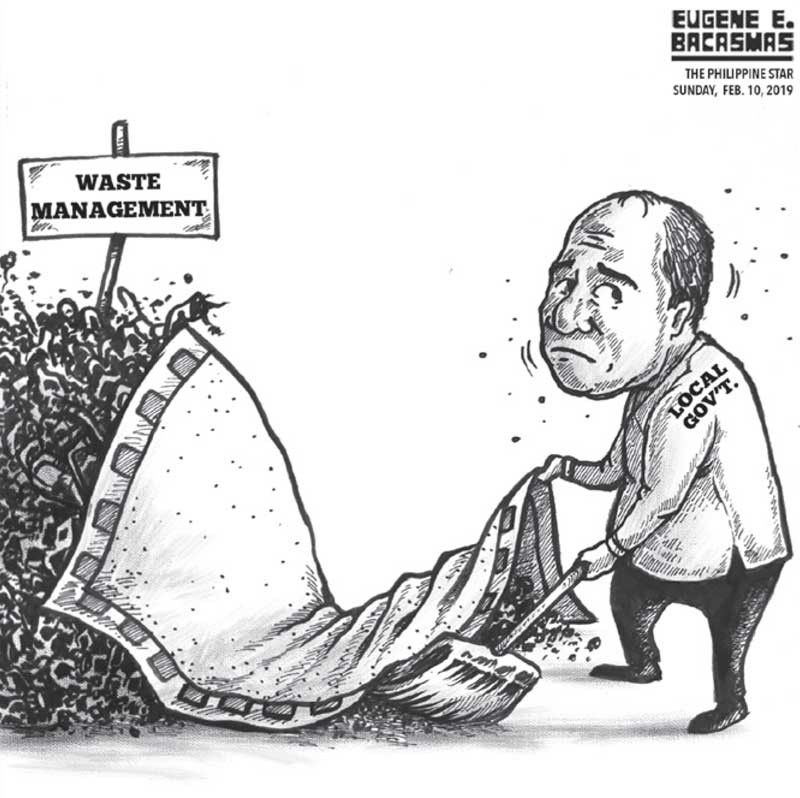 EDITORIAL - Enforcing the laws
(The Philippine Star) - February 10, 2019 - 12:00am
The Ecological Solid Waste Management Law or Republic Act 9003 requires provincial, city and municipal governments to draw up and submit long-term plans for garbage management. Under RA 9003, the reports are supposed to be submitted for approval to the National Solid Waste Management Commission, a multi-agency body under the Office of the President.
RA 9003 was signed into law by Gloria Macapagal-Arroyo less than a week after she assumed the presidency in January 2001. Was the law deliberately ignored? Or did the tumultuous period after Arroyo's installation at Malacañang through people power make certain local government units overlook the new law? Eighteen years later, over 100 LGUs have yet to submit their solid waste management plans.
Last Thursday, the Department of the Interior and Local Government ordered 108 city and municipal mayors to submit notarized explanations on why they should not face administrative charges for failure to comply with RA 9003. The DILG issued the show-cause orders amid the ongoing cleanup of Manila Bay and surrounding waterways as well as the continuing rehabilitation of Boracay. DILG officials said the mayors are from across the country, but 78 of them are from the Autonomous Region in Muslim Mindanao.
In fact there are other laws involving public services that have been ignored by local government officials, from provincial governors to mayors and barangay personnel. They are tasked by law, for example, to prevent squatting, whether on public or private property. Yet a number of local officials even encourage squatting, to create a patronage base that they can count on for votes.
In certain areas, local officials also lead in blatantly ignoring environmental laws to benefit their personal or partisan interests. They allow the indiscriminate reclamation of lakes and seas and the proliferation of fish pens even if the projects cause massive flooding and threaten aquatic resources. Killer landslides have been caused by deforestation that was allowed or tolerated by local officials.
The DILG has called the attention of local executives to the law on solid waste management. The department should not stop there; many other laws, if fully and effectively enforced by local officials, would dramatically improve governance and the delivery of basic services.