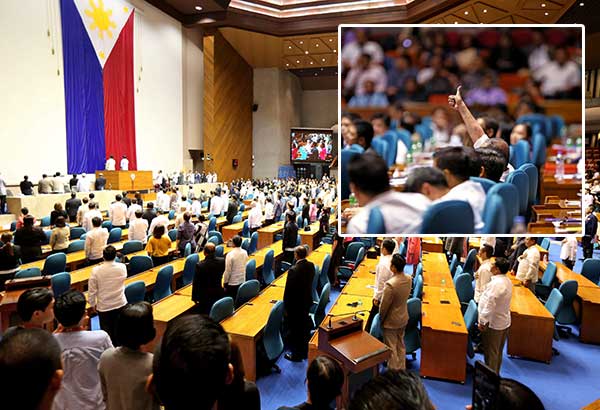 Living up to the name: 'Representa-thieves'
GOTCHA
-
Jarius Bondoc
(The Philippine Star) - February 8, 2019 - 12:00am
Are lawmakers striving to deserve the term "Representa-thieves"?
They've conjured rules to withhold from citizens their Statements of Assets, Liabilities and Net Worth. An honest official willingly would publicize his SALNs. Thieves instinctively cover up their loot.
Constitutionally required from all government men, SALNs are basic proof of integrity. The sworn declarations should detail the filer and spouse's wealth before, every year during, and after holding office. Since its passage in 1989, the Code of Conduct and Ethical Standards for Public Officials and Employees enabled citizens' access to the SALNs. SALNs authorize the Ombudsman and Bureau of Internal Revenue to initiate confirmatory scrutiny. So weighty are the annual filings that high officials can be taken to task for infractions. Chief Justice Renato Corona was ousted for fudging his SALNs, and successor Maria Lourdes Sereno for failing to submit a complete set of hers. An Armed Forces comptroller-general was convicted partly on the basis of SALN discrepancies. On trial at the Sandiganbayan are hundreds of bureaucrats, with SALNs as evidence.
SALNs draw accountability from the government, and trust from the governed. Yet the House of Reps last week passed Speaker Gloria Macapagal Arroyo's Resolution 2467 to make it hard for citizens to obtain SALNs. Henceforth, a SALN may be released only upon majority consent of the House members. Plus, payment of P300 for one member's SALN, or about P90,000 for all their SALNs for one year; clearly higher amounts to get hold of multi-years. To think that the same House has for years delayed passage of a Freedom of Information Bill.
What have they got to hide? Majority Leader Ferdenil Castro mumbled something about lawmakers' supposed right against harassment if SALNs are used for "fishing expedition" and character assassination. But this is not a chicken-or-egg mystery. Long before they joined government there already was the SALN requirement. If they didn't like it, they shouldn't have entered public office.
The SALN concealment came at the same time that lawmakers were inserting pork barrels in the 2019 national budget. Speaker Arroyo was divulged to have an astounding pork slab of P2.4 billion, and her ex-Majority Leader P1.9 billion. The latter denounced the exposé by saying that 99 other members had thicker lard than Arroyo's. Then came further disclosure that the remaining 195 had P160 million each. Totaling P305 billion, the pork barrels embedded in the 2019 budgets are now 14 times larger than when the Supreme Court outlawed them five years ago.
Pork barrels fund haphazard dredging, flood control and road works, from which lawmakers extract kickbacks. That is why they are called "Tong-gressmen." Tong connotes Chinatown underworld gangs that collect protection money and undeserved commissions.
The pork insertions in turn quickly followed the House's passage in December of a fake federalist draft constitution. Sponsored by Speaker Arroyo, its provisos are only to keep the lawmakers and kin in power. Term limits are lifted for members of Congress and local elective officials. The existing prohibition of political dynasties is deleted.
That self-serving draft fundamental law reinforces yet a third moniker for them: "trapo," short for traditional politicos but meaning "worthless rag" in Tagalog.
* * *
To the many planned Manila Bay reclamations, environment lawyer Tony Oposa has a counter-proposal. Replant instead mangrove, bamboo, and other beach forest trees up to 500 meters from shore. This, along the Bay's entire 190-km arc from Bataan, Pampanga, Bulacan, Metro Manila, and Cavite.
The forest shall serve as the first line of defense against storm surges and giant waves, floods and soil erosion. It will also attract birds, fish and other sea life to complement the famed Manila Bay sunset. The 500-meter-wide reclamation shall be kept as open space, or Everyone's Park.
It's been done elsewhere in the Philippines. The largest coastal reforestation I've seen is 700 hectares in Prieto Diaz, Sorsogon. Twenty-four mangrove varieties multiply up to hundreds of meters from shore. Sea grass thrives even farther off.
It wasn't like that two decades ago. Residents had uprooted and burned the mangroves for charcoal in seaside sandpits. In no time, hunger and disease spread. Fishermen had to sail farther off for catch, womenfolk no longer could gather shells and crabs that the beach forest sheltered, and children were sickened by smoke and soot.
Environment-conscious townsfolk convinced the deforesters to desist. Reforestation not only brought back seafood and wildlife, but also attracted tourists. High school biology students and college majors, from as far as Northern Luzon to Mindanao, spend weeks of study there. Many residents now make a living preparing meals, renting out rooms, and boat-touring the visitors. The municipio increased tax revenues from brisker trade, and earns extra distributing mangrove saplings to other towns and provinces.
* * *
Catch Sapol radio show, Saturdays, 8-10 a.m., DWIZ (882-AM).
Gotcha archives on Facebook: https://www.facebook.com/pages/Jarius-Bondoc/1376602159218459, or The STAR website https://www.philstar.com/columns/134276/gotcha