EDITORIAL - The black hole
January 12, 2019 | 12:00am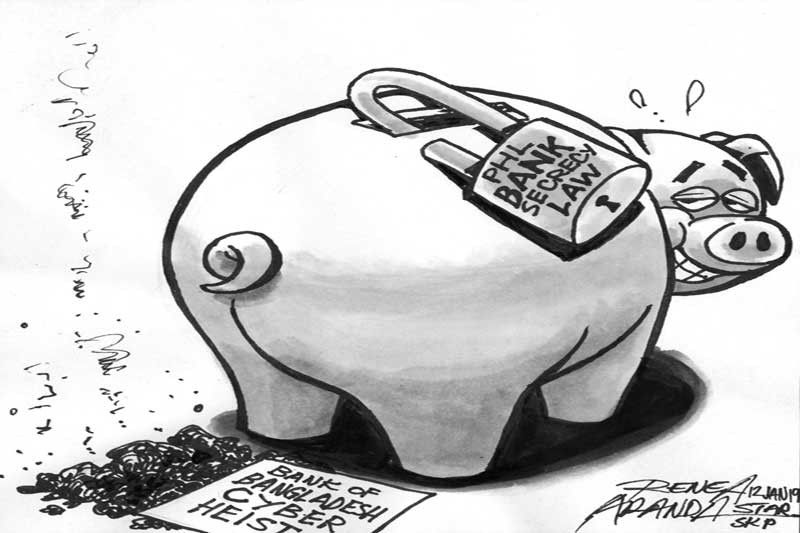 A bank branch manager is facing up to 56 years in prison after being convicted of eight counts of money laundering through the bank that she used to supervise. Maia Deguito was also fined $109 million by Makati Regional Trial Court Branch 149 Judge Cesar Untalan.
Deguito is out on bail while her appeal is pending. The RTC found her guilty of facilitating in 2016 the laundering of $81 million in stolen funds to several accounts under four fictitious names in the Rizal Commercial Banking Corp. branch on Jupiter street in Makati where she was the manager.
RCBC said Deguito's conviction on Thursday showed that the bank was a victim in the case. Deguito was found guilty of allowing the consolidation of the multiple accounts into one US dollar account in the name of Chinese-Filipino businessman William Go. The dollars were subsequently withdrawn, converted into peso and funneled to two casinos and a junket operator. The $81 million was stolen by cyber hackers from the account of the Bangladesh government with the US Federal Reserve in New York.
Bangladesh is still waiting for the return of its money and the conviction of other individuals implicated in the money laundering. Those behind the actual cyber heist have not been identified. Filipinos, meanwhile, are waiting for more reforms to plug the loopholes that made the laundering possible. At the height of the scandal, the Philippines was described as a "black hole" for financial crimes.
The laundering was facilitated by the exclusion of casinos from coverage of the Anti-Money Laundering Act. Politicians and lobby groups blocked the inclusion, even if it put the country at risk of remaining on the "gray list" of the Financial Action Task Force as an international haven for dirty money. One positive outcome of the cyber heist scandal was that casinos were finally included in the AMLA coverage in July 2017.
Philippine laws and regulations, however, remain conveniently opaque for those who need to park ill-gotten money in the banking system. Reforms to address this problem should be a high priority for any administration that is battling drug trafficking, corruption and terrorism and wants to intensify the campaign against tax evasion. The conviction of Deguito should spur more movement toward the necessary reforms.