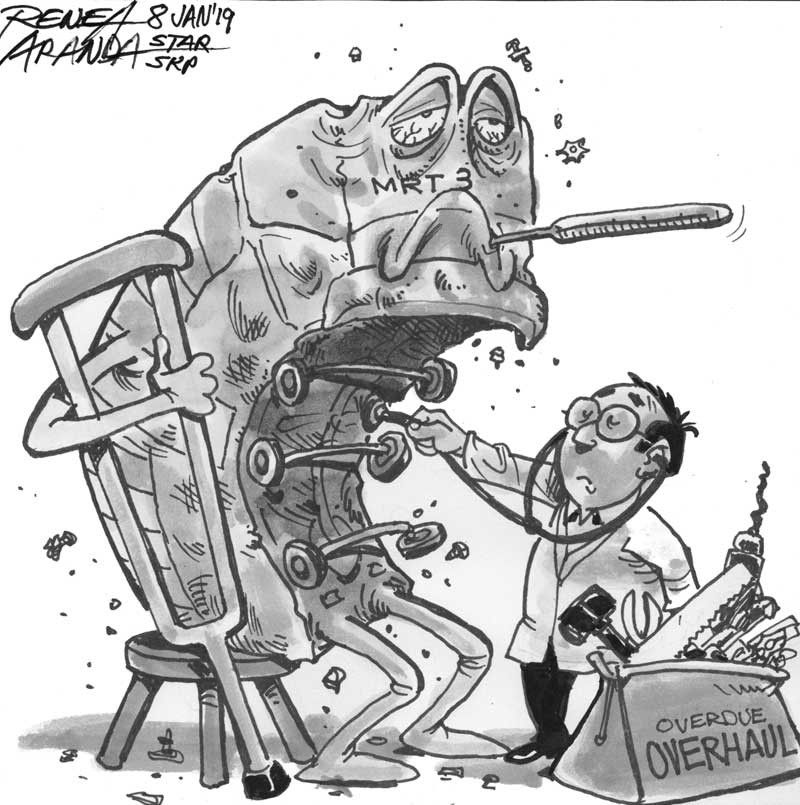 EDITORIAL - Rehab for the MRT 3
(The Philippine Star) - January 8, 2019 - 12:00am
After being booted out in favor of a well-connected gang that turned the Metro Rail Transit 3 service – if the criminal indictments are accurate – into a milking cow, Japan's Sumitomo and Mitsubishi Heavy Industries are back as maintenance providers of the MRT 3.
The two companies had designed and built the service, and later maintained it until 2012, when the deal was terminated and the contract awarded to a group with alleged links to the MRT 3 management and the then ruling Liberal Party.
The MRT 3 is a national embarrassment, a disaster waiting to happen, and a sad reminder of what corruption, as alleged in this case, can do to public services. A seat on an MRT 3 train has caught fire, sliding doors malfunction, the ceiling leaks, and the power supply bogs down regularly. It has become depressingly common to see MRT 3 passengers walking along the tracks because their ride broke down.
To this day the MRT 3 management finds it significant enough to report to the public whenever the service does not suffer a glitch for several weeks. Now the relief could yet be for the long term. The Department of Transportation has given the green light for the start of a three-year rehabilitation of the original 72 light rail vehicles by the provider, Sumitomo and Mitsubishi.
The two giant Japanese firms will be fixing not just the trains but also the railway, power supply, signaling, communications and catenary system, according to transport officials. During the rehabilitation, the companies may also take charge of the maintenance of 48 trains from China's Dalian, which were procured during the previous administration.
The light rail services are popular but acutely inadequate to meet the needs of the service area. Instead of expanding to meet that need, the service has deteriorated over the years, and commuters have a long wait ahead for a dramatic improvement.
While the MRT 3 is in rehab, the judiciary and government prosecutors must move faster in resolving the criminal cases filed in connection with the light rail service. A resolution should serve as a strong deterrent against a repeat of the actions and omissions that led to the disastrous state of the MRT 3.