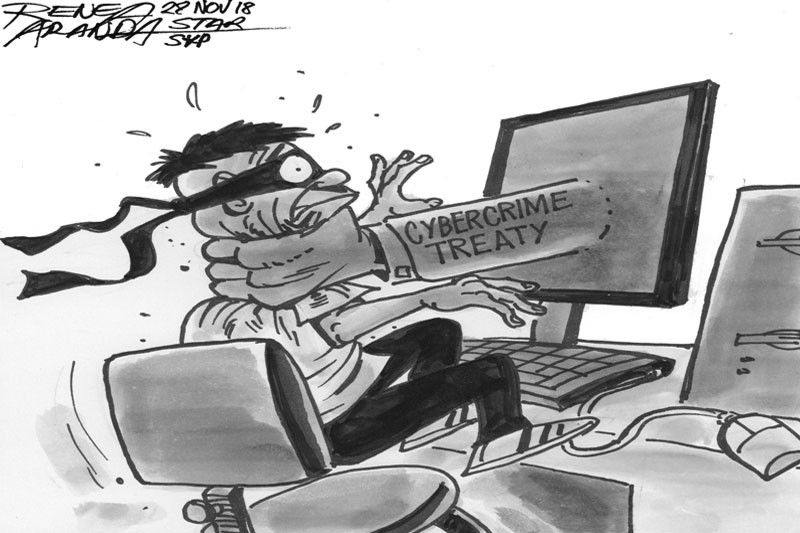 EDITORIAL - Collective defense
(The Philippine Star) - November 28, 2018 - 12:00am
Robbers are still using guns for their criminal activities, but tech-savvy crooks have it easier: they have stolen $81 million from the account of the Bangladesh government in the Federal Reserve Bank of New York.
Cyberspace has been a boon not just to thieves but also to terrorists, human traffickers, purveyors of pornography and snuff, money launderers, slanderers and a host of mischief-makers.
Most countries have passed laws against cybercrime. Considering that cybercrime has no national boundaries, however, enforcement can be boosted through international cooperation.
A mechanism is now in place for this, with the Philippines under President Duterte acceding to it on Dec. 9, 2016. In February this year, the Senate unanimously concurred in the government's ratification of the Budapest Convention on Cybercrime.
The convention, signed in the capital of Hungary on Nov. 23, 2001, is the only international treaty that provides a framework for countries to cooperate in investigating and gathering electronic evidence in cybercrimes. It is particularly useful for countries such as the Philippines, which is battling most of the crimes that have been helped along by digital technology.
The Philippines has always been good at passing laws and acceding to international conventions, but has often fallen short in enforcing the laws and honoring its commitments. So it's good that the country is getting some outside help in terms of fighting cybercrime.
This month the Supreme Court and the Council of Europe, backed by the European Union, conducted an introductory training course on cybercrime and electronic evidence for government prosecutors and state attorneys of the Association of Southeast Asian Nations. The EU is hoping that ASEAN members would follow the Philippines in acceding to the Budapest convention. The battle against a borderless threat calls for collective defense.