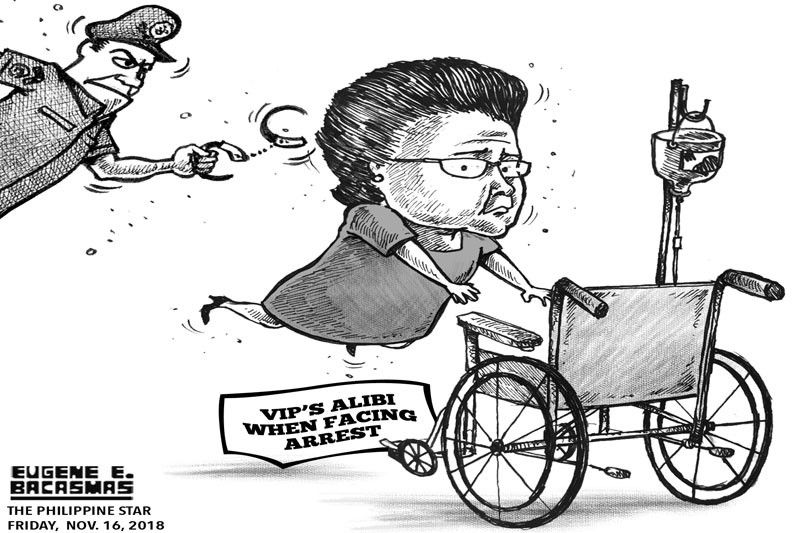 EDITORIAL - Escaping accountability
(The Philippine Star) - November 16, 2018 - 12:00am
Public office is a public trust. Anyone who is physically and mentally qualified to serve as a public official must be deemed physically and mentally fit to face punishment in case of conviction for graft and other offenses involving betrayal of public trust.
Put another way, anyone who thinks he is too old or infirm to go to prison for corruption or other serious offenses should be deemed too old and infirm to hold public office, and must be permanently barred from doing so. Anything less undermines the principle of accountability that must be an intrinsic part of public service.
Ilocos Norte Rep. Imelda Marcos, who at age 89 is seeking to replace her eldest daughter as governor of the province, has cited "multiple organ infirmities" in her failure to attend the promulgation of the graft cases against her on Nov. 9. The Sandiganbayan, which found her guilty on all seven counts of graft, canceled her bail and ordered her arrest because of her absence at the promulgation, but gave her time to appeal for her continuing freedom.
A medical certificate dated Nov. 12 from St. Luke's Medical Center neurologist Joven Cuanang said the "multiple infirmities" that put Marcos "at risk for heart and brain attack and recurrence of seizure" include Type 2 diabetes, hypertension, plaque buildup in her arteries and mini strokes, "moderately severe" hearing loss, "chronic recurrent" urinary tract infection and gastritis, multiple colon polyps and recurrent respiratory tract infection.
If Marcos is so debilitated by illness, she must be deemed incapacitated for public office. She wasn't too sick to attend the birthday party of her eldest daughter Imee on the day of the promulgation. The former first lady, of course, is hardly the first government official who has invoked illness as an excuse for escaping incarceration or for avoiding her sentencing in court. Hospitals have long been used as a refuge of privileged scoundrels in this country.
Advanced age and poor health must not be used to shield felons from accountability. If you're too sick to be punished for wrongdoing, you must be deemed too sick to serve the public. For every offense, there must be a corresponding punishment. Allowing anyone to get away with crime guarantees impunity.